D and ME Wood Toys, LLP
Shop
Contact D and ME Wood Toys, LLP:
119 Heritage Drive #D-2
STEVENSVILLE, MT 59870
Phone: 406-777-0974
Fax: 360-246-5885
E-mail wholesale inquiries to:
info@dandme.com
For additional information visit:
http://www.dandmewoodtoys.com/
Search Amazon: D and ME Wood Toys, LLP
Suggest a Correction
Email: emailtoydirectory@gmail.com
---
About D and ME Wood Toys, LLP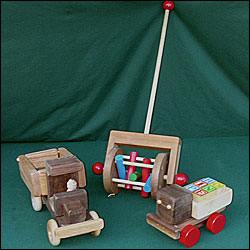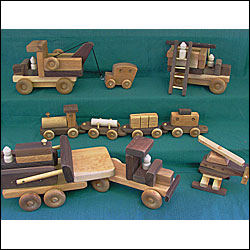 BUY Them on Amazon
Product Archives added to TOYDIRECTORY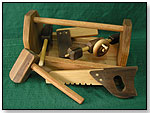 ---
Product added on: 6/13/2007
---
Shop For Products
Search Amazon: D and ME Wood Toys, LLP
Welcome to our "Made in Montana" handcrafted wooden toys made for toddlers and children of all ages. We are celebrating our 30th year of producing quality wood toys.
We feature a Drop Ship Program which is available for our customers with an on-line store. This has been working very efficiently for quick delivery of the toys.
In the Small Wood Truck category are an ABC Block Truck, a Mini Car Carrier, and a Helicopter.
Featured in the Large Wood Truck category are a Bulldozer unit, a Large Car Carrier, a Log Truck, a Dump Truck, a Tow Truck, a Crane Truck, a Fire Engine, and a farm Tractor and Wagon.
In the Trains category, we have a 6' long Jumbo Train with 7 cars and a smaller Four Piece Train.
For toddlers, there are two pull toys (Jonesey Jones and the Flip Flop) and our most popular item, the Klickity Klacker. We also have a wood Tool Box with an assortment of wood tools, and an aromatic cedar Tic Tac Toe Game which is played with marbles.
Newly added, is our "Doll Furniture" category. This includes a Shaker-style Doll Bed and a Swinging Doll Cradle, both of which will fit an 18" doll, such as the American Girl Doll and Itty Bitty Baby Doll or a stuffed animal.
We use mixed hardwoods and some softwoods with a non-toxic natural oiled finish. The colored pieces are non-toxic toy enamel. Each piece is hand sanded, finished, and detailed. The toys are sturdy, allowing for many hours of creative playtime. We regularly sell to day care centers, pre-schools, medical offices, and, of course, both real and on-line stores.
As part of our marketing research, we attend retail shows, as well as trade shows. The retail shows allow us to get customer feedback on our products. Many times we hear how sturdy these toys are, and some of the younger customers are now buying because they remember them from their childhood. We also have found out that some of the items are being purchased as gifts for adults whose occupation matches the item (for example, the Fire Engine for a fireman). The toys have also been used as corporative gifts to employees. An excavation company used our Dump Truck and a lumber company used our Large Logger, filled with a supply of their company pencils.
You can also find D and ME Wood Toys, LLP listed in the following categories on ToyDirectory.com:
Preschool
Wheeled Toys
Wooden Toys
---
If you would like to request wholesale pricing, please include the following information with your request:
Your name
Your company name
Mailing address
E-mail address and phone number
Mention TOYDIRECTORY.com
---
Correction Needed? Please email: emailtoydirectory@gmail.com
AD
Suggest a Correction!
Email: emailtoydirectory@gmail.com