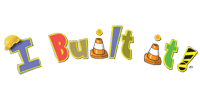 I BUILT IT GAMES
Shop
Contact I BUILT IT GAMES:
2515 Lazy E Road
Williams, AZ 86046
Phone: 928-277-1345
Fax: 928-222-0099
E-mail wholesale inquiries to:
sales@ibuiltitgames.com
E-mail general inquiries to:
info@ibuiltitgames.com
For additional information visit:
http://www.ibuiltitgames.com
Search Amazon: I BUILT IT GAMES
Suggest a Correction
Email: emailtoydirectory@gmail.com
---
About I BUILT IT GAMES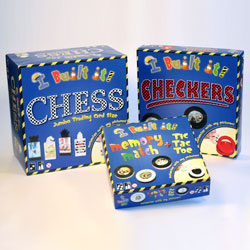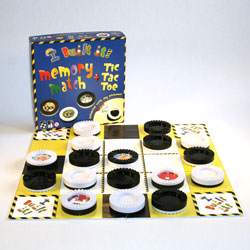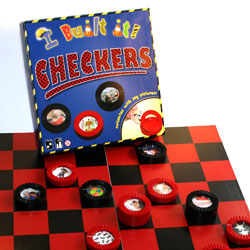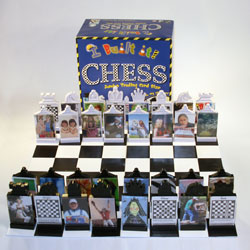 BUY Them on Amazon
Product Archives added to TOYDIRECTORY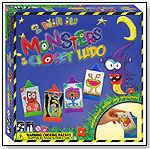 ---
Product added on: 3/24/2011
---
Shop For Products
Search Amazon: I BUILT IT GAMES
Games Under Construction LLC , located in Williams Arizona, is a new company with unique and exciting products that turn classic board games into creative art kits! Our company's goal is to make games that are as much fun to make as they are to play! Each and every jumbo sized game piece in our line of I Built It! games holds any kind of picture including photos, handmade art, stickers or stamps! These customizable games can be themed for a special cause or event or created just for fun. You can even make them glitter or glow in the dark! And the best part is that changing the pictures is so is fast, fun and easy that you can make your game new again anytime!
We currently have available I Built It! Versions of Chess, Checkers, and the pre-school game of Memory Match plus Tic Tac Toe. Chess is jumbo sized and can hold photos, trading cards, or creative art. "Learn to play" diagrams for each piece, as well as themed coloring pages including pirates, ninja warriors and medieval wizards and dragons are also available as free downloads from our website for this unique I Built It! chess set. Our jumbo sized Checker set is the classic but extra fun game because every piece twists open to hold photos or artwork. These games can be themed with anything from sports to superheroes, princesses to puppies. You can add your own pictures, stickers, or even glow in the dark stars! These checker sets are fun for everyone over 6 and make fun and amazing personalized gifts that everyone will love to create… and then play! I Built It! Memory Match plus Tic Tac Toe can be use with photos to make a match of family members or friends, or kids can create their own "favorite" matching game by adding whatever pictures they choose. They can even create a game using their own original artwork or color in any of our free downloadable coloring sheets with themes ranging from zoo animals to simple shapes. This game is particularly versatile as it can be fun and educational when you start with pictures of matching colors, then progress to letters, rhyming words, even multiplication tables! It's changeable and fun, plus as a bonus you get to play tic tac toe with game pieces that you design yourself!
Minimum wholesale orders are 1 case each for either the checkers or the memory match/tic tac toe which includes 6 sets of each game. Chess orders require a minimum of 2 cases which includes a total of 4 games. Shipping is free for ToyDirectory customers (continental US only) through May of 2011.
Contact info:
Email:
sales@Ibuiltitgames.com
Mailing address: 2515 Lazy E Road, Williams, Az. 86046
Phone: 928 277 1345
Fax: 928 222 0099
Or visit
www.Ibuiltitgames.com
You can also find I BUILT IT GAMES listed in the following categories on ToyDirectory.com:
Personalized
Arts & Crafts
Creative Activities
Board Games
Gifts
---
If you would like to request wholesale pricing, please include the following information with your request:
Your name
Your company name
Mailing address
E-mail address and phone number
Mention TOYDIRECTORY.com
---
Correction Needed? Please email: emailtoydirectory@gmail.com
Suggest a Correction!
Email: emailtoydirectory@gmail.com
---
Custom Search
In TOYDIRECTORY®
---
Correction Needed? Please email: emailtoydirectory@gmail.com
Home | Contact Us| Get Listed | Search By Name | Search By Category | TDmonthly Magazine | Privacy Policy

©1996-2023
TOY
DIRECTORY.com®, Inc. All rights reserved.
Use of this online service is subject to the
Disclaimer
and the
Terms of Use
.