JADEN'S WORLD
Shop
Contact JADEN'S WORLD:
25 Petworth Road
Brampton, Ontario, Canada L6Z 4C7
Phone: 905-846-0698
Toll free phone: 877-823-7967
E-mail wholesale inquiries to:
Terri@JadensWorld.ca
Search Amazon: JADEN'S WORLD
Suggest a Correction
Email: emailtoydirectory@gmail.com
---
About JADEN'S WORLD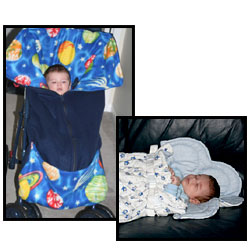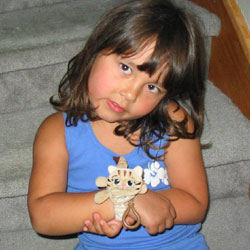 BUY Them on Amazon
Product Archives added to TOYDIRECTORY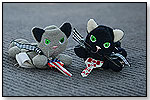 ---
Product added on: 8/28/2008
---
Shop For Products
Search Amazon: JADEN'S WORLD
Jaden's World's products are designed for baby's comfort and parents' peace of mind.
SnuggleTite Slumber Bag
is proud to be an iParenting award winner for Hot New Product 2009
When baby has outgrown swaddling, the SnuggleTite Slumber Bag is the natural choice for a good night's sleep, because when baby sleeps comfortably and soundly, then so will the rest of the family.
It's the blanket baby can't kick off
A safe alternative for loose bedding
Allows for thermostat adjustment saving on heating costs and energy consumption.
It's the only blanket baby will need for winter nights, great for summer use with air conditioned homes. Ideal for camping, boating and cottage for those cool northern nights.
The slumber bag is designed for babies comfort and parents' peace of mind. Warm and snug like a mother's hug.
US Patent #7,013,507 Canadian Patent Pending
ONT Reg #05T-0699605 CA #4972
SnuggleTite Stroller Bag
Ideal for strollers, Car seats, and Infant carriers
Fully reversible solid color on one side; pattern on the other and a two way zipper! Easily transfers from stroller/infant carrier to car seat.
KeyKatz by Jadens World
Wearing a key around the neck not only poses a strangulation risk but visibly displaying a key brings to peoples attention that the child is a latchkey kid and will be home alone, taking a big risk in this day and age.
The KeyKatz is the safe way for children to carry a house key.
It's a wristband. A coin purse.
Can be attached to a backpack, clipped to a belt loop, or a zipper pull.
Simply stretch out the key and unlock the door, no need to remove from the wrist. Pull the tail and the key goes back into the pouch ready for next use.
You can also find JADEN'S WORLD listed in the following categories on ToyDirectory.com:
---
If you would like to request wholesale pricing, please include the following information with your request:
Your name
Your company name
Mailing address
E-mail address and phone number
Mention TOYDIRECTORY.com
---
Correction Needed? Please email: emailtoydirectory@gmail.com
AD
Suggest a Correction!
Email: emailtoydirectory@gmail.com