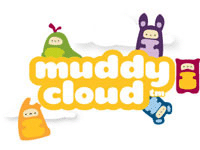 MUDDY CLOUD
Shop
Contact MUDDY CLOUD:
1112 Montana Ave. #295
Santa Monica, CA 90403
Phone: 888-696-8339
E-mail wholesale inquiries to:
sales@muddycloud.com
For additional information visit:
http://www.muddycloud.com
Search Amazon: MUDDY CLOUD
Suggest a Correction
Email: emailtoydirectory@gmail.com
---
About MUDDY CLOUD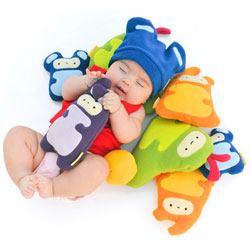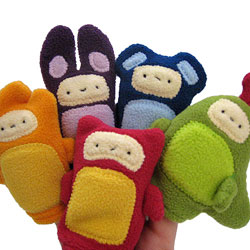 BUY Them on Amazon
Product Archives added to TOYDIRECTORY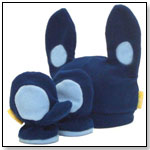 ---
Product added on: 3/2/2010
---
Shop For Products
Search Amazon: MUDDY CLOUD
MUDDY CLOUD™, a baby and children's toy and accessory line launched in November 2008, features a unique and luxe line of super-soft fleece stuffed-dolls with matching beanie hats and mittens. Kids can dress up and look just like their favorite character. There are five in the debut line, all brightly-colored with bold but ambiguous shapes that are appealing to kids and adults. The names are also onomatopoeic and fun to say – JOOP, DOOT, TADA, BALOB and BEEP.
The brainchild of two young parents who wanted a creative alternative to complement classic stuffed toys, Muddy Cloud™ hopes to stimulate babies and young kids with simplified shapes and colors. They range from 4 to 9 inches tall, so they can be effortlessly packed into a diaper bag or purse. Their size also makes them easy for little ones to handle. Most uniquely, the characters have no prescribed story lines, leaving the task up to the everprecious imagination.
"We feel that our line bridges a gap between traditional stuffed toys and the ultramodern 'edgier' products which cater more to adults. We're different, yet still simple, cute and cuddly,"
claims Joy Limanon Anaya, co-founder of Muddy Cloud™.
What's in a name? The name Muddy Cloud™ reflects a couple of the simple things we as kids enjoyed. When you look up at the clouds, everyone sees something different, hence the somewhat abstract shapes of the characters that are open to interpretation. And remember mud pies? They are pretty gourmet when you are a kid. The key to these phenomena is an active imagination, which is core to the Muddy Cloud™ philosophy.
You can also find MUDDY CLOUD listed in the following categories on ToyDirectory.com:
---
If you would like to request wholesale pricing, please include the following information with your request:
Your name
Your company name
Mailing address
E-mail address and phone number
Mention TOYDIRECTORY.com
---
Correction Needed? Please email: emailtoydirectory@gmail.com
AD
Suggest a Correction!
Email: emailtoydirectory@gmail.com