ZEBRA MIX
Shop
Contact ZEBRA MIX:
5607 Keystone Place N
Seattle, WA 98103
Phone: 720-334-2476
E-mail wholesale inquiries to:
brian@zebramix.com
For additional information visit:
http://www.zebramix.com
Search Amazon: ZEBRA MIX
Suggest a Correction
Email: emailtoydirectory@gmail.com
---
About ZEBRA MIX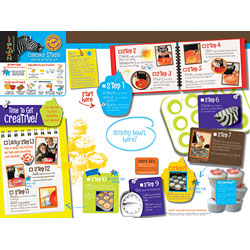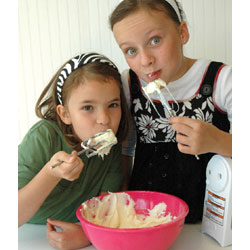 BUY Them on Amazon
Shop For Products
Search Amazon: ZEBRA MIX
Stirring Up Fun in the Kitchen with Zebra Mix, organic baking kits for kids!Hey Kids!
Grab your bowls and spoons and get ready to have fun in the kitchen with Zebra Mix Organic Baking Kits!
Your Zebra Mix is way more than a stir-n-bake; each kit comes packed with all the ingredients you need to make yummy treats. And the best part is our bright and colorful SAFARI BAKING MAP, which illustrates each step of the baking process. Just choose Level 1 (for non-readers and progressive readers) or Level 2 (for kids up to age 12) and begin your adventure! The SAFARI BAKING MAP will guide you through the baking steps, introduce zany science projects and even show you the proper way to crack an egg, make a decorating pen suitable for famous cookie artists and explain how abstract art principles can be used in decorating.
Hey Mom!
Zebra Mix is quickly becoming the best selling baking kit because moms designed us and mom's know best!
SMART. We think just about everything our kids do should add value, use smarts and create fun. So, that is why we worked with educators to appeal to visual, kinetic and auditory thinkers. We use pictures, activities and language so all kids can connect, be challenged, creative and successful with Zebra Mix. It is all a part of Stirring Up Fun!
HEALTHY & SUSTAINABLE. We believe everything our kids eat should be all-natural (yes even the decorating sugars) and organic, whenever possible and use recycled and recyclable packaging. But, you have to also be the best tasting cookie and cupcake to even compete in the world so we have done it all.
HIGH QUALITY. We do not want to clutter the world (and your house) with items that are not useful. So, we have partnered with top kitchen tool makers like Sil-Pin to create rolling pins designed for kids that last for generations and zebra striped lunch tins that are savvy enough even for your 12 year old!
Hey Toy Buyers!
Zebra Mix is creating a stampede across the country with their new line of organic baking kits, quickly gaining recognition from industry experts, the media and high quality retailers nationwide. Becoming the best selling baking kit in the market with its brilliantly and beautifully designed interactive instructions and packaging.
So join the stampede, and start Stirring Up Fun and Learning with Zebra Mix!
You can also find ZEBRA MIX listed in the following categories on ToyDirectory.com:
Candy & Food
Creative Activities
---
If you would like to request wholesale pricing, please include the following information with your request:
Your name
Your company name
Mailing address
E-mail address and phone number
Mention TOYDIRECTORY.com
---
Correction Needed? Please email: emailtoydirectory@gmail.com
Suggest a Correction!
Email: emailtoydirectory@gmail.com
---
Custom Search
In TOYDIRECTORY®
---
Correction Needed? Please email: emailtoydirectory@gmail.com
Home | Contact Us| Get Listed | Search By Name | Search By Category | TDmonthly Magazine | Privacy Policy

©1996-2023
TOY
DIRECTORY.com®, Inc. All rights reserved.
Use of this online service is subject to the
Disclaimer
and the
Terms of Use
.