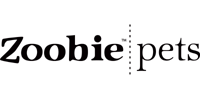 Zoobies
Shop
Contact Zoobies:
1111 West 100 South, Suite 2
Provo, UT 84601
Phone: 801.725.0660
Fax: 801.802.0516
Toll free phone: 1.888.Zoobie8
E-mail wholesale inquiries to:
marketing@zoobies.com
For additional information visit:
http://www.Zoobies.com
Search Amazon: Zoobies
Suggest a Correction
Email: emailtoydirectory@gmail.com
---
About Zoobies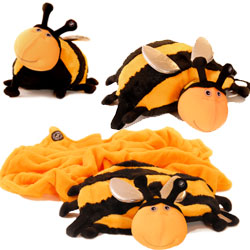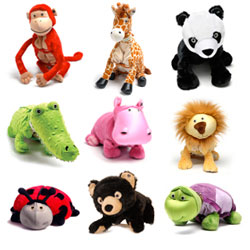 BUY Them on Amazon
Product Archives added to TOYDIRECTORY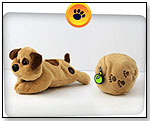 ---
Product added on: 12/20/2012
---
Shop For Products
Search Amazon: Zoobies
We at Zoobies™ are about INNOVATION, COMFORT & FUN!
Zoobies™ was begun by two brothers on a quest born out of a desire for innovation and a love of children (coming from a family of 9 we know what kids like!). We at Zoobies wanted to come up with something fun and different that had never been introduced out on the market. After months of development and converting basic conceptuals to new innovative ideas, Zoobie Pets were finally born! From the Kalahari Desert to the marshy wetlands of the Okhavango Delta sprung forth our love for the African animal and from our desire to hear Childrens' shouts of joyous laughter gave birth to our new patent pending designs. With a Roar of excitement, we introduce you to the Zoobie Pets! From such characters as Hada the Hippo and Cheche the Cheetah. We hope that you will also say that you've now heard the Call of the Wild!
Exciting new patented 3 in 1 concept
Zoobie™ Pets embody an innovative and newly patented concept. Each Pet is a plush toy, a soft pillow and a comfy blanket all in one! They are the perfect childhood companion!
The ideal travel companion!
Zoobie™ Pets also make for the ideal traveling companions for children. They keep children entertained when they are awake and comfortable when they are asleep.
Novel Design
We have spared no expense making Zoobies™ Pets the cutest, most lovable plush animals in the Animal Kingdom! Our Safari Collection comes in a bright and multi-colored set that is very appealing to children. Each animal has been tagged and collared so that they don't get loose. All incorporate their unique novelty eye and ear stitching. Plus, each comes with their own African-Safari name!
Squishability!!!
We wanted to make Zoobie™ Pets as soft, squishy and cuddly as possible. The signature faces all contain micro beads, making them extremely soft (and fun for children to squeeze!). Each animal has its own definitive extra-soft-to-the-touch body texture, making for exceptionally comfy pillows. The inner blankets are made of extra soft and warm coral fleece-the perfect cuddling companion.
Easy to use
Zoobie™ Pets are incredibility simple to use. The durable easy fasten Velcro latches are child friendly, and easily unlatched to transform the animals into cuddly pillows. The durable zips located on the bottoms easily unzip, exposing the inner blankets (which can also be detached from the animals for easy washing). Along with our focus on children, we also had MOMS in mind when we designed these. Each animal comes with an instruction hangtag that illustrates how to properly fold up the blankets-a simple and easy to follow 1-2-3 process!
Safe for children
Zoobies™ is proud member of TIA, and we are dedicated to safety for children. As such, we have made sure that Zoobie™ Pets adhere strictly to all ASTM F963 (USA) & EN71 (EU) standards and regulations.
Consistence & Reliability
We carefully monitor quality from start to finish, making sure that our high quality standards apply to each and every product that goes on the shelves. We have a QC team that carefully monitors production, and another team that monitors distribution, making sure that the ordering process is smooth and easy, consistent, on-time and headache-free each and every time.
You can also find Zoobies listed in the following categories on ToyDirectory.com:
---
If you would like to request wholesale pricing, please include the following information with your request:
Your name
Your company name
Mailing address
E-mail address and phone number
Mention TOYDIRECTORY.com
---
Correction Needed? Please email: emailtoydirectory@gmail.com
Suggest a Correction!
Email: emailtoydirectory@gmail.com
---
Custom Search
In TOYDIRECTORY®
---
Correction Needed? Please email: emailtoydirectory@gmail.com
Home | Contact Us| Get Listed | Search By Name | Search By Category | TDmonthly Magazine | Privacy Policy

©1996-2023
TOY
DIRECTORY.com®, Inc. All rights reserved.
Use of this online service is subject to the
Disclaimer
and the
Terms of Use
.