Designer profile
Designing an Icon: Hello Kitty Transcends Generational and Cultural Limits
By Tina Dhamija
April 1, 2003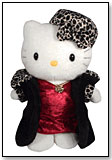 Hello Kitty Plush
In the history of licensed products, perhaps no one foreign-born company has managed to reach as many hearts as Japan's Sanrio Company and its popular mascot, Hello Kitty. Although consumers in the United States may not consider Hello Kitty and Friends a product line fit for anyone over 12 years old, in her native Japan, Hello Kitty is considered a cultural standard of caring.

Gift baskets stuffed with Sanrio products make their way to the gift tables of weddings and graduations alike, and the same high regard for Sanrio products has been spreading its fingers across the US market as well. Last year Americans spent $300 million on Sanrio products and its colorful cast of characters.

Founded in 1960 by President and CEO Shintaro Tsuji, Sanrio began with the concept that "A small gift can bring a big smile to a child of any age." Since then, Sanrio has grown from a small stationery and gift business, to a worldwide corporation manufacturing everything from plush toys, candy, stationery and even cosmetics.

Consumers can experience Sanrio on every level and may even exchange wedding vows at the Sanrio Puroland all indoor theme park, located in Tama city, Tokyo.

Hello Kitty Wedding Frame
ToyDirectory tracked down Sanrio product designer, Donna Suzuki of Sanrio's San Francisco office, to find out what it takes to bring Hello Kitty and Friends from the drawing board to the shelves.

ToyDirectory (TD): How long have you been working as a designer with Sanrio?

Donna Suzuki (DS): I've been with Sanrio for 13.5 years.

TD: From where do you pull your inspiration for your designs?

DS: Inspiration comes from many different areas. Fashion trends; product trends; design, illustration, youth, street, teen and pop culture.

TD: How would we, if possible, be able to tell if you designed a certain line of Sanrio characters? Are there any trademark details that it was you that designed a product?

DS: You wouldn't be able to tell if a certain designer created a certain line. Everything is created with the Character in mind.

TD: Would you happen to know how the first Hello Kitty design came out, and by whom it was fashioned?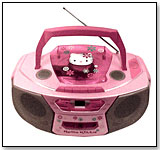 Hello Kitty Boom Box
DS: Ikuko Shimizu was the original designer of Hello Kitty. The first product came out in 1974 in Japan and 1976 in the USA.

TD: Certainly, you may have noticed that in the past 5 to 10 years or so, Hello Kitty has become increasingly popular with both older and younger people in the US. What does this tell you as a designer and how do you design to meet the demands of today's market?

DS: What it tells us is that Hello Kitty is timeless. The kids that loved her as kids are now adults and the love for her is still in their hearts. As they become mothers they introduce their little ones to Hello Kitty and the cycle begins again. As a designer we have to keep in tune to the different needs of the age targets. Our designs for the younger target are applied to products for that age group. As we design for the teen or adult market the focus on practical and fashionable items come to mind.

TD: How does designing Kitty for the US market differ from the designs made for Hello Kitty in her native Japan?

DS: The difference in designs is subtle. Usually what sells in Japan will sell here too except for products that don't apply. For the US we design based on our consumers and trends.

TD: About how many new designs does Sanrio come out with per month, and out of those how many make it to the drawing board?

DS: We do not have a lot of design submissions per month. Usually, we design promotions such as everyday, seasonal, product-driven items, etc. that add up to about 100 new items released every month, including products designed in Japan.

TD: What types of items do you usually design? Is it mainly plush and dolls, or stationery, or is it a little bit of everything?

DS: When we create a design promotion it is usually around 20-30 items--sometimes more, sometimes less, depending on the promotion. Within this group we select products suitable to the age target and promotion, whether it was seasonal or not. So I would say it's a little bit of everything.

TD: How has designing for a hugely successful company like Sanrio changed your life as a designer? Has it always been a dream of yours, and do you consider Hello Kitty a part of who you are?

DS: My life as a designer hasn't changed much, just the focus. I'm more in tuned to the retail market, fashion and trends. My world is the "pinkest" it's ever been since working here and it's great. Hello Kitty exists as part of my daily life and always will be a part of me.




Want to see a showcase of toys? Click Here...

Send comments about this article to: emailtoydirectory@gmail.com

Return to ToyDirectory Monthly front page


Top Licensed Toys Sellers: 2002's Hottest Properties and Where They Made the Biggest Splash

Interview: Read an Interview with Lucasfilm's President of Licensing, Howard Roffman

Trains Product Spotlight: The Fast Track for Model Train Technology

Trains Industry Overview: Model Kits for the Computer Generation

Construction Toys : Building New Markets

Product Summary: Construction Toys Stack Up

Cool Company: When Worlds Collide Neurosmith Tunes into Learning

Real Retailer: Model Expo

ToyDirectory Mom: Even Tough Guys Like Toys