TDmonthly Magazine® Product Search
https://www.toydirectory.com/monthly/comprehensive_products_search.asp
TDmonthly Magazine® includes a unique Toy Product Search feature in the upper right hand section of TDmonthly Magazine® so that our retailers can find new toys for their stores. Visitors can search for products by product name, company name, or do an Advanced Search by age, gender, category, price and video.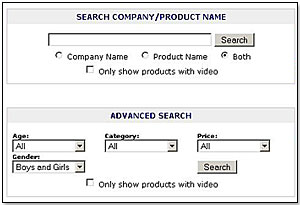 TDmonthly Magazine® encourages manufacturers to submit new product information to include in the TDmonthly product database. Just e-mail us at emailtoydirectory@gmail.com the following information:

Category:
Manufacturer:
Product:
Price:
Age range:
Gender:
Launch date:
Description (60 to 80 words):
SKU:


We will generally upload one new product per manufacturer per month, unless that manufacturer is a ToyDirectory member, in which case, we may upload more. Submissions that follow the above template will result in faster processing.