TOY
DIRECTORY member Since 2010
ABOVE AND BEYOND CONCEPTS
Shop
Contact ABOVE AND BEYOND CONCEPTS:
30 Barry Ct
North Providence, RI 02904
Phone: (401) 556-0825
E-mail wholesale inquiries to:
dricci8739@AOL.COM
For additional information visit:
http://www.abovenbeyondconcepts.com
Search Amazon: ABOVE AND BEYOND CONCEPTS
About ABOVE AND BEYOND CONCEPTS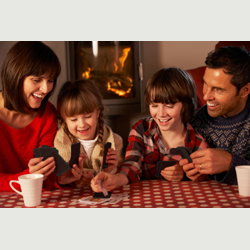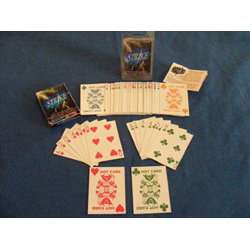 BUY Them on Amazon
Shop For Products
Search Amazon: ABOVE AND BEYOND CONCEPTS
THIS COMPANY SEEMS TO BE OUT OF BUSINESS!

Strike Card Game


Strike Card Game Order# 001 M.S.R.P $12.00 EA
Category: Card Games
Age Range: 8 to Adult
Gender: Boys & Girls
For 2 to 7 players
GAME CONTENTS AND PACKAGING
Fifty-two (52) uniquely designed playing cards with rules, shrink-wrapped in packaged in a plastic see-through, or requested special order hanging, tuckbox for easy storing for the retail/wholesale buyers. Either packaging option offers easy visibility for their potential customers.
ORDERING INFORMATION
Now taking orders for our STRIKE card game
for the 2016 buying season and beyond.
Minimum order: Two dozen (24) STRIKE card games
Shipping: Free shipping on order(s) of a min: of $100.00 in the Continental U.S.A. only.
Selling to: To all major retail, wholesale distributor buyers.
Special Pricing: Be sure to inquire about our high volume, wholesale distributor purchasing prices.
Samples/COD: Sorry, no free samples or C.O.D. allowed
NOT RESPONSIBLE FOR ANY RETURNED PRODUCT MERCHANDISE UNLESS DAMAGED IN SHIPPING WILL REPLACE PRODUCT ONLY
Only the first 5,000 Strike card games will be manufactured and sold as Collectors Edition.
Place your order(s) now for the new, exciting STRIKE card game
that soon will be striking the country.
OLD INFO:
WE HERE AT ABOVE & BEYOND CONCEPTS & INNOVATIONS ARE DEDICATED TO MAKING HIGH QUALITY FUN GAMES AND PRODUCTS. ABOVE & BEYOND CONCEPTS & INNOVATIONS L.L.C IS A COMPANY THAT HAS BEEN CREATED IN ORDER TO ENTERTAIN AND EDUCATE FAMILIES ADULTS AND CHILDREN.
THE PRESIDENT OF THE CORPORATION MR. DALE W. RANKIN ENTREPRENEUR HAS SEVERAL SUCCESSFUL BUSINESSES IN THE NEW ENGLAND AREA AND ALSO HAS A DEGREE IN MULTIPLE AREAS OF MECHANICAL ENGINEERING, DESIGNING, MARKETING, ADVERTISING.
THE CORPORATION ABOVE & BEYOND CONCEPTS & INNOVATIONS & INNOVATIONS L.L.C CHIEF PRODUCT DESIGNER MR. DONALD C. RICCI HAS NUMEROUS YEARS OF EXPERIENCE IN THE TOY AND GAMING INDUSTRY AND HAS DESIGNED MANY VARIETIES OF AWARD WINNING CONCEPTS AND PRODUCTS FROM TOYS AND GAMES TO AUTOMOTIVE ENGINEERED PRODUCTS.
OUR GOAL IS TO CONTINUE TO BRING QUALITY FOR WHOLESOME FAMILY FUN ENTERTAINMENT AND SAFE PRODUCTS TO YOU AND OUR CUSTOMERS THROUGHOUT THE WORLD.
You can also find ABOVE AND BEYOND CONCEPTS listed in the following categories:
Card Games
General Games
Educational
---
If you would like to request wholesale pricing, please include the following information with your request:
Your name
Your company name
Mailing address
E-mail address and phone number
Mention TOYDIRECTORY.com
---
AD