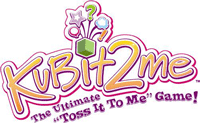 KUBIT2ME INC.
Shop
Contact KUBIT2ME INC.:
6310 Surrey Ridge Road
Lisle, IL 60532
Phone: 630.717.2511
Fax: 630.355.4117
E-mail wholesale inquiries to:
retailers@kubit2me.com
For additional information visit:
http://www.kubit2me.com
Search Amazon: KUBIT2ME INC.
Suggest a Correction
Email: emailtoydirectory@gmail.com
---
About KUBIT2ME INC.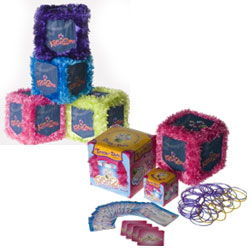 BUY Them on Amazon
Product Archives added to TOYDIRECTORY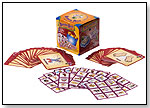 ---
Product added on: 10/11/2007
---
Shop For Products
Search Amazon: KUBIT2ME INC.
Formed in 2006 by Mary Kay & Brad Russell, Kubit2me's goal is to develop fun, stimulating games for people of all ages. The vision for the future of Kubit2me games is to enrich lives by offering an opportunity for players to express themselves and listen to others. We believe that our games allow families and friends to develop strong bonds, build trust, nurture compassion and empathy, and ultimately strengthen positive self-image.
Product line features Kubit2me … The Ultimate "Toss It To Me" Game. Three versions of the Kubit2me game are available to suit all ages and demographics. These games provide a unique form of entertainment by encouraging social interaction with a physical twist and face-to-face communication. Kubit2me is unlike any game on the market. It doesn't use a board, spinners, pawns or dice. Kubit2me is a soft, colorful, plush cube that is tossed from player to player. Kubit2me's patent-pending hidden compartment holds all game cards and components for quick and easy storage. Players pull a card from Kubit2me's pockets and the game begins. This innovative game is stimulating, socially charged and brings family and friends together to talk and laugh, listen and learn, share and grow. Kubit2me can be played in small or large groups. Free downloadable games will be available at www.kubit2me.com in October, 2007.
Kubit2me Lil' Scholars edition (Aged 3-6): Provides stimulating, socially charged entertainment while helping children experience the fun of learning as Kubit2me's colorful plush cube is tossed from player to player. Cards and non-competitive game ideas focus on letter and word recognition, number recognition and sequencing, body parts & emotions. Kubit2me Lil' Scholars is a great game for moms to play with their kids, children's parties, home-schoolers, and for use in the classroom, including Early Childhood Development programs, as well as programs for children with special needs.
Kubit2me Now You're Talkin' edition (ages 10+): A socially charged, non-competitive group game where thought-provoking questions get tossed from player to player. Game questions focus on beliefs, opinions, relationships, memories, fantasies and almost any topic that affects everyday lives. Kubit2me Now You're Talkin' is a game of self expression that can be adapted for play in limitless social situations including family time, small & large organized youth groups, and educational professionals including social workers, speech pathologists, educators in the classroom.
Kubit2me Truth or Dare edition (ages 8+): The Truth or Dare edition of Kubit2me was crafted to specifically address a void in the girl tween and teen market. Composed of a brightly colored cube in four color choices with denim accents, provocative questions and accessory-related play, the Truth or Dare edition is designed perfectly to appeal to the social network behavior of tween and teen girls.
Kubit2me games available now:
Kubit2me Lil' Scholars ABC's & 123's Edition – Includes plush Kubit2me (ages3-6) – MSRP $24.99
Lil' Scholars "All About Me" Bonus Box (cards & stickers only; teaches body parts & emotions) – MSRP $8.99
Kubit2me Now You're Talkiin' Edition – Includes plush Kubit2me (ages 10+) – MSRP $24.99
Now You're Talkin' Bonus Box (additional cards & stickers) – MSRP $8.99
Kubit2me Truth or Dare Edition – Includes plush Kubit2me (ages 8+) – MSRP $24.99
Truth or Dare Bonus Box (additional cards & bracelets) – MSRP $8.99
Shipping & Order Restrictions:
Minimum order: $100
Please contact marykay@kubit2me.com for international sales information.
Free shipping on first order! Please mention ToyDirectory when ordering.
You can also find KUBIT2ME INC. listed in the following categories on ToyDirectory.com:
---
If you would like to request wholesale pricing, please include the following information with your request:
Your name
Your company name
Mailing address
E-mail address and phone number
Mention TOYDIRECTORY.com
---
Correction Needed? Please email: emailtoydirectory@gmail.com
AD
Suggest a Correction!
Email: emailtoydirectory@gmail.com