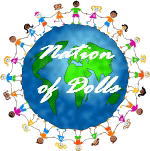 NATION OF DOLLS
Shop
Contact NATION OF DOLLS:
4455 F, Twain Ave
San Diego, CA 92120
Phone: (619) 702 6795
Toll free phone: (888) 405-7818
E-mail wholesale inquiries to:
info@nationofdolls.com
For additional information visit:
http://www.nationofdolls.com
Search Amazon: NATION OF DOLLS
Suggest a Correction
Email: emailtoydirectory@gmail.com
---
About NATION OF DOLLS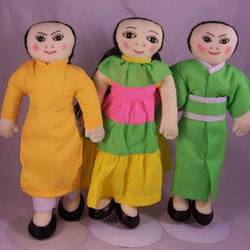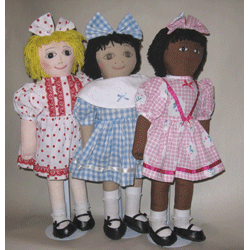 BUY Them on Amazon
Product Archives added to TOYDIRECTORY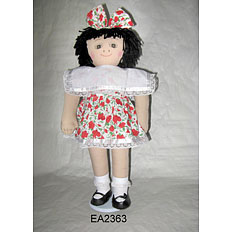 ---
Product added on: 8/5/2009
---
Shop For Products
Search Amazon: NATION OF DOLLS
We carry a variety of handmade dolls crafted by skilled doll artisans. Each handmade doll is truly a one of a kind doll. Our line of handmade dolls include ethnic dolls from different countries. Limited edition dolls are handmade dolls that may look similar in appearance and in dress. One of a kind dolls is our collection of unique handmade dolls that come in three different sizes, small medium or large.
One of A Kind Doll
Most of our dolls are one of a kind. No two are exactly the same because they are handmade. They are soft, cuddly, child friendly and intended to be played with by children age 3 to 8 in mind. They are made of cotton. The hair is made out of yarn. The shoes are vinyl. The shoes and socks are integral part of the doll design. They cannot be removed. The dress design is inspired by the Doo Woop era in the 50s-60 and is open in the back. The dress, as well as the panty can be removed for washing or changing. The doll materials are all child and environment friendly.
Our ethnic dolls are culturally diverse dolls from different countries. Our collection of ethnic dolls includes Chinese dolls, Japanese dolls, Korean dolls, Mexican dolls, Filipino dolls, and Vietnamese dolls. These handmade dolls are ideal as gifts for international adoption. If you or someone you know is adopting from China, Korea, Mexico or Vietnam, these handmade dolls makes the perfect adoption gift.
Our limited edition dolls are one of a kind dolls that are similar in appearance and dress. These dolls have been our best sellers at craft fairs so we created these dolls in limited quantities.
Wholesale price will be given to companies who can give us their retail number and license addressed to:
Eusebia Leto
4455 F Twain Ave.
San Diego, CA 92120
Wholesale price does not include shipping
You can also find NATION OF DOLLS listed in the following categories on ToyDirectory.com:
---
If you would like to request wholesale pricing, please include the following information with your request:
Your name
Your company name
Mailing address
E-mail address and phone number
Mention TOYDIRECTORY.com
---
Correction Needed? Please email: emailtoydirectory@gmail.com
AD
Suggest a Correction!
Email: emailtoydirectory@gmail.com