TOY
DIRECTORY member Since 2009
PHARMTEC CORPORATION
Shop
Contact PHARMTEC CORPORATION:
PO Box 919
Bath, OH 44210-0919
Phone: 330-659-6575
Fax: 330-659-9049
Toll free phone: 877-833-2221
E-mail wholesale inquiries to:
info@pharmtec.com
For additional information visit:
http://www.pharmteccorp.com
Search Amazon: PHARMTEC CORPORATION
Suggest a Correction
Email: emailtoydirectory@gmail.com
---
About PHARMTEC CORPORATION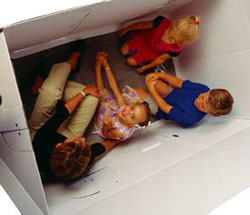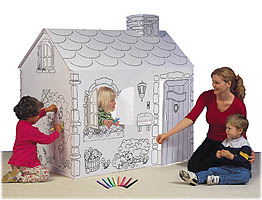 BUY Them on Amazon
PHARMTEC CORPORATION's ToyShow Archives:

Product Archives added to TOYDIRECTORY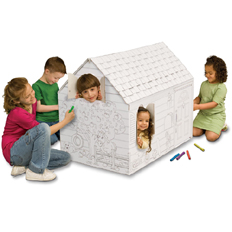 ---
Product added on: 5/30/2013
---
Shop For Products
Search Amazon: PHARMTEC CORPORATION
MyVeryOwnHouse™ - Ranked #4
in the 'Top Arts and Crafts Kits for Younger Kids' (About.com, Parenting of children K-6)
The
only
single-piece constructed playhouse on the market.
No pieces/parts. No sharp tabs. White inside & out.
The
largest
cardboard playhouses on the market also fold to the
smallest
storage size. No "disassembly required". Simply folds accordion style.
8 Washable Markers
are included, so kids can start playing immediately!
Want a Cottage or a Mansion? MyVeryOwnHouse™ is now available in two sizes (we drop ship both):
"The Mansion" is our original commercial grade, HUGE playhouse 5' x 3.5' x 4' tall
"The Cottage" is our NEW medium sized playhouse 4.5' x 3' x 4' tall
(people inserted to show relative size)
Both playhouses collapse "accordion style" to less than 3" thick for fast, easy storage anywhere!

MyVeryOwnHouse is very unique. Our single piece construction (patents pending) makes setup and put-away simple and fast! See for yourself...

Cottage Demo
image source is http://www.myveryownhouse.com/playhouse/images/mh5536320dpi.gif

Mansion Demo
image source is located at http://www.myveryownhouse.com/playhouse/images/mh6042%20final1.gif

Endless Entertainment™ - eliminates boredom by tapping the imagination

We've been overwhelmed by the number of parents who have expressed their "thanks" for providing a quality product that entertains kids all the time, any time, every time:

· during the winter blahs
· rainy days
· visits by friends/family
· parties
· pre-school activities
· received as gift

No hassles, no mess - just endless, fun, creative play!

We invite you to check out our "well-appointed" playhouses

Trade names:

MyVeryOwnHouse MyVeryOwnGuarden The Guarden

Pharmtec Corporation (based in Richfield, Ohio) are creators of high quality / high value products for adults and imaginative toys for today's children. Such as The Guarden™ & MyVeryOwnGuarden™ - www.guarden.com, www.theguarden.com or www.pharmtec.com for all products.


You can also find PHARMTEC CORPORATION listed in the following categories on ToyDirectory.com:
Play Houses
Creative Activities
Personalized
Arts & Crafts
Construction
---
If you would like to request wholesale pricing, please include the following information with your request:
Your name
Your company name
Mailing address
E-mail address and phone number
Mention TOYDIRECTORY.com
---
Correction Needed? Please email: emailtoydirectory@gmail.com
AD
Suggest a Correction!
Email: emailtoydirectory@gmail.com