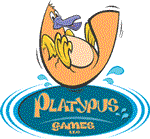 PLATYPUS GAMES LLC
Shop
Contact PLATYPUS GAMES LLC:
p.o. box 2851
Kirkland, WA 98083
Phone: 425-736-0933
Fax: 877-207-6934
Toll free phone: 1-800-613-1507
E-mail wholesale inquiries to:
info@platypusgames.com
For additional information visit:
http://www.platypusgames.com
Search Amazon: PLATYPUS GAMES LLC
Suggest a Correction
Email: emailtoydirectory@gmail.com
---
About PLATYPUS GAMES LLC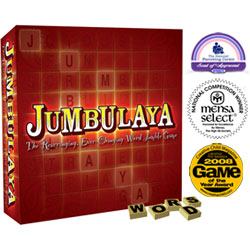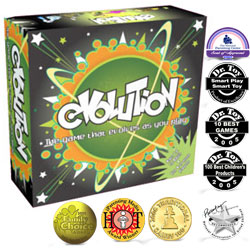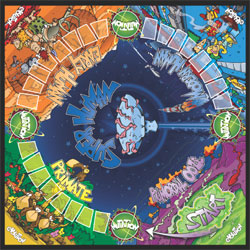 BUY Them on Amazon
Product Archives added to TOYDIRECTORY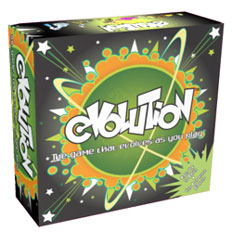 ---
Product added on: 2/3/2005
---
Shop For Products
Search Amazon: PLATYPUS GAMES LLC
Platypus Games LLC ™ was founded by the dynamic duo of husband and wife team, Karl and Julie Archer. The two were inspired to create a game that offered a multitude of challenges, while still maintaining a high level of interaction and enthusiasm with every roll of the die. Their goal was to design a game that not only kept people engaged and entertained, but also kept them involved and interested, even when it wasn't their turn. The result is EVOLUTION: The Game That Evolves As You Play™, offering players 18 different challenges to engage the mind, inspire laughter, and entertain everyone.
Platypus Games LLC™ proudly presents EVOLUTION: The Game That Evolves As You Play™ emerging from the Primordial Ooze, your tribe will work together to evolve up the evolutionary ladder through 18 different challenges and 5 distinct phases where quick wit and adaptability is key. Get ready to rhyme, decode, decipher, draw, mime, think, act, sing, read minds, and predict the future! Personalize the game and increase the level of difficulty for your opponents with never before seen twists. EVOLUTION is an ultra-engaging, fast-paced, mega-entertaining adventure that will inspire your newly evolved noggin.
5 DISTINCT PHASES: Primate, Early Human, Modern Human, Super Human, and Mutation!
18 DIFFERENT CHALLENGES: Body Language™, Animal Instinct™, Cave Painting™, All Things Being Equal™, Standing Up Write™, Food For Thought™, Tribal Totems™, Acting Out™, Phone Tag™, Human Nature™, Ambidexter-write™, Clone Zone™, Puzzled™, Identical Twins™, Begins and Ends™, Symmetry™, Finish Line™, and Mind Reader™!
Look for EVOLUTION: The Game That Evolves As You Play™ to debut at the American International Toy Fair 2005 at the Javits Center in New York City, February 20-23rd. We welcome everyone to stop by Booth #6053 to see the next phase in board game fun!
Ages: 12 to Adult
For 4 or more players
MSRP: $34.95 (US)

You can also find PLATYPUS GAMES LLC listed in the following categories on ToyDirectory.com:
Board Games
General Games
Family Games
---
If you would like to request wholesale pricing, please include the following information with your request:
Your name
Your company name
Mailing address
E-mail address and phone number
Mention TOYDIRECTORY.com
---
Correction Needed? Please email: emailtoydirectory@gmail.com
AD
Suggest a Correction!
Email: emailtoydirectory@gmail.com