STELLAR TOYS
Shop
Contact STELLAR TOYS:
18308 Ward Street
Fountain Valley, CA 92708
Phone: 949-722-8377
Fax: 714-963-3387
Toll free phone: 877-354-7635
E-mail wholesale inquiries to:
sales@stellartoys.com
For additional information visit:
http://www.flipnflyer.com/
Search Amazon: STELLAR TOYS
Suggest a Correction
Email: emailtoydirectory@gmail.com
---
About STELLAR TOYS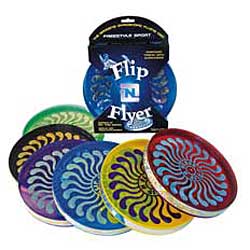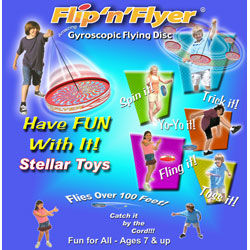 BUY Them on Amazon
Product Archives added to TOYDIRECTORY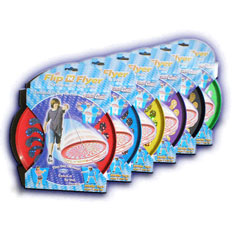 ---
Product added on: 9/1/2004
---
Shop For Products
Search Amazon: STELLAR TOYS
Stellar Toys is manufacturer & wholesale distributor of the "Flip N Flyer".
Also known as the amazing 'Gyroscopic Flying Disc' and 'Gyroscope on a Cord' the "FNF" was recently featured in Consumer Reports article: "Best Outdoor Summer Toys for 2009". (see website)
For outdoor use, the Flip N Flyer can be tossed between two or more players as a Flying Disc, indoors or outdoors for hybrid Yo-Yo type tricks! (Solo use) Rated for kids aged 7 & Up, it helps increase players hand to eye coordination and dexterity, while they learn the basics of physics/gyroscopic principles. The best part is it gets the kids out there playing, having fun...Aerobics for kids! The holographic designs on both the airfoil and around the outer rim create visual optical illusions while the disc is spinning! Make sure you check out our website: www.flipnflyer.com for Action videos & Gallery of Pics.
Minimum order - 1 box (24 units) in a variety of colors. Demo DVD loop video & poster included free with order. (suggested retail @ $9.95)
You can also find STELLAR TOYS listed in the following categories on ToyDirectory.com:
Yo-Yos
Sporting Goods & Accessories
General Toys
---
If you would like to request wholesale pricing, please include the following information with your request:
Your name
Your company name
Mailing address
E-mail address and phone number
Mention TOYDIRECTORY.com
---
Correction Needed? Please email: emailtoydirectory@gmail.com
AD
Suggest a Correction!
Email: emailtoydirectory@gmail.com