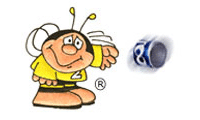 TOOBEE INTERNATIONAL
Shop
Contact TOOBEE INTERNATIONAL:
P.O. Box 166
Sussex, WI 53089
Phone: 262-246-8480
Fax: 262-246-9599
E-mail wholesale inquiries to:
info@toobee.com
For additional information visit:
http://www.toobee.com/
Search Amazon: TOOBEE INTERNATIONAL
Suggest a Correction
Email: emailtoydirectory@gmail.com
---
About TOOBEE INTERNATIONAL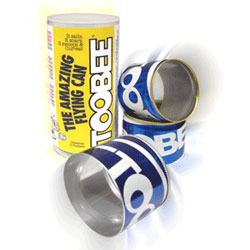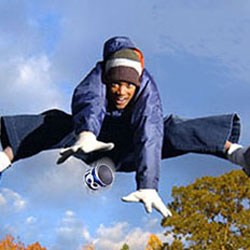 BUY Them on Amazon
Product Archives added to TOYDIRECTORY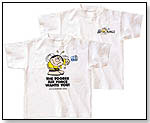 ---
Product added on: 1/3/2007
---
Shop For Products
Search Amazon: TOOBEE INTERNATIONAL
Invented in Berkeley, California by Dale Klahn and Gary Upham, both of whom hold advanced degrees in aeronautical and nuclear engineering, the Toobee (www.toobee.com), from Toobee International Inc., appears to be nothing more than the top third of a beer or soda can.
But to those in the know, it's the Toobee, a cylindrical wing or annular airfoil that seems to defy gravity. The Toobee pilot simply grips the can like a football and throws it, rounded edge forward, like an NFL quarterback. When thrown properly, Toobee will sail, soar, swoop and curve floating on air for distances almost the length of the football field. Greg Stromberg, President of Toobee International, says, "Because there is very little drag on the thin aluminum, it keeps spinning at a high rate during flight. As momentum dies down, torque from gravity causes Toobee to swoop off in the direction of spin."
The patented high-tech aluminum airfoil is only .005 inches thick and weighs less than a marshmallow. The world record to date is an astounding 283 feet, (91 yards).
Extreme lightness and specially rolled edges, make Toobee a safe toy that can be flown safely indoors or out. Toss it for distance, accuracy for fun or competition.- - Major league baseball pitchers experimenting with Toobee soon learned to throw "curveballs" and controlled pitches, almost as if it were a baseball.
Being touted as "Hottest item since the Frisbee(R)," Toobee contests and competitions continue to turn heads. And, yes, there is even a Toobee Air Force(TAF), with its own Official Toobee Air Force Flight Training Manual and the motto --"Success comes with CANS," Stromberg added, "It's a fun toy that turns heads and creates good clean fun wherever it goes. In fact the mission of the TAF is to fly around the world promoting world peace by bringing people together."
Toobee is good clean fun for everyone (Ages 6-106). The perfect gift for any occasion or for that person who has everything. Just in time for the holidays.
In keeping with Toobee's efforts to make a difference in society, 100% of all profits go to select children's charities worldwide – www.cannedwater4kids.org.
Toobee International is the manufacturer of Toobee(R) the Amazing Flying Can. Based near Milwaukee, WI, the company specializes in the development and marketing of fun-based ideas.
For more information on the product, or to order online, visit http://www.toobee.com or call (262) 246-8480.
Greg Stromberg CEO of Toobee international Inc. Sussex wants to make a difference with his small toy company. His company manufactures an "All AmerICAN" toy as he calls it, in Wisconsin and promotes markets and sells "the world's only amazing flying can." In fact Stromberg claims that his Toobee is the "longest going unknown fad in the world."
He says he wants to be a motivating force for good, and instilling that belief in young people all over the world. In fact he has started an organization called the Toobee AirForce (TAF), whose mission is: "To fly around the world to enforce world peace by bringing people together." TAF's motto is: "success comes in ICANS and failure comes in cannots."
His TAF wants to be the motivation action model to all the children in the world. This will be accomplished by promoting being good (golden rule), healthy exercise and having just having good old fashion fun. He feels this is our last hope to create real change in the minds of our young children who will be our future leaders. Why wouldn't you want to invest in young person's mind giving them hope, a feeling of belonging, self-worth, good exercise, meet new friends and the freedom Toobee the very best they can bee?
This summer season, Stromberg wants to make this one to one special offer to retailers. Buy one case of (50 Toobees) for $295.00 and get one 50 case free. We pay the freight within the US
Stromberg says he isn't very big and whishes he good do even more, but as we grow, we will we will be able to do even more. He doesn't draw a salary and reinvests every dime in growing this company's future, promoting the Toobee AirForce and donating to cannedwater4kids.
You can also find TOOBEE INTERNATIONAL listed in the following categories on ToyDirectory.com:
Aircraft
Gifts
Sporting Goods & Accessories
---
If you would like to request wholesale pricing, please include the following information with your request:
Your name
Your company name
Mailing address
E-mail address and phone number
Mention TOYDIRECTORY.com
---
Correction Needed? Please email: emailtoydirectory@gmail.com
AD
Suggest a Correction!
Email: emailtoydirectory@gmail.com