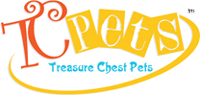 TREASURE CHEST PETS
Shop
Contact TREASURE CHEST PETS:
3865 E. 34th St., Suite 106
Tucson, AZ 85713
Phone: 520-722-9545
Fax: 520-722-2840
E-mail wholesale inquiries to:
lisalloyd@mytcpets.com
Search Amazon: TREASURE CHEST PETS
Suggest a Correction
Email: emailtoydirectory@gmail.com
---
About TREASURE CHEST PETS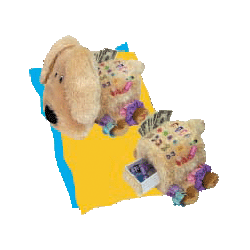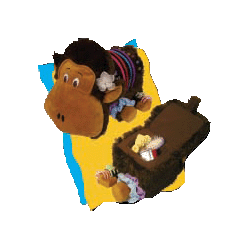 BUY Them on Amazon
Product Archives added to TOYDIRECTORY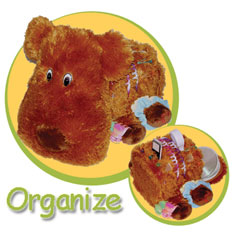 ---
Product added on: 10/2/2008
---
Shop For Products
Search Amazon: TREASURE CHEST PETS
Shark Tank's AfterShark: Lisa Lloyd of Treasure Chest Pets: An episode of AfterShark, post-show video interviews with the people who appear on the ABC show "Shark Tank." Posted: Oct 7, 2009

Treasure Chest Pets™ is a company committed to designing forward thinking plush products that always combine features that are both functional and fun!
Play, Store, Organize!.
TC Pets™
My head is a pillow so we can snuggle up tight...
My body is made so you can store things right...
But best of all I have a secret space...
So you can keep your special treasures in just the right place!
About Treasure Chest Pets™
Treasure Chest Pets™ began when Sandra Castillo approached 7 time inventor/licensor Lisa Lloyd to help her bring her newly patented invention to market. Lloyd's products have grossed over $30 million in retail sales and Castillo hoped to leverage that success and license her new patent to an existing successful company.
Lisa licensed the patent from Ms. Castillo and, with a small group of investors, has redesigned the product, set up manufacturing, and applied for additional patent protection.
TC pets™ became a proud member of TIA and launched the new line of "Plush Organizers" at shows in 2008.
Play, Store, Organize!
This is not just another plush product, but our patented toy is actually an organizer in disguise. TC Pets™ are specially designed with bodies that hold and store accessories on the outside and secret compartments on the inside for special treasures. Organizing has never been this fun!
Safe for children
TC Pets™ is proud member of TIA, and we are dedicated to safety for children. As such, we have made sure that TC Pets™ adhere strictly to all ASTM F963 (USA) & EN71 (EU) standards and regulations.
Customer First
We realize we have two customers, the consumer and the retailer. It is our greatest desire to be acknowledged as an industry leader for designing and manufacturing cutting edge plush toys that kids love to play with and retailers love to sell!
ToyDirectory only special: 10% off on orders over $500
You can also find TREASURE CHEST PETS listed in the following categories on ToyDirectory.com:
---
If you would like to request wholesale pricing, please include the following information with your request:
Your name
Your company name
Mailing address
E-mail address and phone number
Mention TOYDIRECTORY.com
---
Correction Needed? Please email: emailtoydirectory@gmail.com
AD
Suggest a Correction!
Email: emailtoydirectory@gmail.com