TOY
DIRECTORY member Since 2004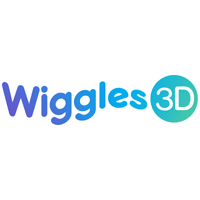 Wiggles 3D
Shop
Contact Wiggles 3D:
1124 Gainsborough Rd. Suite 9
London, ON N6H 5N1
CAN
Phone: 519-439-0440
Fax: 519-473-4641
Toll free phone: 866-801-4263
E-mail wholesale inquiries to:
info@wiggles3d.com
For additional information visit:
http://www.Wiggles3d.com
Search Amazon: Wiggles 3D
Suggest a Correction
Email: emailtoydirectory@gmail.com
---
About Wiggles 3D
Wiggles 3D's ToyShow Archives:

Product Archives added to TOYDIRECTORY
---
Product added on: 12/17/2014
---
Shop For Products
Search Amazon: Wiggles 3D
What will we play tonight?
Kind of catchy, isn't it? This simple motto speaks to what we were originally all about – bringing friends and families together to play games, laugh and share some fun. We firmly believe that this type of entertainment adds to the shared experiences that friends will remember forever.
GAMES
Today, Wiggles 3D brings its rich history of playing games together at the table to a variety of modern children's, family and party games. We've introduced award-winning trivia, strategy and word games. We believe in putting quality and care into every game we design and publish. We have an amazing team of game designers who really know how to craft a fun game experience. Have a look at our full portfolio in the Games section.

APPS

The last few years have brought significant change to the game category, driven largely by the popularity of mobile devices. We've embraced this new style of game with the creation of several apps. Some are dynamic versions of our board game titles. Others are fresh titles created just for mobile game players. Check out the App section of our site to see Paper Bees and Smile Tiles, two new offerings.
Several of our apps help promote our board games and create even more brand impact.
WEB & PRINT
Game players also enjoy playing puzzles in their daily newspapers and online. Beginning with our Don't Quote Me brand, we actively syndicate puzzles or quotes to millions of readers daily in publications such as USA Today and in Canada's largest newspaper, The Toronto Star.
For more fun you can search for great quotes in our database through our Facebook page or sign up for a daily quote to get you started each morning.
Watch for Lexigo coming to newspapers and online games in 2014!
Please visit the Wiggles 3D website www.Wiggles3d.com. We trust that you'll find some games to help answer the question "What will we play tonight?"
You can also find Wiggles 3D listed in the following categories on ToyDirectory.com:
---
If you would like to request wholesale pricing, please include the following information with your request:
Your name
Your company name
Mailing address
E-mail address and phone number
Mention TOYDIRECTORY.com
---
Correction Needed? Please email: emailtoydirectory@gmail.com
AD
Suggest a Correction!
Email: emailtoydirectory@gmail.com