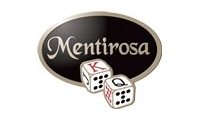 YUCA PRODUCTIONS
Shop
Contact YUCA PRODUCTIONS:
3201 N.W. 116 Street
Miami, FL 33167
Phone: 305.479.6079
E-mail wholesale inquiries to:
robert@mentirosa.org
Search Amazon: YUCA PRODUCTIONS
Suggest a Correction
Email: emailtoydirectory@gmail.com
---
About YUCA PRODUCTIONS
Product Archives added to TOYDIRECTORY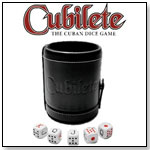 ---
Product added on: 4/2/2010
---
Shop For Products
Search Amazon: YUCA PRODUCTIONS
Mentirosa©
is a version of
liar's dice
that is played with Spanish Poker dice and the exclusive Mentirosa Player Tubes available only in this timeless game set.
The object of the game is to guess what your opponents have rolled without going over.
Unlike traditional poker games that require a poker face and mostly silence,
Mentirosa
encourages you to trash talk, taunt and tease your opponents. It's the main strategy, hence the name of the game:
Mentirosa
(Spanish: liar).
EACH SET INCLUDES:
* 6 Mentirosa Player's Tubes
* 6 sets of casino-grade poker dice
* Loser Chips: These chips will help you keep track of the winners and losers.
* Mentirosa Professional or Travel storage case
* Instructions in English and Spanish.
To begin the game, each player rolls a single die in open view of other players. The player with the highest suit starts the play. If a tie occurs, only those players in the tie roll again.
Players throw five poker dice into their tube. They look in their tube to see what they rolled.
A turn begins when the starting a player makes a call, for example three Jacks. This means they believe that there are at least three Jacks among all the dice in play.
The next player has two options:
Raise the call. This is done by, raising the suit called, raising the number of dice called, or both. In this example, the next player could call three Queens, three Kings, three Aces, or four of anything else. Any of these would be higher than the three Jacks called. Or...
Challenge the call. When a player challenges a call, he or she does not believe that the hand called, in this case three Jacks, exists among all the dice in play. To challenge, a player raises their tube, revealing their hand and signaling to the other players to do the same. At this point, the suit in play is counted.
In this example, if there are at least three Jacks among all the dice in play, the challenger receives a loser chip and a new turn begins. If there are less than three Jacks among the dice in play, the calling player receives a loser chip and a new turn begins.
The loser begins the next turn. There is no passing. Once a call is raised, it is the next player's turn and he or she has the same two options.The game continues in this manner, player after player, until a call is challenged.
Once a player receives 5 loser chips, they are out of the game. Last man standing wins!
You can also find YUCA PRODUCTIONS listed in the following categories on ToyDirectory.com:
---
If you would like to request wholesale pricing, please include the following information with your request:
Your name
Your company name
Mailing address
E-mail address and phone number
Mention TOYDIRECTORY.com
---
Correction Needed? Please email: emailtoydirectory@gmail.com
AD
Suggest a Correction!
Email: emailtoydirectory@gmail.com