Do You Like Your Candy with a Twist?
By Timothy Dickey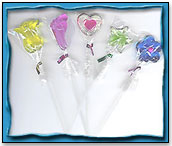 Twinkle Candy Lollipops

It's candy! No, it's a foot-long bendable stick!

No, it's BOTH!

Leo Arretin, Inc. has found sweet success with their Twinkle line of lollipops; they're cute, tasty and flexible. The trick is that the sweet part sits atop the aforementioned bendable stick. Twinkle Candy comes in variety of flavors, including the usual suspects but also few standouts like apple, and grapefruit.



The candy's unique qualities open it to applications seldom seen with a confection. They look delicious in floral arrangements, even more tantalizing in a candy bouquet, and seem right at home in a birthday cake or just the happy hand of a young party-goer.

The company says retailers have responded well to 15-cent price point, and Twinkle Candy's lollipops have recently undergone a packaging re-vamp that should increase product awareness and familiarity.





Want to see more New Products? Click Here...