Renaissance Woman
By Rachana Rathi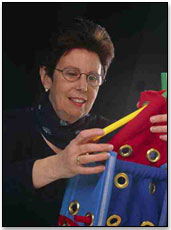 Karen Hewitt

Karen Hewitt has two passions: children and art. This becomes evident when looking at her life as an artist, early childhood educator, toy historian, and college lecturer in art education. Most of her education – B.A. in Art, M.S. Ed. in Early Childhood Education – and career were spent immersed in one or the other, yet today, Hewitt gets the best of both worlds – as a toy designer.

She founded the Learning Materials Workshop in 1979 when the Thingamabobbin was created as a collaborative effort between parents at Ethan Allen Childcare Center in Vermont. The Thingamabobbin is one of 8 award-winning sets of construction toys designed by Hewitt. She has designed 14 in total.

ToyDirectory Monthly (TDM):

What are the concepts behind your designs?

Karen Hewitt (KH): The designs have come out of knowledge of child development. Children are interested in toys that stimulate their creativity. As an artist, I enjoy making things that are aesthetically pleasing. The toys are made with unusual shapes, colors, and materials in order to provoke questions from the children.

(TDM):

Why do you think the aesthetics of a toy matters?

(KH): I enjoy designing eye-pleasing toys, and working with materials like hard wood, which has a real quality, a heaviness to it. And children gravitate towards them too. They like things that are beautiful and have some complexity to them also.

(TDM):

Is there a reason why you design construction toys?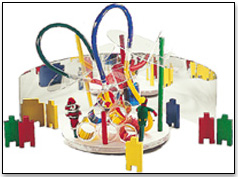 The Award-Winning Carosello©

(KH): Construction toys are modular toys. Children like to take things apart and put them back together again.

Learning Materials Workshops' toys

are open-ended, yet carefully designed in a variety of colors, sizes, shapes, and textures that stimulate and develop perceptual, motor, and language skills; mathematical thinking; physical knowledge; cooperative problem solving; and aesthetic awareness.

(TDM):

Where do your ideas come from?

(KH): I get ideas from watching children play, and from scouring for new materials. I've used an assortment of unusual materials in my toys: different types of wood, acrylic prisms, colored tubing, mylar, or net to make soft walls.

(TDM):

How do you begin the designing process?

(KH): I design by either making new shapes myself or playing around with shapes that are available. I try to relate each toy to other toys that I've made, whether it be in size, color, or the shape holes.

(TDM):

How are your designs tested?

(KH): I know children pretty well, and can reject designs even before I take them to schools to test. I've done this for years, but that still doesn't mean they don't surprise me. I usually test the design to find out how difficult the toy is.

(TDM):

Give us an example where you were surprised?

(KH): When I designed the Carosello, I was thinking of it as a toy for older children, around 5 or 6 years old. But when it was tested, I found that toddlers really enjoyed it. So I have simplified it, with less pieces, putting things in holes, etc so that toddlers can play with it.

(TDM):

Were there any toys that passed tests but didn't work in the market?

(KH): There was a toy called Toptical – optical top – it did really well in the beginning. The Smithsonian bought a bunch and put it in their catalog, but we had to drop it because we weren't selling enough.

(TDM):

What was the most unusual design you created and how was it inspired?

(KH): The Arcobaleno, which means rainbow in Italian, is our most popular toy. I knew someone who was a furniture designer. He was making a display stand with pieces that were cut out of wood. The way it was cut out was a special process. He got in touch with me and said the kids really enjoy playing with the display at the local Montessori. So essentially, he came with the idea and I developed it. It only has 12 pieces and a base, yet its still the most interesting and popular toy.

(TDM):

Do you miss being an educator? Would you go back to teaching?

(KH): I miss teaching, but I wouldn't go back now. I spend a lot of time in the classrooms. Right now I've put together the two things I really love – children and art.


Want to see a showcase of Educational Products? Click Here...