"Cool Companies" is a monthly feature where we recount the odd beginnings, interesting permutations, or otherwise unique and noteworthy circumstances of a toy or hobby manufacturer. If you think you know of a Cool Company that you'd like to see featured here, please contact timothyd@toydirectory.com.



LOWRIDE2FREEDOM: Freezing a Pose in a Hot Niche
By Timothy Dickey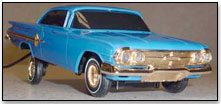 Blue 1960 Lowrider Dancer
If you've ever seen a Hip Hop video or John Singleton film (Boyz in the Hood), you've probably seen a Lowrider car--a 60s-era sedan lowered and restored with a seriously cool paint job, immaculate chrome rims, and perfect upholstery and details.

Of course, the key feature of the Lowrider is a custom hydraulic system that can lift the body of the car off the chassis, freezing it in a cool pose or making the front or back end hop up and down. But Lowriders aren't just cars. They're cultural statements, and one-of-a-kind ornaments that both admit you to and establish your rank in an intensely loyal community. Devotees can easily put six figures into restoring and outfitting a car, usually a vintage Chevrolet.

Thanks to LOWRIDE2FREEDOM, however, consumers can put down $19.95 and "represent" their Lowrider leanings with a highly detailed, electronically pose-able Lowrider replica in 1:25 scale. And consumers do, with fervor. That's why LOWRIDE2FREEDOM is our Cool Company of the month.

Tricking It Out Family Style

Owned and operated by the father and son team of Donald and Mark Woods, LOWRIDE2FREEDOM's incredibly accurate, durable plastic models have been featured in Lowrider Magazine, and discovered by members and admirers of the culture all over America and on distant continents.

"We've gotten orders from all over the place," says Mark Woods. "Through the wholesale (operation) we get orders from Asia, Australia and England."




Red 1965 Chevy Impala Lowrider Dancer with controller

Unlike static die-cast replicas that are also zooming off shelves, the Woods' products have specific appeal because of their simulated hydraulic functions. They're not remote control; trick moves are operated with a wired, video-game-style controller.

Orders are also rolling in through LOWRIDE2FREEDOM's internet-based retail operation, which Mark oversees at www.lowride2freedom.com. Customers hail predictably from Los Angeles and other urban markets, but also Arkansas, Mississippi, and military bases far and wide.

The appeal seems to be largely, but not exclusively, adult in nature.

"I wouldn't so much call it a toy," explains Mark Woods. "It's almost like a token…like a cool gadget for somebody who really just likes Lowriders."

In their second year of operation, LOWRIDE2FREEDOM is looking at twice the profits from the first year. They seem perfectly "posed" in a hot niche—vehicles--that saw an 8% rise in retail sales in 2001*.



Want to see more Toy Car Products? Click Here...