Animal, Mineral…Replica
By Timothy Dickey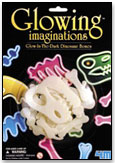 Glow-in-the-Dark

Geoworld is an Italian company best known for creating painstaking fossil replicas, and offering minerals, fossils and related printed materials for retail sale.

Alpi International has become the exclusive distributor of Geoworld in the United States, and presents a variety of academic-quality fossils, minerals and replicas that wholesale between $2 and $8. Geoworld replicas are painted by experienced craftsmen, which are packaged to enhance their academic content.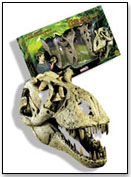 Geoworld T-Rex skull replica

The T-Rex skull replica is a favorite, with easy-to-assemble pieces and a see-through display box. The rest of the replica line offers over 25 different dinosaur claws and teeth, all made from polymer resin and calcium carbonate to museum standards.





Geoworld also offers mineral samples within the same price range, including iron pyrite (fool's gold) and magnets. Other items that will grab customers are the Authentic Shark Tooth Fossil and Arrowhead replica which both wholesale for $2.50, and the Shark Tooth Necklace at $8 wholesale.




Want to see more New Products? Click Here...