"Real Retailer" is a monthly feature where we discuss industry strategies, trends, happenings, or anything relevant with toy and hobby retailers across the country. If you have something interesting to say and would like to be featured here, by all means tell us! Please contact press@toydirectory.com

Real Retailer


August Real Retailer:

Meltdown Comics


Location:

Sunset Boulevard, Los Angeles (meltcomics.com)


Store Manager:

Ace Aguilera


ToyDirectory Monthly (TDM):

How long have you been in business?

Ace Aguilera (ACE):

We've been in business for nine years and counting.

The store opened in October of 1992.

TDM:

I know you offer a real variety of products in your store…can you tell us a little bit about the various sections?

ACE:

The comics section consists of mainstream (i.e. superhero, sci-fi, etc.) and many independent comics.

As a matter of fact, Meltdown is the largest source of independent comics in Los Angeles.

Meltdown also has a huge selection of trade paperbacks and a very large European book section.

We also offer a unique selection of collectible trading cards (i.e. Garbage Pail Kids®, movie card sets, etc.), t-shirts, posters, and an incredible range of toys that include rare vintage items, statues, Japanese imports, action figures, urban vinyls, and more.

TDM:

Who is your typical customer?

ACE:

Our typical customer is usually an adult male who enjoys comics for the great art as much as a compelling story.

With regards to action figures, they tend to lean toward well-sculpted likenesses and articulation.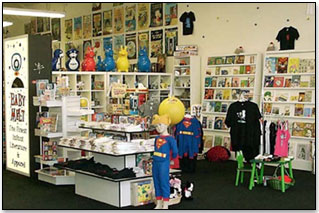 Baby Melt

TDM:

What is Baby Melt?

What inspired this addition to your store?

ACE:

Baby Melt is an extension of Meltdown that specializes in women's clothing and accessories, as well as books and toys for small children.

We decided to create this addition to help gain a larger female customer base, as well as give our male customers girlfriends and wives a section to peruse.

TDM:

Has it been successful thus far?

ACE:

Yes, very much so.

Customer response has been overwhelmingly positive.

Baby Melt is constantly expanding, often offering many new items to pique interest and demand.

TDM:

Meltdown has its own character in "Melvin," can you tell us a little bit about him?

ACE:

"Mel" was designed during the early days of the store by the well known Dan Clowes.

He also designed "Melton", the younger alien mascot of Baby Melt.

"Melanie" was designed by "Coop" as a counterpart to "Mel".

TDM:

You actually offer "Melvin" products…what are these, and what was your motivation in doing so?

ACE:

Mel's image appears on numerous items such as t-shirts, keychains, patches, and vinyl figures.

The inspiration was quite simple.

Disney has Mickey Mouse.

Marvel has Spider-man.

DC has Superman.

Meltdown has Mel.

We want Meltdown to be recognized worldwide and in order to do that you need an icon.

TDM: I noticed you frequently have in-store events, such as artist signings.

Do you notice increased sales on these "event" days?

Do you have events other than signings?

ACE:

Yes, there is an increased amount in sales during these "events".

We are always looking to have other types of events but as of yet nothing has come up.

TDM:

You also just opened an art gallery.

Can you tell us a little bit about this?

ACE:

The art gallery was envisioned by independent writer/artist Sammy Harkham and store owner

Gaston.

It's a wonderful way to let the independent and mainstream artists to display artwork that may not be seen in the pages of their comic books.

Our current exhibition, "Visions…of the

Future" runs through August 10, 2002.

Another exhibition will be set up by our curator shorty, thereafter.

TDM:

Your web page is fairly complex and informative, even including a free space-invader type game (featuring Melvin.)

How has this web presence helped your business?

ACE:

The web site has helped to inform customers and others of upcoming events, store information, and to provide a little entertainment.

It has basically allowed our customer base to grow to a global scale.

TDM:

Finally, if you could remove one headache from your job, what would it be?

ACE:

The biggest headache is the unavailability of an item. I wish all the cool books and toys would always be in stock. I hate it when I have to tell a customer that an item he/she is looking for is out of print or out of stock or is sold out.

I hate to be the guy that says that.

The fact that we cannot provide a certain book or toy to a customer drives me and the Meltdown staff crazy.




To view July's Real Retailer, click here.

Want to see more Collectibles Products? Click Here...