For Those Who Enjoy Things That Ooze
By Timothy Dickey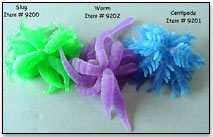 Velvet Slime

We don't know which is cooler: The fact that this material is solid yet oozes, OR, the fact that it was designed by a stay-at-home mother in Florida! Somehow, between errands, meals and boo-boos that needed attention, this enterprising woman came up with a product that feels velvety but almost drips through your fingers when you hold it!

Play Visions, the company who developed Velvet Slime, says you have to touch it to believe it. At a retail price of $8.99-$9.99, it's not out of reach for many young aficionados of ooze.

Velvet Slime comes in three styles: Centipede, Worm and Slugs. Three new styles are in the works, with additional features and functions planned for 2003. Play Visions says it's been a "major hit" at regional and national trade shows this Summer. What can we say, but, 'Thanks Mom!'





Want to see more New Products? Click Here...