Lights, Camera, Action!
Link Innovations Takes Action Figures Behind the Scenes
by Tim Sullivan

Electricians, Painters, Plumbers, Carpenters. These are not the action figures of my youth. But times have changed, and Link Innovations, a new toy manufacturer from Massachusetts, believes there is a viable market for an action figure of a different sort. Enter Construction Jack.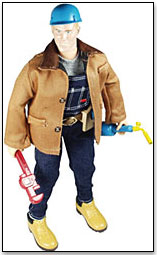 Slated for release in August, Construction Jack stands 12 inches tall, and comes equipped with trade-specific gear. The initial release has different ethnicities of Construction Jack in the four aforementioned trades, with an Iron Worker Construction Jack and a Painter Construction Jill already in the works.

Jack is entering a crowded marketplace, where new releases often disappear from shelves quickly. However, Link Innovations Vice President Patrick Cloney explains that the success of another toy manufacturer has made them quite hopeful.

"We're actually excited about the success of Bob the Builder. We feel that Bob the Builder is educating our market, getting them used to what we are trying to promote, but in a different age bracket. We want to get that market as they grow older, and really educate them on why Tradesman are important to society. Show them that our way of life is a result of people like this."

A proven market space, and Link Innovations venture backing, may give this product the staying power necessary to make Construction Jack a success.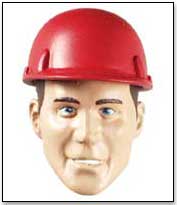 In marketing the product to consumers, Link Innovations has an ace up its sleeve with the product's inventor Andy Winslow. Himself a third generation electrician, Construction Jack has been his pet project for the past three years. Winslow plied his trade in the city of Boston until work became scarce. Following work across the country to the city of Seattle, Winslow left family and friends behind. Living across the country, Andy wanted to send his nephew a toy that represented what he did for a living. However, upon searching through both specialty and chain retail shops, Winslow realized that there was no such figure. The idea was planted, a patent was secured, and the rest is history.

With a book deal in the works, and plans for more Jack and Jill characters, Link Innovations has much bigger plans for Jack. "Our wish list is a form of video. We are leaning towards a real action video instead of claymation or a cartoon." While any film production of Construction Jack is still in the idea stages, Link Innovations has very high hopes for its product.

Hopes that seem very well-founded: "We're representing a huge segment of the population that is currently unrepresented. These are people that take enormous pride in what they do. Not to mention that our product is a non-violent, educational action figure, which is a nice alternative to what is generally out there."

With a proven market, an untapped population segment, and a quality product, Link Innovation's future looks bright. Keep an eye out for Construction Jack late this summer.

Want to see more Action Figures? Click Here...