September 22, 2020

September 2006 | Vol. V - No. 9


Game and Toy Creation - Part 3
Promoting and Marketing Your Idea
"A solid marketing strategy should contain a wide mix of methods that will help sell and promote your products and brand ... Know that you'll have to take calculated risks and not everything you try is going to work perfectly." — Darin S. Johnson, TadPals, LLC

To read Part 1 of this article, please click here. To read part 2, please click here.

After protecting your concept and making the decision to launch your own company, (VIEW ARTICLE) promoting and marketing your invention is the next step in getting the product into consumers' hands. The most common mistake for new inventors is not having a plan.

Team Up With the Pros
"Many of these folks have wonderful games, but no business or marketing experience," Anthony Gallela, executive director for the Game Manufacturers Association, told

TD

monthly Magazine

.

Most startups opt to hire professionals to help devise a winning game plan. The Matter Group promotes Xeko through two agencies. Mark Gross, their director of marketing and communications, said that they would need a staff of 50 to do the work these firms accomplish.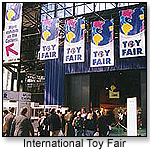 Some, such as Xyllion, rely on trade shows, direct marketing and telephone follow-up. Mad Cave Bird Games met with success at this year's American International Toy Fair in New York City. However, game manufacturers often experience more receptivity at GAMA in Las Vegas, where Sevinpold Castles (ToyShow) signed deals with top-tier distributors and convinced more than 100 independent stores to carry its game.

Darin S. Johnson, MBA, a partner with HolyFolks (ToyDirectory), recommends that startups handle public relations and advertising independently whenever possible. "A solid marketing strategy should contain a wide mix of methods that will help sell and promote your products and brand… know that you'll have to take calculated risks and not everything you try is going to work perfectly."

Build a Name
Though both advertising and publicity are powerful tools for building awareness and boosting sales, public relations specialists Dan Grody, account supervisor for Tellem Worldwide, and Lisa Orman, president of KidStuff Public Relations, said that the editorial coverage their firms help procure can be more cost-effective and influential.

"It is one thing when an ad says something nice about the company and quite another when an editor speaks highly of you," pointed out Grody.

However, Matt Mariani, marketing director for Out of the Box Publishing (ToyDirectory), noted that games are one of the rare products that PR doesn't always help. He emphasized the importance of demos: Getting the product into people's hands is crucial, since most purchases are based on word-of-mouth.

"They ship a game out to Ye Olde Game Shoppe in Utah, and they never get a reorder — the game just sits there," Mariani commented about newcomers who don't send demos. "A game inventor would never expect that."

Get Them Playing
John Kaufeld, communications manager for GAMA in Las Vegas and a game reviewer, affirmed the importance of demos. The manufacturer should opt to invest in incentive-inducing promotions like "buy five and get one free," so the modest retailer can use the extra game as a demo, he said. Handout items such as key chains with logos, he added, are not effective promotional tools.

Budgeting for product samples, though, is essential, Orman continued. Kaufeld warned that many companies are undercapitalized and are not prepared when they're bombarded with requests by the press for free review copies. "They've got to think long-term," he advised.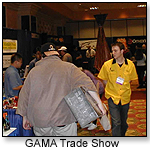 Time It Right
Finally, Orman emphasized the importance of appropriate timing — don't put out a press release for the trade press until the product is in the prototype stage, and wait until it's ready to be shipped before alerting the consumer press.

"Why strive for a story in a national magazine when you have no retail distribution and consumers have no way of buying what you've just convinced them they can't live without?" she quipped.

Organization and a tangible product will bring sales to a new manufacturer.

Here are some products that have managed to get the word out:
Darkness Falls on Sevinpold by SEVINPOLD CASTLES INC.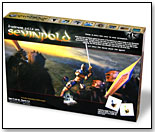 Darkness Falls on Sevinpold is a revolutionary new board game that's fun for the entire family. Sevinpold is a world where every castle is filled with secrets, perils, powers and magical creatures; where the heroes, known as the Valiant, must play as a team against the menacing Darkness in order to win; where victory cannot be declared until the very last roll of the dice when the Scepter is reunited with the Living Throne. With excitement at every turn, Sevinpold is a game that never plays the same twice. It challenges players every step of the way and maintains their interest so they want to play again and again. With two patents pending for its distinctive movement and innovative "team play" concepts, Sevinpold has changed the way board games are played.
— "Sevinpold hits that demographic of 8 to 14," said Darren Turbeville, owner of Toy Chest in Healdsburg, Calif. "We average a piece every 10 to 14 days."
— Sevinpold does "very well" at Thinker Toys in Carmel, Calif., said owner Mark Phillips. "I've sold through two or three re-orders. It's selling without even being demonstrated. Knights and dragons and pirates are the biggest category in the world."
— "I love it!" enthused 11-year-old Sara Seagle. "I think it has beautiful illustrations on it." TDmonthly's Homeschooling Roundtables families played with Sevinpold an average of seven times each from January to July 2006. VIEW ARTICLE, VIEW CHART (

Watch Video) 12/9/2005



Apples to Apples by MATTEL INC.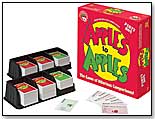 Apples to Apples is a wild, award-winning card and party game that provides instant fun for four to 10 players. It's as easy as "comparing apples to apples" ... players need only open the box and deal the cards to be ready to play. They then select the card from their hands that they think is best described by a card played by the judge. If the judge picks their card, they win that round. Everyone gets a chance to be the judge. Each round is filled with surprising and outrageous comparisons from a wide range of people, places, things and events. Fast moving and refreshing, Apples to Apples is perfect for any get-together with family and friends.
— "Sales have doubled every year," enthused Matt Mariani of Out of the Box Publishing in 2005. "We´re struggling to keep up to the demand." [Game previously available from Out of the Box.]
— Gwen Bowden, manager of Doodlehopper 4 Kids in Springfield, Va., told TDmonthly that she expected Apples to Apples to sell well during Christmas 2006.
― In early 2009, retailers reported sales of up to 40 per month of the Apples to Apples game.
― "We probably sell 25 a month," Mike DiAndrea, manager of Hardware Center in Paoli, Penn., told TDmonthly in early 2011. 4/22/2005 (MSRP: $29.99; Age: 12 and Up)



TriQuest! by DEEP CREEK ENTERPRISES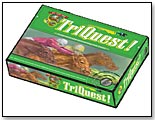 This board game combines the exhilaration of horse racing with the atmosphere and sounds of the racetrack. Players act as jockeys aboard their own thoroughbred horse, forced to decide whether to bolt for the early lead or to hold back and try to overtake tiring horses down the backstretch. The game incorporates modern technology with traditional board game play. "Today's game buyer is more sophisticated and thus much more hard to please than previous generations," pointed out Deep Creek Enterprises' president Bill Walker. "Since TriQuest is able to match superior technology with the tradition of board games, it is unique in its ability to attract players of varying generations." (

Watch Video) 3/28/2006



Xeko Mission: Madagascar by MATTER GROUP LLC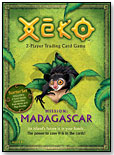 This unique two-player card game teaches kids about endangered species and environments. Game play is set up as though all events take place in a mystical world, yet the world described is that of Earth. Players compete to collect cards with different skills and helpful animals and tools on them. Turf Wars occur wherein they must defend the Xeko-system they've created with the cards they've collected. The set includes 50 cards. "Xeko is more fun than other card games because the heroes of the game are the real animals of earth's wildest habitats," Mark Gross of Matter Group told TDmonthly. "Xeko fans know all kinds of cool facts, like which African frogs ooze poison and the name of the world's smallest primate." (

Watch Video) 3/28/2006



Noah by HOLY FOLKS



This 16" premium plush doll comes individually packaged with detailed magnetic hands and a set of elephants. The Holy Folks Noah doll is the perfect example of courage and faith for children. Noah's unique and entertaining magnetic functionality allows children to "Play and Pray" with their new best friend. (

Watch Video) 3/9/2006 (MSRP: $19.99; Age: 3 and Up)



Find Frinkle by XYLLION INC.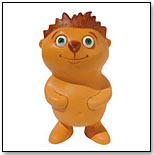 "Find Frinkle was unveiled at the WTHRA show in March to wide acclaim," said Rick Rotkosky, president of Xyllion Inc. He's a lovable prairie dog who takes delight in hiding from small children. He's soft, cute and loves to talk and giggle and play over and over again. To play with Frinkle, squeeze his belly and hide him someplace safe, like under a pillow or blanket, in a closet or cabinet, behind a curtain or in a box. Then press the button on the controller and Frinkle chirps, laughs and encourages young children while he waits to be found. When a child finds Frinkle and squeezes his belly, Frinkle exclaims in delight and asks to play again. Launch date: May 8, 2006. (

Watch Video) 3/28/2006 (MSRP: $24.99; Age: 3 and Up)



---
---


Copyright © 2020 TDmonthly®, a division of TOYDIRECTORY.com®, Inc.