"[Sevinpold] gives them an opportunity to practice a whole new way of thinking that's invaluable in so many aspects of adult life." — Lynn Costine
TDmonthly's five homeschooling families in Western North Carolina were asked to evaluate three games for educational and play value.
Darkness Falls on Sevinpold Castle
(
ToyShow
) earned more "10"s than any other toy evaluated by all five families since the Roundtable began last December. Also earning high marks were the fast-paced
Sentence Says
by
Marban
(
ToyShow
) and
American Art Bingo
by
Lucy Hammett Games
.
Participating homeschoolers included former art teacher Lynn Costine with Sarah (12 years), Anna (10), Emily (8) and Will (6); former business owner Julie Petoia with Cabot Lee (11), Talia (9) and Malynne (8); Susan Ledford, editor of the Homeschoolers Resources Directory, with Victoria (10) and Joe (6); former corporate workshop manager Shawna Hughes with Alexa (10); and Allison Seagle with Sara (11). (Click here to view the full results of the survey: Homeschool Families Rate Toys.)

Sentence Says
by
MARBAN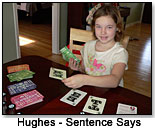 "I thought this would be another boring word game but it's not! It's actually a lot of fun," exclaimed an enthusiastic Sara Seagle.
"After we played the first game she begged me to play again and again and again," said her mother.
"[The game] has a lot of imagination and makes you think to come up with an answer. Turns go quickly, and that allows for other players not to be bored when it isn't their turn," commented Hughes.
"I like its quick speed and decision making," said Petoia.
"The game works well for children learning basic grammar," noted Ledford.
Costine agreed: "It would be a fun way to teach sentence structure in a reading group … If I told my kids they could play Sentence Says instead of doing English, they'd be happy!"
"It strained my brain to come up with the sentence quickly!" said Victoria. One of her sentences was, "Quinten Green yells, 'Stomach, ears and neck!'" "It's harder than it seems," she added.
"It's a great game to develop thinking on your feet," concluded Ledford.
Darkness Falls on SevinpoldCastle by SEVINPOLD INC.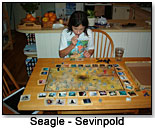 "This is such a cool game! I love everything about this game," gushed Sara Seagle.
"This was the first game Sara wanted to play. It was chosen over all of her Christmas presents," noted her mother. "I don't think this game should be marketed specifically for boys."
Former art teacher Costine rated Sevinpold high for educational value: "When you play with more than two people, one person is the Darkness and the rest of the kids have to work together as a team, which is hard for young people to do … It gives them an opportunity to practice a whole new way of thinking that's invaluable in so many aspects of adult life."
"We loved the look of the game — the pieces, the board and the pictures on the cards are beautiful and very imaginative," said Hughes. "We liked that there are elements of strategy but also of chance, so that the best strategizer doesn't automatically win."
"It is very hard for just two good guys to defeat 8 or 10 Darkness guys," sighed Alexa, though she wouldn't give up trying "to defeat the Evil force."
"Darkness rules!" cried the Ledford children.
"It has a very imaginative design and method of playing," noted Hughes.
All of the kids wanted to have another game like Sevinpold. "In fact, they already have requested more of the Sevinpold games," said Ledford.
"This game is totally awesome!" concluded the Ledford kids.
American Art Bingo
by
LUCY HAMMETT GAMES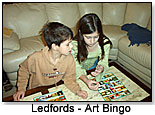 "They loved it!" said Costine. "Emily said she thought it was beautiful and she loved looking at the pictures. As a former art teacher, I think it's a great game … It puts interesting images in front of kids in a nonjudgmental way."

Petoia appreciated the learning value of the artist facts on the backs of the cards.

"The information … is very interesting and helpful, particularly the notes that mention artistic style and/or cultural significance," agreed Ledford.

"Alexa loves Bingo and loved playing," said Hughes. "She liked the different artworks and being able to try to remember the artists' names."

"It's very easy to play; even preschoolers understand how to play Bingo!" noted Ledford.

"My favorite is Zorach's Reclining Cat," said Victoria.


"My favorite is the Lion (Tavern Sign)," said Joe.

"Playing the game sent us on a search for more information on several of the artists," shared Ledford. She thought it might be a good idea to include a booklet with more detailed notes on the artists and styles to maximize learning.

"I was actually surprised at how much Alexa seemed to learn from it," said Hughes. "She is a visual learner, though, so it may not be the same for all learning types. I wouldn't change anything [about this game]."

Costine thought that a version with larger call cards should be offered for classroom instruction. She also wished for other Art Bingos. "It would be great to have a Renaissance version."

Following are the toys the homeschoolers evaluated this month, as well as a few other products by the same manufacturers:

.

AD

.

AD

For 2 to 6 players, this game is based on the traditional Bingo format but substitutes famous pieces of American artwork for numbers. The caller will remove a card from the stack, and players have to match the painting on that card with the spaces on their own card. The first player to connect a row calls out "Palette!" and is declared the winner.

.

AD

.

AD

Sentence Says Dice Edition is hilarious fun for the entire family to play at home or on the road. Draw an action card and read the sentence instruction. Now roll the letter dice to see what letters you will get to create your sentence. Hurry, the timer's running out! What will your sentence say? For the letters: F, L, S, I and P, how about "Frogs like singing in ponds?" Opponents judge a winning sentence and can steal it if you're not careful. The game is for 2 to 4 players and includes 4 consonant dice, 2 vowel dice, 1 danger die, 1 steal die, 40 action cards and a dice cup.

.

AD

As in regular Bingo, one player needs to be the caller and distribute the playing boards to the other 1 to 5 players. The caller shuffles the cards and calls them out, one at a time. If the card called is on a player's board, then he or she places a marker on that picture. The first one to have a filled line wins. Children will learn about different wildflowers while playing a fun game of chance. Each Bingo kit comes with 6 playing boards, markers and 42 Bingo cards, which have pertinent information about wildflowers on the backs. A teacher's edition with 18 playing boards is also available.

.

AD

Kids will get creeped out, educated and have fun all at once with this Bingo game that teaches them about cockroaches, ants and mayflies. Each Bingo kit comes with six playing boards, markers and 42 Bingo cards, which have pertinent information about bugs on the backs. A teacher's edition with 18 playing boards is also available. Other Bingo kits include Lewis & Clark, United States, Colorado, Birds and many more.

.

AD