It's not different for the sake of different. It's different for the sake of meeting the needs of what we think is a great entertainment venue." — Mark Alan Osterhaus, Out of the Box Publishing
Click here to read Part II

A good toy design requires imagination, adaptability and extensive test marketing on both friends and strangers. Nine entrepreneurs shared with TDmonthly Magazine their process of moving from dream to product.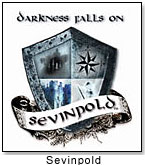 After Don Donovan invented Darkness Falls on Sevinpold for his daughters in 2000, he elicited feedback from neighbors. Positive response led to his partnering with fellow ex-Procter & Gamble executive Alex Zelikovsky to form Sevinpold Castles (ToyShow), incorporated in 2002. For the next two years, the pair test marketed the game across the country.
They asked hundreds of children what makes a game great enough to purchase and recommend to friends. Based on responses, they modified their product until it reached version 7.0, conducting research in a classic "Procter & Gamble fashion" and relying on their marketing background to achieve product superiority.
Mark Alan Osterhaus, who founded Out of the Box Publishing (ToyDirectory) in 1998, has also found market research an essential part of product development. The trendsetting board game inventor develops fast-paced games that engage all players on each turn and can be played in little time. His most popular product, Apples to Apples, was reduced from 1½ hours to 20 to 30 minutes during development.
The reason? The public has less time and more alternatives for entertainment. "I'm in the game business, and I still don't have time to play games," Osterhaus quipped. "You have to be able to open the box and play the game right away. We didn't want the games to cycle too long."
When video gaming dominated the market in the 1980s, "there was a void," Osterhaus said. "This is an opportunity to actually reintroduce games to the American public, but not the way they used to be played or designed."
Osterhaus believes that rolling dice and moving around a board is outdated. "People are used to having things instantaneously with a lot of action; we really had to change the game design. It's not different for the sake of different. It's different for the sake of meeting the needs of what we think is a great entertainment venue."
Three religious brothers, Ardie, Mica and Darin Johnson, entrepreneurs with careers in computer animation, art and marketing, also saw a gap in the industry and wanted to fill it.
"There are nearly 220 million American Christians that spend an estimated $3- to $7 billion annually on religious-themed products," Darin Johnson stated.
They created Holy Folks, a line of faith-based figure dolls, and tested them on local women and children. Positive feedback provided the encouragement they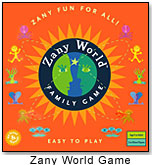 needed to form TadPals and begin doll production earlier this year.

Shelley Markwart started World Respect Marketing in 2004 to sell Zany World Game (ToyDirectory), inspired by her three sons. She tested her concept for a year with families and schools in her community before initiating production. Kids remarked that it was better than Monopoly.

"How interesting that a game about sharing, caring and respect was better than a game about money," Markwart commented.

Other new companies that launched in 2005 or 2006 with unique products that were tested in schools, at trade shows and/or among family and friends include Mad Cave Bird Games' (ToyDirectory) 3-D color sudoku game, ColorKu; Deep Creek Enterprises' (ToyShow) electronic horse-racing board game, TriQuest; Matter Group's (ToyDirectory) dream-inspired, educational collectible card game featuring endangered plants and animals from Madagascar, Xeko; and Xyllion's (ToyDirectory) talking, hide-and-seek remote-control prairie dog, Find Frinkle.

Sometimes company founders just act on instinct: Swedish immigrants Tony Mag and Mathias Ringstrom started Mindtwister USA (ToyShow) in 2005 to promote Pentago, a logic game that Ringstrom licensed from a company in Sweden. Mag was impressed by the "simple genius" of the design. That was enough for the partners to bring it to the American International Toy Fair in 2006, where specialty retailers quickly snatched it up.

But developing and testing is just the first step. Next month, in Part 2 of a 3-part series, TDmonthly will discuss how to protect ideas in an article on Copyright, Patent and Trademark Law.

What follows are products from nine innovators.

.

AD

.

AD

.

AD

This board game combines the exhilaration of horse racing with the atmosphere and sounds of the racetrack. Players act as jockeys aboard their own thoroughbred horse, forced to decide whether to bolt for the early lead or to hold back and try to overtake tiring horses down the backstretch. The game incorporates modern technology with traditional board game play. "Today's game buyer is more sophisticated and thus much more hard to please than previous generations," pointed out Deep Creek Enterprises' president Bill Walker. "Since TriQuest is able to match superior technology with the tradition of board games, it is unique in its ability to attract players of varying generations."

.

AD

.

AD

.

AD

"Find Frinkle was unveiled at the WTHRA show in March to wide acclaim," said Rick Rotkosky, president of Xyllion Inc. He's a lovable prairie dog who takes delight in hiding from small children. He's soft, cute and loves to talk and giggle and play over and over again. To play with Frinkle, squeeze his belly and hide him someplace safe, like under a pillow or blanket, in a closet or cabinet, behind a curtain or in a box. Then press the button on the controller and Frinkle chirps, laughs and encourages young children while he waits to be found. When a child finds Frinkle and squeezes his belly, Frinkle exclaims in delight and asks to play again. Launch date: May 8, 2006.

.

AD