September 27, 2020

December 2007 | Vol. VI - No. 12


Wooden Toys Catch Fire
Recalls Make Old-Fashioned Toys the Hottest New Thing
"Once people start to get these better-quality toys, that's what they'll want." — Marilyn Chalais, Holztiger

If you haven't stocked up on wooden toys, you may be missing out! Spooked by the recalls from China, holiday buyers are raiding specialty stores for wooden toys, particularly those made stateside. Manufacturers told TDmonthly Magazine they are struggling to meet the demand and anticipate that the fervor will continue into 2008 … and beyond.

A FAR-REACHING TREND

"The toy industry wants to make it sound like [the reaction to the recalls] is no big deal … and people are going back to buying as usual, but it's not happening," reported Michael Rainville, co-owner of Maple Landmark Woodcraft Co.

"Once people start to get these better-quality toys, that's what they'll want," predicted Marilyn Chalais, U.S. agent for Holztiger.

UNPRECEDENTED GROWTH

Frenzied orders for wooden toys after the recalls were reported by nine of 12 wooden-toy manufacturers who spoke with TDmonthly; two others said their sales in 4Q are substantially better than last year, but aren't certain the recalls are directly responsible.

So what constitutes a "frenzy"?

"300 percent" growth, said both Michael Whitworth, founder of Whittle Toy Company, and Founder/Designer Jason Gold of Camden Rose.

"1000-fold since two years ago," was the response from Joe Barrett, CEO of Automoblox.

"We haven't even opened any new accounts since October, because it's all we can do to keep up with our current business," continued Rainville.

Owner Ron Voake of 35-year-old Vermont Wooden Toys told TDmonthly that demand has been so high this fall there wasn't even a chance to email customers that typically buy every year. "We have not one single toy left," he said.

HaPe opened 250 new retail accounts in three weeks this fall and will probably double last year's revenues, said Managing Director Maggie Qui. The Whittle Toy Company jumped from 73 affiliated stores this spring to more than 400 as of December 6, Whitworth told TDmonthly.

THE GOOD GUYS ARE WINNING

Consumers' new focus on quality toys dovetails with their concerns about the environmental impact of industry.

"Everything [we make] is grown from sustainable, locally grown hardwoods," assured Royce Bjornstad, manager of Mossy Creek Woodworks. "We don't paint or varnish — just use a finish of food-grade mineral oil."

The hardwoods in Camden Rose products aren't just local, they're personal: "Not only do I know who made the Toddler Zoom Car, but I can also tell you the particular tree," insisted Gold. He added that the company never forages in polluted environments "because I have no idea what [that tree] absorbed in its life."

A BOUNTIFUL CHRISTMAS

Retailers are profiting from consumers' new priorities, too. "The biggest thing we're doing is Kapla," said Eric Masoncup, owner of Geppetto's Toy Box in Oak Park, Ill. He has a display of 3,500 European-made wooden Kapla planks in the window, plus another 4,000 in the store for play.

Masoncup also said he's out of stock of the wooden Fagus trucks he imports from Germany.

Founder Caroline Deal of online retailer Sum-Bo-Shine hasn't seen a sales difference, but 85 percent of her shoppers this year are new customers, and many are after Estia wooden toys, also from Germany.

DOUBLE-EDGED WOODEN SWORD

But as much as wooden toymakers have benefited from the mass-market backlash, some are feeling the whip, too.

Automoblox can't fulfill 75 percent of its explosive holiday orders because of increased restrictions on Chinese exports.

"Our toys passed every inspection, but now they have to be reinspected by [Chinese] government inspectors," CEO Joe Barrett told TDmonthly.

Nonetheless, no one in specialty — including Barrett — is complaining right now.

"Things could not be better," summed up Whitworth.

Here are some of the wooden toys that are stoking the holiday fires for specialty retailers:
A Simple Hearth by CAMDEN ROSE



Children use their play kitchen to mimic what they see taking place daily. Our kitchen is created from the warmth and durability of solid cherry. All the knobs turn flawlessly and smoothly without the use of any metal hardware. The metal sink bowl can be removed for easy cleaning and a sliding cutting board pulls out allowing access for more children. 7/10/2007 (MSRP: $299.99; Age: 2 to 8)



Toddler Zoom by CAMDEN ROSE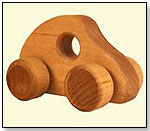 Pint-size people just love to interact and witness their effect on an object. Little hands can send this car zooming. Created from maple or cherry, the 4" x 2.5" Toddler Zoom has simple birch wheels and a solid body. A non-toxic finish protects and brings out the beauty of the grain. Packed 5 to a case, wholesale. 12/7/2007 (MSRP: $4.99; Age: 2 to 4)



Soma Cube by MAPLE LANDMARK WOODCRAFT CO.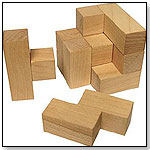 The soma cube is made from beautiful hard maple and finished with a light coat of polyurethane. This seven-piece puzzle features three-dimensional pieces that, together, measure about 2 ½" cubed. The solution is available on the company's website. "The soma cube is available in single units, perfect for the small specialty store [that doesn't have] a lot of room but wants to offer unique games," Barbara Rainville, marketing manager for Maple Landmark, told TDmonthly. Launch date: March 2007. 6/25/2007 (MSRP: $9.00; Age: 8 and Up)



Con-Way Transportation Semi Tractor Trailer by WHITTLE TOY COMPANY



Con-Way Transportation Semi Tractor Trailer: Just introduced this fall, Whittle Toy's Con-Way Transportation trailer with sleeper cab. This "Big Rig" replica weighs over ¾ of a pound and is nearly a foot long. It's solid hardwood construction promises years of "Puttin the hammer down" fun. (Price: $24.99) 9/27/2007 (Age: 3 and Up)



The Little Engine That Could™ Set by WHITTLE TOY COMPANY



The Little Engine That Could™ Set: It's the train that's kept rolling since 1930. The train that made the phrase "I Think I Can, I Think I Can," is a permanent part of our American lexicon and continues to teach us the power of positive thinking. This set consists of five cars: The Little Blue Engine, Yellow Gondola, Red Toy Car, White Milk Car, and Red Caboose.
Awards: A TDmonthly Classics Award for being an all-time favorite toy.
— As of 7/21/2011 this product had 4.5 out of 5 stars from 2 reviews on Amazon.com. 9/27/2007 (MSRP: $39.95; Age: 3 and Up)



Automoblox MINI by AUTOMOBLOX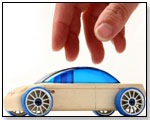 Automoblox MINIs are a reinvention of the classic wooden toy car — a fusion of heirloom craftsmanship and ultra-modern styling, transformed into a mix-and-match design system that allows kids to create their own distinctive car styles. "We've combined old-school durability, ultra-modern style and an innovative play pattern to create a new generation of classic car toys. The Automoblox MINI line makes it fun for kids to explore their own unique design instincts by combining warm wooden blocks, colorful rubber tires and bright translucent plastics to create super-cool car styles," PR Manager Tina Noelle Mezzina of Automoblox told TDmonthly. A three-pack plus accessories are also available (MSRP: $24.99). Launch date: August 2007. (

Watch Video) 7/26/2007 (MSRP: $7.99; Age: 3 to 9)



A9 Compact by AUTOMOBLOX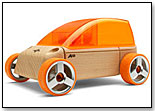 Inspired by the compact cars popular in Europe and Japan, the A9 is certainly big on style for its small frame. Featuring small three-spoke wheels, low-profile tires, and a generous roofline with plenty of headroom, it is sure to get great mileage from this little gem.
— As of 05/13/2011 this product had 4.8 out of 5 stars from 6 reviews on Amazon.com. Cons: One reviewer mentioned that the price was rather high, but then said the quality of the product was worth it.
— "We have some Automoblox. It's a fairly new line and we're doing great with them. I've reordered three times this month," said Melinda Pontanares, manager of Apple Box Toys in San Diego, Calif., reporting sales of about 150 per month during a July 2009 survey of best-selling collectibles. (

Watch Video) 5/13/2011 (MSRP: $37.99; Age: 3 to 9)



Baby Clacker by MOSSY CREEK WOODWORKS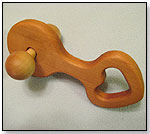 This Baby Clacker is fashioned from a piece of cherry wood harvested locally from sustainable timber. It is lovingly crafted in the shop on Mossy Creek and makes a gentle rattle when shaken. It has a safe mineral oil finish and is smooth to the touch. 11/27/2007 (MSRP: $11.30; Age: 0 to 2)



Wooden Baby Rattle by MOSSY CREEK WOODWORKS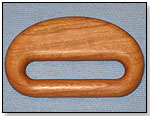 Starting with a single block of wood, this rattle is lovingly fashioned in the shop on Mossy Creek. Baby can enjoy it now, and it can be a treasured keepsake in the years to come. The rattle can be personalized with baby's name and birth date for an additional fee of $6. 11/27/2007 (MSRP: $19.90; Age: 0 to 2)



KAPLA Color Squares by KAPLA USA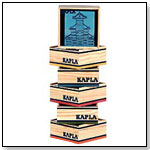 This square wooden box holds planks in six distinctive Kapla colors, with 40 planks of each color. (

Watch Video) 10/20/2006 (MSRP: $20.00; Age: 3 and Up)



Chalet Dollhouse With Furniture by PLANTOYS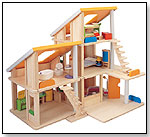 The Chalet Dollhouse With Furniture offers kids the full package in dollhouse play. It comes in two units that can be manipulated to form numerous dollhouse layouts. It also comes with furniture, so that nothing's missing when dolls come to visit. The Chalet Dollhouse includes three stories, slanting chalet roof and creative stairs, as well as an innovative floor plan. It is 32" x 24" x 14", is made from recycled rubber wood, is coated with a non-toxic finish, and all colors are made from vegetable dye.
— When asked about best-selling play houses and furniture, Teri Soelter, owner of Teri's Toybox in Edmonds, Wash., said "Plan Toys. People will buy the furniture by itself and the dollhouses later."
— Four of 62 retailers TDmonthly spoke with in spring 2007 said Plan Toys makes some of the most popular furniture and play houses in their stores. They sell about three Plan Toys dollhouses per month. Seven percent of 56 retailers surveyed in January 2009 said doll houses and accessories are among their top sellers.
— "These products are so beautiful," Teneen Dobbs, owner of Kits & Kaboodle in Carmel, Ind. told TDmonthly. "They display well. People just love wooden items." (

Watch Video) 2/19/2007 (MSRP: $250.00; Age: 3 and Up)



On the Building Site by FAGUS HOLZSPIELWAREN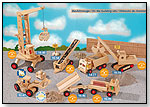 The On the Building Site line includes a crane, conveyor belt, container truck, excavator, wheel loader, dumper trailer and dumper truck. The vehicles range in size between 13" and 38". 12/11/2007



Marble Run by FAGUS HOLZSPIELWAREN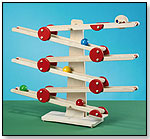 The wooden track set from Germany includes four marbles and one bell disc. Easy to assemble and dissemble, the portable track can be easily stored and transported. It can even be mounted on the wall. When assembled, the track measures over 21" x 27" in size. 12/11/2007 (Age: 0 and Up)



Cash with Calculator by ESTIA HOLZSPIELWAREN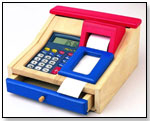 The battery operated wooden cash register is fully functional, allowing little vendors to play "grocery store" more realistically. During play, children will enhance their basic math skills. The calculator measures 7-3/10" x 7-3/10" x 4" and comes with a built-in paper receipt roll. 12/11/2007



Waddling Badger Dog by ESTIA HOLZSPIELWAREN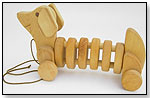 The wooden pull-along Dachshund features a flexible body, allowing all wheels to stay on the ground, even on an uneven surface. The pull toy measures 13-4/5" x 7-1/5" x 4". 12/11/2007



---
---


Copyright © 2020 TDmonthly®, a division of TOYDIRECTORY.com®, Inc.