Tools:








Parents Still Shy Away from China
U.S. and European Toys Fill in Gap Left by Recalls
"[Parents] are not looking anywhere past whether or not it was made in China." — Sara Frazee, Jewel in the Crown

Given the millions of "Made in China" toys recalled this year, some parents are opting for products made in Europe and the United States, retailers and manufacturers told

TD

monthly Magazine.

In September 2007, Mattel executive vice president for worldwide operations, Thomas A. Debrowski, apologized to Chinese product safety chief Li Changjiang for the Mattel recall, which was caused in part by design flaws, not by Chinese manufacturers. Approximately 17.4 million units of Mattel's toys were recalled because of design flaws, while only 2.2 million were recalled because Mattel claimed that Chinese firms used lead-based paint in the products.

EUROPE GAINS FAVOR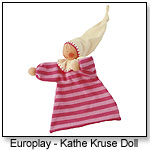 A number of European-made toys, including Europlay's German-made towel dolls and blocks, tend to attract retailers and consumers. Owner Jude Larene of Izilla Toys in Seattle said that the dolls "just sell very, very well."

Four out of 45 retailers

TD

monthly interviewed this year pointed out that the towel dolls from Europlay are hot sellers. And one mother of

TD

monthly's Preschool Roundtable especially liked Europlay's Fabulantis game. "The entire game/package was visually attractive," Heather Jones enthused.

Kristina Shabagyan of Moolka.com, an online retailer of European toys, reported a spike in sales after the Mattel recalls and increased sales throughout the summer of 2007. Shabagyan credits concerned parents with the increased sales.

NOT ALL EUROPEAN

But products from a European company aren't necessarily made in Europe.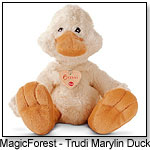 MagicForest Ltd., for example, is the exclusive North American distributor for Trudi and Sevi, which both outsource production. The products are designed in Italy, but many are actually made in China under supervision.

For WOW Toys, "Design and model making takes place in the U.K. but manufacturing takes place in China," a company representative explained. Some of the toys sold at Moolka.com are assembled in China, although always from materials made in Europe.

And this could pose a problem for retailers, as some parents "are not looking anywhere past whether or not it was made in China," Sara Frazee of Jewel in the Crown toy store in Grass Valley, Calif., told

TD

monthly.

COMPANIES STICK TO THE STATES

While the majority of North American manufacturers take production abroad, some U.S. companies have very strong convictions about keeping manufacturing nearby.

Michael Rainville of Maple Landmark Woodcraft told

TD

monthly that "the cost of production in China is easily more than 75 percent less than in the U.S.," but pointed out that with current customer concerns, "We would not be in business if we went overseas." Since the recalls, he said, business has been up for his company.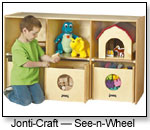 Jonti-Craft, a manufacturer of award-winning children's furniture, makes its products in Minnesota. Vice President of Marketing Nick Schwarz credits local production with allowing the company to continue crafting high-quality furniture that comes with a lifetime warranty, he said.

Similarly, award-winning Kids Crooked House continues to make its custom playhouses in Maine.

WHAT REALLY MAKES IT SAFE?

Although many parents and retailers praise the quality of U.S.- and European-made toys, there are indications that the country of origin may not account for everything.

CSPC spokesman Nychelle Fleming advises parents to keep alert to recalls, she told

TD

monthly, and is hesitant to promise that U.S.-made toys are always safer.

Plus, recall scares haven't necessarily put a dent in overseas production. Chinese-made toys are actually doing better in the months leading up to Christmas, Reuters reported, and toy factories in China's Guangdong province are allegedly as busy as ever.

While keeping an eye on recalls is useful, reading labels alone doesn't always guarantee a safer product. Parents concerned about lead paint, though, might take some comfort from CSPC spokesman Nychelle Fleming. Fleming points out that choking hazards are still the most prevalent threat among children's toys, and that is certainly something parents can be aware of, simply by avoiding toys with small parts that can easily break off and be swallowed.

See some products from the companies mentioned below. And learn more about where products are made and how they're tested by ordering the 2007 TDmonthly Specialty Toys Report.

For more articles on related subjects, see Made in the USA Toys in

TD

monthly and Celebrities Pay Greenbacks for Green in Playzak.







.

AD
---






.

AD
---






.

AD
---






.

AD
---






This is a great stacking toy with many different configurations. The set includes five colorful, tactile pieces with intriguing funky activities and sounds. It features a wobble base with whoosh-around chunky beads, rainmaker tree trunk, rattling palm ring, chirping chick and friendly parrot.

.

AD
---






.

AD
---






.

AD
---






.

AD
---






.

AD
---






A kids' playhouse is a place where make-believe blooms into the kind of playtime that produces huge benefits. You don't need a lot of plastic bells and neon-colored whistles either, because a well-built outdoor playhouse that's made from high-quality, natural materials is best, and will last the longest. A sturdy, wooden playhouse is durable, and will stand up to both the elements AND your kids rough housing.

.

AD
---






In this card game for two to four players, the goal is to capture Capt'n Gold Tooth and his men by searching and quickly counting the "wanted" cards that identify crew members. The game comes with a skull-face pirate's ring.

.

AD
---
Catalog Request Form
THIS BANNER IS AN AD:
---
---