"If it says 'Made in China,' I will think twice." — Gail Richardson, mother of two
Mattel's recall of more than 10 million toys this month has made parents and retailers rethink buying and stocking decisions, sources told
TD
monthly Magazine. And as the holiday season approaches, companies that manufacture in the U.S. and abroad are reminding customers of their commitment to safety.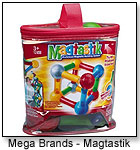 "Mattel's major recalls give me serious pause in thinking about what kinds of toys I purchase," said Crystal Summers, a mother of 1- and 3-year-old girls in McKinney, Texas, who was considering buying a Magnetix set for her oldest daughter.
Now aware of the severe complications that can arise from ingested magnets, "I will certainly not purchase this set for my preschooler," she told TDmonthly.
"It's going to be an interesting fourth quarter, because parents are going to be very nervous about what they're buying," commented Monia Beasley, owner of Doodles toy store in Tupelo, Miss.
Some are already nervous.

General Manager Billie Sierra of Ariel's Child in New Windsor, N.Y., said customers are inquiring about companies such as Melissa & Doug: "'Do they use lead paint? Is it in writing that they don't?'" they ask.
"We've had a few [customers] in the last few days who have wanted to know about getting toys for their infants and toddlers that are not made in China," said Gayle Grabish, owner of Unique Toy and Game in Grover, Mo. "It's very hard to find something — you have to read each box individually."

Another issue is price: Are consumers willing to pay more for a U.S.-made product?
U.S. BUSINESS GAINS CONFIDENCE
"Our direct-to-consumer sales are up substantially," answered President Michael Rainville of Maple Landmark Woodcraft, whose products are made in the United States.
In recent weeks, the company has done 5 percent more in sales than expected for this time of year, he told TDmonthly, though the increase could also be related to tourism and lower gas prices.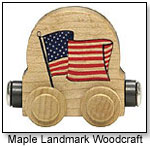 Rob Daggett, owner of Smethport Specialty, has confidence in his company's U.S. suppliers because of the "litigation environment we live in."
Although Smethport uses magnets in 30 to 40 percent of its product line, he said that most don't have enough magnetic flux to cause the intestinal problems that powerful rare-earth magnets can bring about if swallowed.
In the wake of a recall, manufacturers and retailers alike carry the responsibility of assuring the public that their offerings are safe.
Maple Landmark sent information on the hazards of manufacturing in China to its dealers and direct-buy consumers, updated the "Product Safety and Quality" page on its website, and may be stepping up testing frequency on its Vermont-made finishes, Rainville said.
Safari Ltd. sent out an email assuring subscribers that all of its products pass ASTM and EN71 testing, including a lead-content check. And Kapla emailed a notice that its non-toxic, untreated wooden products are certified safe by Bureau Veritas. Meanwhile, ImagiPLAY is promoting its non-toxic and environmentally friendly line of "Toys With Integrity."

Grabish uses her position as an independent retailer to recommend toys with a proven track record and to publicize recall information in the local paper.
"Even after two weeks, there were customers that hadn't heard about the Thomas recall," she noted.
CLEAR THE SHELVES AND MOVE ON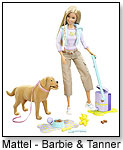 Mattel makes up 7 or 8 percent of specialty toy store Le Jouet's inventory in Metairie, La., Owner Buddy Wood said, so his staff removed the recalled SKUs from shelves right away. He admitted, though, that the two recalls this month will affect his store "very little" because of its broad product range.
And the recalls won't stop him doing business with Mattel.
"They took appropriate measures," he explained. "Unless it becomes a chronic problem, you're going to have to trust their products."
Consumer trust, however, may be hard to win back.
Gail Richardson, a Bethesda, Md., mother of two, told TDmonthly she hopes the Toys "R" Us and online stores where she shops for her 5- and 7-year-old will offer products that "meet the strictest safety standards."
"If it says, 'Made in
China
,' I will think twice," she said.

Read more about the August 2007 Mattel recalls.