September 21, 2021

April 2008 | Vol. VII - No. 4

---
Wooden Toys Take Pomona
Aisles Go "Au Naturel" and Keep Kids Active
"[We want to] raise a generation who grow up with our products and know science." — Rachael Norman, Norman & Globus

Just a few weeks after Toy Fair, West Coast shoppers hit up the Western States Toy & Hobby Show in Pomona, Calif., where natural wooden offerings reflected the marketplace's penchant for all things safe and eco-friendly, flying toys projected outdoor fun for the coming months, and educational products vowed to keep kids' minds sharp over the summer break.

WORKS IN WOOD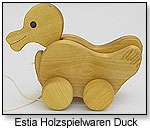 Europe's Estia Holzspielwaren is expanding its line with hand-carved wooden fruits and vegetables that require about 10 minutes of carving time each. They'll be roughly $5 retail for a single piece of fruit, but Hartmut Gutfleischtold

TD

monthly price doesn't deter those who recognize the value.

It "has nothing to do with being rich or not rich — it's if you catch the idea, the philosophy," he said. "In Germany, mothers come in with their kid and spend half an hour in front of the display and spend money on one piece."

Lee Brothers Toys, which produces wooden puzzles, was founded by toy-store owners who "saw a need for higher-quality puzzles" in the market, according to Nathan Lee, and answered it with $10 wooden puzzles that help teach spelling and word recognition with a variety of themes.

They chose to silkscreen words and images directly onto the puzzle's wooden surface for longevity, and — considering packaging problems they'd noticed at the retail level — designed plastic wrap to cover the puzzles, but not the handles on the pieces, for cleaner presentation.

TimberKits also have an international flair to them — they're designed in Wales, manufactured in China, and made with sustainable wood from New Zealand, according to President Brian Ledig of MK & Company.

LAUNCHING FUN

A&J Suppliers periodically tested its UberDart in the show aisles, tossing the outdoor toy that resembles a foam football attached to a pool noodle. The UberDart can reach distances up to 120' and is suitable for a number of different throws. It's ideal for everything from lawn darts to ultimate Frisbee.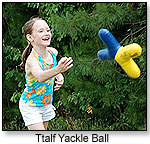 Ttalf "Toys" Corp., maker of the Yackle Ball, is planning to roll out new product in early summer — the waterproof Aqua Yackle, as well as the Yackle Bone for dogs. Co-owner Patricia Littwin, who found "that the West Coast is more active," told

TD

monthly she wants to keep manufacturing in the United States. Finding a plant with the ability to do injection-molding for the new products required an extensive search, however, and Littwin hopes the price will satisfy customers so production can remain at home.

See more toys in flight, including WhiteWings by AG Industries and Unitech's Fun Fly Stick by watching TDmonthly's Toy Videos from the show.

LEARNING THROUGH PLAY

On the educational end of the spectrum, former math, science and special education teacher Ron Glymph invented Math Maze card game. Available in both Starter and Mastery levels, it challenges kids to create and solve mathematic problems with the cards in their hand, based on instructions given by the rolled die.

"I don't care what math you're studying; they all are based on these solid foundation skills," Glymph told

TD

monthly. His business partner, Wayne Douglas, pointed out that the game can be used for peer tutoring as children call out answers, and is suitable for play between kids of different ages and skill levels.

Under the ScienceWiz line, Norman & Globus is releasing a colorful strategy game, Pohaku, that features four variations — Domino, Standard, 5x5 and Toroidal — and is suitable for various age and skill levels.

The company's goal is to "keep adding projects and lay a whole foundation in science," Sales Manager Rachael Norman told

TD

monthly. "[We want to] raise a generation who grow up with our products and know science."

See below some other new products companies hope children of this generation grow up with, and also check out our Dolls of Pomona and Pomona Top-10 articles.
Pumpkin by ESTIA HOLZSPIELWAREN



This hard-carved piece of fruit is one in a new collection of fruits and vegetables that are first put on a drexel machine for one minute and then require approximately ten minutes of expert hand carving per piece. (

Watch Video) 3/31/2008 (MSRP: $5.00)



Pohaku™ by SCIENCE WIZ / NORMAN & GLOBUS INC.



Pohaku is a set of games and puzzles with only one rule. Different variations of each game can be played, making the game challenging for players of all ages and skill levels. The set includes a 40 page color rulebook, stones, a sliding puzzle tray and scorecards. (

Watch Video) 3/17/2008 (MSRP: $19.95; Age: 8 and Up)



TimberKits – The Pianist by MK AND COMPANY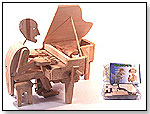 Kids can assemble the pieces in this rubber-wood kit and then, thanks to the toy's mechanical capabilities, watch the piano player perform. 2/26/2008



Math Maze Starter Set by MATH MAZE USA


Math Maze makes learning fun for the whole family by providing a platform to practice multiple skills and strategies in an exciting gaming environment. Kids can play by themselves or with their parents or friends. The cards are printed in both Spanish and English, and the Starter Game helps learners master the basic mathematical operations of addition, subtraction, multiplication and division of whole numbers. Math Maze "is a fast-moving, fun game that takes the win or lose theme out of play. It allows family and class members to help each other learn," R.C. Glymph of Math Maze USA told TDmonthly. Launch date: March 1, 2008. (

Watch Video) 2/29/2008 (MSRP: $14.95; Age: 5 and Up)



ScienceWiz™ Cool Circuits by SCIENCE WIZ / NORMAN & GLOBUS INC.



Part of a line of ScienceWiz Thinking Games, this puzzle game created by Harry L. Nelson and Hiroshi Yamamoto provides 40 challenges at different skill levels. Players put a puzzle card down and solve the puzzle by making sure all the pieces are looped together, at which time the board will light up with the solution.



(

Watch Video) 3/31/2008



Bakery Wooden Peg Puzzle by LEE BROTHERS TOYS

This high quality wooden puzzle is constructed of solid wood, and thicker than the industry average. The puzzle pieces include colorful bakery themed images directly silk screened to the pieces with names of the pieces underneath them. Educational and fun, it is a safe product at a great value. 3/12/2008 (MSRP: $9.99)



Uberdart by A&J SUPPLIERS



This giant flying foam toy can be thrown in 12 different ways and flies up to 200'. The Uberdart is soft and light, making it easy to catch and throw, and may be used for group games and family fun activities. It is ASTM safety tested for ages 6 and up. Launch date: March 2007.
— Two of 47 retailers named Uberdarts as their best seller for boys in June 2009.
— In March 2010, TDmonthly surveyed 37 specialty retailers about their top-selling outdoor toy. Sheryl Guidera, owner of Kaleidoscope the Parent Teacher Store in Capitola, Calif., said, "There is no question, it's the Uberdart. Absolutely the best."

Past videos: WTHRA 2008 (

Watch Video) 3/12/2008 (MSRP: $10.00; Age: 6 and Up)



Aqua Yackle by TTALF "TOYS" CORPORATION

This water-proof, x-shaped ball is perfect for the pool or beach. There are lots of fun and exciting games for the whole family, and it comes with a floating goal to enhance game play. Launch date: June 2008. 1/11/2007 (Age: 5 and Up)



Set Cubed by SET ENTERPRISES INC.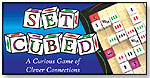 This "curious game of clever connections" challenges two to four players to compare and identify SETs on the dice with those on the board, scoring as many points as possible by making SETs up, down and across the game board. Playing time is 30 to 45 minutes. Launch date: April 2008. (

Watch Video) 2/21/2008 (Age: 8 and Up)



Sun Moon Star Activity Drum by JAMTOWN, LLC



Surprise your friends with a novel new instrument and a JAMTOWN formula for making music. Start with three drums in one, decorated in bright sun, moon and star designs. A colorful guide walks one or two players through a foolproof way to create jammin' rhythms that bring smiles to faces young and old. It's as easy as saying, "Sun. Sun. Moon. Star. Moon." It's fun and easy to demo in your store. It comes complete with guide and two sticks for duets. It can hang on a peg for retail display. (

Watch Video) 2/9/2006 (MSRP: $19.95)



---
---


Copyright © 2021 TDmonthly®, a division of TOYDIRECTORY.com®, Inc.