December 4, 2021

February 2009 | Vol. VIII - No. 2

---
Congratulations to Winner of TDmonthly's eBook!
Gwen Schmied Aces Quiz and Gets "In the Black"
Last month, TDmonthly Magazine held an email quiz contest for retailers to test their toy smarts and get a chance to win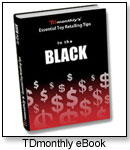 "In the BLACK: TDmonthly's Essential Toy Retailing Tips" — an eBook worth $79!

Nine retailers responded with at least four correct answers on the five-answer quiz. Most of the answers could be found by referring back to prior TDmonthly articles. Retailers who passed the quiz were entered into a drawing for the eBook, which was won by Gwen Schmied of Hobby Express Inc.

If you're still scratching your head wondering why you didn't take the prize this time, here are the questions with the correct answers:



2. According to a June 2008 TDmonthly article, how

many

toy-store owners

conduct

online

toy

research

at least once

per

week

? Answer: 90%




4. Which new game manufacturer that debuted at Toy Fair 2008 has won eight industry awards?
Answer: Successful Kids (Blunders)



5. Match the following five new Toy Fair exhibitors with their specialty:

Kingstate Corp. _b_ a. Board Games

Beast Stew

_d_ c. Educational

DGT North Am. _a_ d. Plush

If you didn't make it this time, don't worry ... there are more quizzes to come. Or, if you'd prefer not to take your chances, order "In the BLACK" today.



---
---


Copyright © 2021 TDmonthly®, a division of TOYDIRECTORY.com®, Inc.