March 7, 2021

April 2009 | Vol. VIII - No. 4


Watch Dolls, Plush and Puppets Perform on Video
See What's Cute and Cuddly for Yourself
A picture may be worth a thousand words, but pictures alone can be deceiving. Get a close-up look at the new dolls, plush and puppets from Toy Fair 2009 with TDmonthly Magazine's demo videos. (See more plush, dolls and puppets.)

Retailers: Did you know you can broadcast TDmonthly Toy Videos from your website? (See website terms of use.) Manufacturers: Find out how a TDmonthly Video attracts buyers.
Pearls Before Swine by AURORA WORLD INC.



Aurora inked a deal to produce an exclusive plush product line for Stephan Pastis' Pearls Before Swine, the hit cartoon comic strip syndicated in more than 550 newspapers worldwide. Aurora's Pearls plush product line will initially include seven pieces. The free standing, 12 inch plush includes Rat, Pig, and Croc (MSRP: $10.99). Buyers won't be able to resist the smaller 8-inch pieces, which include Rat, Pig, Croc and Zebra (pictured, MSRP: $6.99). You can "meet" Stephan Pastis by watching the video, taken at Toy Fair 2009. (

Watch Video) 12/29/2008



Medieval Maidens: Gisela Doll by MEDIEVAL MAIDENS LLC



The Gisela Doll from Medieval Maidens is 18" tall with a soft body and is the first doll in the Medieval Maidens doll line. The clothing is historically accurate, featuring a blue dress with gold trim, chemise undergarment, socks with ribbon garters, brown faux leather shoes, and a flowered headpiece. The doll also comes with a doll stand. (

Watch Video) 12/24/2008 (MSRP: $59.95)



Tales 4 Tomorrow by FIESTA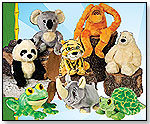 Introducing the Tales 4 Tomorrow branded toy & website line, created to inspire children to "Save the animals!" Tales 4 Tomorrow promotes socially conscious green fun and saves endangered animals around the world by donating 5% of all proceeds to Conservation International wild life conservation programs. The spring 2009 launch includes eight plush animals made from 100% natural soy and cotton materials. "Tungar" The Tiger, "Tawa" Orangutan, "Shen Si" Panda and friends. Each 10" plush toy comes with a donation code that gives children access to the Tales 4 Tomorrow website,tales4tomorrow.com, where they can play games, watch videos, send Tale Mail to their friends, and create lush habitats where their animal friends live and thrive. Trading Card Fun Packs will also be available. Launch date: February 2009. (

Watch Video) 2/3/2009 (Age: 5 and Up)



Ishababies® Mocha Boy and Girl by AISHA & CO. LLC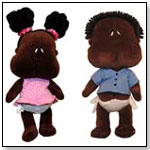 The 12" Mocha Girl sports raven cloud-like tufts and a pretty pink dress, and the 11" Mocha Boy comes in a blue jersey. (

Watch Video) 10/31/2007 (Age: 3 and Up)



Pancake Puppies - Buttermilk by THE CUDDLECAKES GROUP LLC

Buttermilk is the original "Pancake Puppy" from which the others are fashioned after. Buttermilk is a classic stack of pancakes dripping with butter and syrup. (

Watch Video) 12/9/2008



Weebeast Plush Toy by BEAST STEW


After years of research and worldly expeditions enough intangible facts have been constructed to prove the existence of the fictional species "weebeasts". Captivating the imagination, this newly discovered specimen is a simple yet playful creature from the exciting book series Weebeasts by artist and author Micah Linton. (

Watch Video) 10/6/2008



Baby Wumblers by THE GIDDY GANDER COMPANY LLC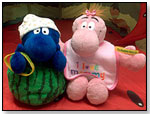 Born from watermelon and at the center of one of our most successful "social" enrichment activities for kids held at The Wumbler Patch retail store, Baby Wumblers teach children the importance of caring for ALL beings, even the weakest and most vulnerable. Each Baby Wumbler transforms from a soft, cuddly watermelon into an adorable blue or pink Baby Wumbler that children can register on line at the Wumblers website. Each baby arrives with a bright yellow identification band worn by the adopting child which states, "It's A Wumblerful World We Live In!" Each band marks the adoption and full commitment by children and their families to helping "make the world a better place for ALL!"
— "I love the message behind these Baby Wumblers and the things that it teaches not only our kids but ourselves as well," said the reviewer at Mommy 2 Two Girls. Her kids, on the other hand, loved that the Wumbler could be tucked back into its "little watermelon house."
— After testing the Baby Wumblers with her sons, Erin Tales from The Mom Buzz jokingly observes that a "toy like this can start arguments if you don't have one for each kid." Her sons "were so excited when they discovered them," while Erin liked that the watermelon transformation "opens up discussions about watermelons and healthy snacks!" (

Watch Video) 12/18/2008



Global Green Pals™ - Recycle Kyle™ by RESTORATION GALLERY LLC



Recycle Kyle™ likes to get people motivated about recycling because it is fun, easy, and something everyone can do. From Seattle, he loves to ride his skateboard, a pollution-free form of transportation. Kyle's dedication to recycling began one day while cruising through a park. He hit a soda can and fell down and hurt himself. Since then he has been spreading the word about recycling. He even started a recycling program at school. Kids can join Kyle and the other Global Green Pals on their mission. "The Global Green Pals are a unique group of dolls that highlight important environmental issues and encourage children to learn through play. They have the capability of inspiring children of all origins to take action by changing small things in their daily activities," Malini Goel, founder and president of Restoration Gallery LLC, told TDmonthly. Launch date: February 15, 2009. (

Watch Video) 3/12/2009 (MSRP: $29.99; Age: 3 and Up)



Rue, The Monster of Insecurity by THE MONSTERS IN MY HEAD LLC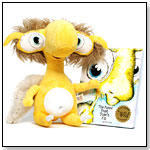 Rue, the irresistible Monster of Insecurity hides behind flowers because he thinks he's different. He doesn't realize that his unusual features make him interesting. He thinks that his nose just doesn't "fit" with his shaggy hair, cheese curl ears and fluffy wings. How silly! What he needs is a little encouragement. Won't you tell him he is perfect just the way he is? Rue is a part of the The WorryWoo Monsters series that tackles complicated feelings and transforms them into quirky, loveable characters. Rue and "The Nose That Didn't Fit" won a 2009 Excellent Product Award from iParenting Media and the 2009 Toy of the Year Award (category: storybook and plush) from Creative Child Magazine, as well as a TDmonthly Top Toy Award 2009.
Where to Buy: My Toy Smart (

Watch Video) 8/1/2008 (MSRP: $21.50; Age: 3 and Up)



Evolvems - Pakicetus-Squalodon by FLYING MONKEY LLC



Pakicetus-Squalodon is the first of Evolvems, evolutionary transforming plush toys, to be developed. Pakicetus-Squalodon represents an amazing evolutionary transition that led to all modern whales. Whales, which are mammals not fish, developed from land mammals that began to venture further and further into the ocean for a meal and protection from predators. (

Watch Video) 11/24/2008



Bebe Tresor by COROLLE DOLLS



Corolle is proud to introduce its latest interactive doll, Bébé Trésor. At 14", this sweet, charming and totally irresistible doll coos, babbles or giggles when little Moms rock her gently in their arms! Complete with soft white onesie and pacifier, Bébé Trésor is sure to be little Mom's newest wonder! Requires 3 AG12/LR44 batteries (included). Launch date: September 2009. (

Watch Video) 2/24/2009 (MSRP: $70.00; Age: 2 and Up)



Glowberry Bears - Dusty McStardust by BURGESS PRODUCTS, INC

A bookworm to the core, this tan Glowberry Bear always wants to know more. When he's not reading, he yearns to explore, and see which adventure is behind the next door. The Glowberry Bears are 12-inch soft plush, adorable daytime friends; at night they are huggable, cuddly, night-lights. The Glowberry Bears glow and giggle if their tummies are rubbed. A squeeze of their left paw and they become a cuddly night-light. The Glowberry Bears can actually talk to kids and when two Glowberry Bears are in the same proximity they talk to each other! (

Watch Video) 2/6/2009



Yellow Labrador Hand Puppet by FOLKMANIS INC.



Another loveable face for the Folkmanis line of pooches, the popular labrador is known as a loyal breed. This puppy has a movable mouth to give out big puppy kisses.
— "The workmanship and expression" of Folkmanis' puppets makes the company a favorite of Fran Anaya, owner of Golden Aspen Toys in Flagstaff, Ariz., she told TDmonthly in fall 2008, when more than 11 percent of 52 retailers named the company as a preferred vendor. (

Watch Video) 12/5/2008 (MSRP: $33.99)



Black Bear Cub Hand Puppet by FOLKMANIS INC.



The Folkmanis BLACK BEAR CUB is an unbearably cute 15-inch puppet. Just the right amount of stuffing makes this cub a snuggly teddy bear but with additional play value – it has a movable mouth and front paws. Made of silky soft fabric, Black Bear Cub has safe, soft, vinyl claws, a smooth, suede-like nose and paws and a contrasting brown snout. His facial features bring an innocence only found in little cubs.

Past Videos: Toy Fair 2009 (

Watch Video) 12/5/2008 (MSRP: $35.99; Age: 3 and Up)



Peacock by FOLKMANIS INC.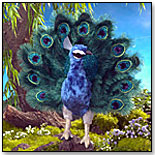 This gorgeous bird spread its tail feathers for the first time early in 2006. The tail of this 18" hand puppet can be manipulated into a magnificent display. As with all of Folkmanis' puppets, the peacock is high quality and durable. Folkmanis puppets have won many awards from respected toy evaluators such as Oppenheim Toy Portfolio, Dr. Toy, Parent's Choice and iParenting Media.
— "We sell a lot of Folkmanis puppets. People buy so much," was the enthusiastic response given by Barbara Fineblum, owner of Barston's Child's Play in Baltimore, Md..
— "Puppets by Folkmanis: Parents like them because of the price and they have a lot of choice for children in terms of stocking stuffers. I sell a lot of Folkmanis," said Marilyn Sipila, owner of Toys Etc. in Poulsbo, Wash.
— Elaine Kollias of Folkmanis believes the Peacock puppet will be their biggest hit for the Holidays 2006. "It's been stellar since it was introduced in the spring," she said. "The extraordinary use of fabrics, colors and textures along with the innovative puppet movement is what makes this a very 'special bird.'" (

Watch Video) 2/24/2006 (MSRP: $49.99; Age: 3 and Up)



Blue/White Floral Quilti Dog by DOUGLAS CUDDLE TOYS



One of 4 styles of large dogs, 3 styles in mini Quilti Dogs..a bouquet of fresh flower fabrics, hand picked for Quiltis. (

Watch Video) 3/16/2009 (MSRP: $16.00; Age: 3 and Up)



Bobby Beagle by DOUGLAS CUDDLE TOYS



One of 10 new breeds of ultra soft, floppy pups with realistic features, more poseability, and fine detail.
— Kelly Ratoff, manager of Kennebunk Toy Co., in Kennebunk, Me., says the store sells approximately 36 to 40 Douglas stuffed dogs per month. (

Watch Video) 12/9/2008 (MSRP: $15.00)



Tooth Rad Dog by DOUGLAS CUDDLE TOYS


Tooth Rad Dog is one of 4 styles…each style in 2 sizes. These funky mongrels come with attitude! (

Watch Video) 3/16/2009 (MSRP: $15.00; Age: 3 and Up)



Muddy Moe by PaddyKakeKids® Inc.

Meet "Muddy Moe", whose nickname was given to him because he loves to play in the mud. Muddy Moe loves to get a reaction from his cousins' as he dives into the nearest mud hole. He can't make up his mind if he wants to step out of the 50's with his flat top front or into the 70's with his mullet hairstyle in the back so he keeps them both. He enjoys teaching kids to be true to themselves and being who they are. He wants kids to understand its okay to be different. His message is to "Be a Leader not a Follower." His heart will beat for you when you place his right hand on his heart. His weaknesses include being stubborn and hard-headed. (

Watch Video) 2/23/2009



Common Cold - Rhinovirus by GIANTMICROBES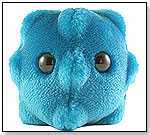 Billions of people a year catch the cold. Now you can get one too. Kids of all ages and degrees of health can learn about the Common Cold with this cuddly 5" to 7" companion (about a million times the actual size of the virus). Also available are three tiny Common Colds in a Petri dish for 12.95 and a Giant Common Cold (15" to 20") will be available starting April 10, 2009. Launch date: 2006. (

Watch Video) 4/7/2009 (MSRP: $8.95)



Fluffy Tails - Purrfect by AURORA WORLD INC.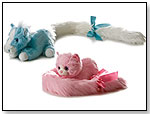 Children and tweens will appreciate the soft and cuddly tails and fun, bright colors of the Fluffy Tails line (animals are 9" in size and the fluffy tail stretches even longer!). The animals include Purrrfect (pink, cat), Fluffee (white, cat), Fancee (violet, fox), Prancee (turquoise, horse) and Merri (mint/lime, monkey). Launch date: 2009. (

Watch Video) 4/6/2009 (MSRP: $11.99)



Videography by Alison Marek and Amanda Wilder. Edited by Alison Marek.
---
---


Copyright © 2021 TDmonthly®, a division of TOYDIRECTORY.com®, Inc.