April 18, 2021

September 2012 | Vol. XI - No. 9

---
Hurting Schools Receive Relief--$20,000+ Specialty Educational Toys For Free from Specialty Toy Stor
A Unique Collaboration Gets 1,025 Specialty Toys Into Students' Hands
For the first time in the history of the specialty toy industry, toy-store owners, manufacturers and a trade magazine have teamed up to provide educational products to thousands of students across the nation. As part of TDmonthly's "2012: A Year of Charity" program, Crossen Creations, FindIt Games, b. dazzle inc., PlayMais Canada Inc., Amazing Science!, Moving Picture Books, Education Outdoors, We R Fun Games, Uncle Skunkle and The Spelling Bee Game have each donated 100 or more high-quality educational products to be given to local schools in August and September by four specialty toy store owners – Denise Teague of Fun Things Etc. in Waynesville, N.C.; Tina Schwindt of Fairhaven Toy Garden in Bellingham, Wash.; Kate Tanner of Kidstop Toys & Books in Scottsdale, Ariz; and Phil Wrzesinski of Toy House & Baby Too in Jackson, Mich.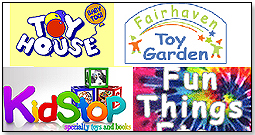 In May and June, TDmonthly helped Safari Ltd., Schoenhut Piano Company, Hape and Magicforest Ltd. gave away a total of 350 toys through specialty toy-stores Kazoo & Co., Jake's Toy Box, and Doll House & Toy Store, helping 100s of kids via six different charities. The program was inspired by a pilot giveaway with Schoenhut, in which the company gave away 100 toy pianos to 10 charities through the winner of TDmonthly's Charitable Kid Contest.






Toys for Kids; Publicity for Toys

The current giveaway has already attracted the retailers' local press: "The Mountaineer," Fun Thing Etc.'s local paper, wrote an article about the store being chosen by TDmonthly to help their community with specialty toys (Fun Things Etc Chosen to Donate Over 250 Toys to Local Schools). The article detailed all of the generous manufacturers who are participating in the program, as well as the 1,025 toys they are donating to needy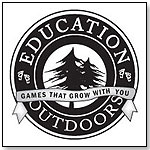 kids and school systems in the winning retailers' communities during September. It is hoped that the publicity brings more attention to the value of specialty toy-stores to their communities and the high quality of toys produced by smaller, entrepreneurial companies. Many of the donated products can be used by a number of children throughout the years, so that thousands of kids should benefit.

"We want to expand awareness of the value of specialty toys and make sure that every child has access to them, no matter what their situation," said TDmonthly publisher Bob Naimi. "I truly believe that the social and developmental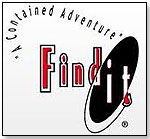 skills children learn from well-designed and carefully made toys will resonate throughout their lives and ultimately improve the quality of all relationships, both personal and political."

Here is what some of the manufacturers had to say about the educational skills kids develop by using their products, followed by a list of all the toys the children will receive:

Money Management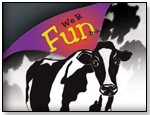 Life on the Farm board game shows how to run a small business debt-free, using a family farm as a backdrop. Because it develops money-management skills quickly, it won the prestigious 2012 National Parenting Award, National BEST FAMILY FUN Tillywig Award, both of iParenting Media's 'Outstanding Product' and 'Hot Product' Awards, as well as many others.

"It is truly a fun family game – one that adults like and choose to play, even without kids around," said inventor Ev Johnson. It's for Ages 8 – 108. The company also has a Preschool Life on the Farm – a FUN farm puzzle set that also is a board game for ages 3 to 7.

"Kids love the happy farm scenes and deep colors" said Ev. "First to fill the barn with animals wins!"

Spelling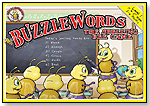 The multi-award-winning Buzzlewords by The Spelling Bee Game comes in 5 levels, from 1st & 2nd grade to Adult. Inventor Richard J. Sullivan says that, "there are no other board games on the market which allow each player to spell words selected from their own grade level and which combine elements of chance, strategy and spelling knowledge in a way that makes learning to spell fun and easy."

The Spelling Bee Game will donate 25 games of each of the first 4 game levels of BUZZLEWORDS – The Spelling Bee Game: Level 1– 1st & 2nd grade; Level 2 – 3rd & 4th grade; Level 3 – 5th & 6th grade and Level 4 – 7th & 8th grade.

"It's a great game to improve spelling," Sullivan told TDmonthly. "We want to improve the spelling IQ of America and the charity giveaway is a great way to help."

Sharing and Strategizing



"Giving back to help out less fortunate children is very important to my company," stated Frank Crossen, President of Crossen Creations. "Charity is one of the reasons I started my company; it was put in the mission statement to help remind me of the most important mission of the company, 'To create a better world for our children.'"

He is donating 100 deluxe Magical Rainbow Boardgame and Playsets, which teach children color recognition, sequencing, patterns, counting, strategy and sharing. "It's more than a board game, it's a tool for releasing the imagination in every child," Frank told TDmonthly.

Cooperation and Social Responsibility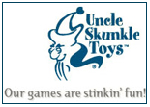 "Bambooga is a human puzzle game where players use colored wristbands to bind their hands and feet to one another, leading to a sticky mess of people," explained David Schreiber of Uncle Skunkle. "One of the factors that is most notable about Bambooga is that the game is part of a social entrepreneurship project sponsored by Kids Ark Foundation of Thailand. Bambooga is safe and eco-friendly, adhering to 'green' manufacturing practices with second-generation cloth material and sustainable bamboo construction. Bambooga uses mostly donated scrap material from factories in Thailand, and local villagers are employed to manufacture the games, bringing jobs to an area of Thailand were they are hard to come by."

"Uncle Skunkle Toys supports charities all over the world and has worked very closely with organizations from Thailand, to Bolivia, to Nepal, as well as local groups and schools in our home town of Portland, Oregon," said David. "We have partnered with Friends of the Children – Portland through in-kind and financial contributions. Friends of the Children offers a number of valuable and beneficial programs that support the education and well-being of local children including a mentoring program that provides at least 16-hours per month of one-on-one time with each child and commits to that for 12 years, no matter what happens."
(Read our exclusive interview with David Schreiber)

Creativity



PlayMais Canada Inc. is a distributor of high-quality educational toys from Europe and the US and is known primarily for PlayMais – a biodegradable crafting material that is made from corn and colored with food coloring. PlayMais is manufactured in Germany and is 100% safe. PlayMais is shapeable, cutable, squeezeable, and it sticks together with a little bit water from the PlayMais sponge, which is included in every box.

"We specialize in toys that have a high educational factor, allowing for a lot of play value while at the same time stimulating imagination and creativity," Frank Weirauch, of PlayMaisUSA, told TDmonthly. "We believe every child should have the opportunity to use toys that are so much fun to play with, they don't even realize they're learning."

Increased Brain Power



"Our award-winning made-in-America Scramble Squares® 9-piece brain teaser puzzles are Easy To Play, But Hard To Solve!® for children, teenagers, adults and senior citizens," said Marshall Gavin of b. dazzle, inc.

"Scramble Squares® puzzles teach patience, perseverance, fine-motor skills and critical thinking skills and help maintain mental acuity while providing a stimulating entertainment, either as a cross-generational cooperative activity or as a solitaire game."
The company is donating 5 sets of 20 beautiful Scramble Squares® designs.

Love for Science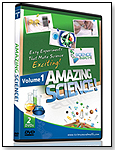 "We created the Amazing Science DVD to show how kids can be amazed by simple science using common materials found around the house. We're thrilled to be a part of the giveaway this year, and can't wait to bring smiles to children around the country as they discover Amazing Science!" shared Jason Gibson of Amazing Science!

His company is donating 100 Amazing Science! DVDs to help school systems create fun and surprising science lessons and afterschool activities.

Here are the toys that will be going to schoolchildren across the nation:
Life on the Farm board game by WE R FUN



Hilarious! Combines fast "moo"-ving action and authentic family-farm mishaps for "udder"-ly unpredictable fun! Teaches basic economics, yet is simple to understand and play. A REAL family game - designed so ages 8 to 108 can easily play together, comfortably! First to "Retire" wins! "Life on the Farm" has won a National Parenting Center "Seal of Approval 2012"; Best Family Fun Tillywig Toy Awards; National Teacher's Choice "For the Family" Award; "Outstanding Product"and "Hot Product" *iParenting Media Awards, among many others. 9/1/2004 (MSRP: $24.95; Age: 8 and Up)



Buzzlewords® The Spelling Bee Game Level 1 - 1st & 2nd grade by THE SPELLING BEE GAME INC.


This is a fast-paced, fun Spelling Board Game that teaches spelling, vocabulary and reading as it's played using spelling words taken directly from any child's grade-appropriate spelling list. Also available in challenging Adult level for those who think they can spell but might find out otherwise.The fast-paced game teaches spelling, reading and vocabulary. "There are no other board games on the market which allow each player to spell words selected from their own grade level and which combine elements of chance, strategy and spelling knowledge in a way that makes learning to spell fun and easy," Richard J. Sullivan, president of The Spelling Bee Game, Inc., told TDmonthly. Launch date: July, 2009.
Awards: 2010 Creative Child Magazine Game of the Year, Children's Educational Board Game Category; 2011 Creative Child Magazine, Game of the Year, Children's Educational Board Game Category. (

Watch Video) 6/29/2009 (MSRP: $14.95; Age: 6 to 8)



Circus Theme Boxes by PLAYMAIS CANADA INC.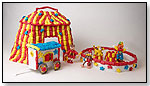 PlayMais is a biodegradable crafting material made from corn and colored with food coloring. It is manufactured in Germany, 100% safe, and biodegradable. PlayMais stimulates children's imagination and creativity, trains fine motor skills, and develops social group skills. PlayMais can be shaped, squeezed, cut and all it takes is a little bit water to create unlimited fun. Children can build in 2 or 3 dimensions, or wherever their imagination takes them. 6/14/2012 (MSRP: $21.99)



Serengeti Scramble Squares by b. dazzle, inc.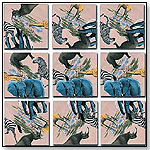 The sophisticated colors of the realistic Serengeti Scramble Squares puzzle make it among the best selling styles of Scramble Squares overall, appreciated by enthusiasts of African art and nature, naturalists and conservationists. This puzzle is also especially popular with children.
Awards— Dr. Toy's Best Classic Toys for 2011 3/7/2011 (MSRP: $9.95; Age: 4 to 12)



Fishing Camp the Game by EDUCATION OUTDOORS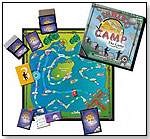 Fishing Camp is a game where both children & adults can play & learn fun facts about Fishing. The game is designed to grow with the player, starting at level one questions, which are primarily identification of fish and fishing tackle. As the players increase in their knowledge about Fishing, they grow into the higher level questions. A fun & educational game where parents & children can play to see who catches the first fish and gets back to the docks. Game includes: 1 game board, 200 game cards(400 questions, and 100 fun facts), 1 decoder, 8 game characters, 1 die, 16 level cards, and 1 GPS card. Launch date: 2012. (

Watch Video) 2/15/2012 (MSRP: $24.99; Age: 4 and Up)



Find It® Deluxe Edition by FIND IT GAMES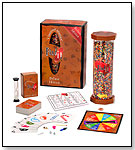 Now the whole family can play a fast paced hidden object game with the Deluxe Find It Game containing over 70 hidden items. The Deluxe Find It hidden object game includes a deck of cards, a spinner, a timer, the check off pad, and instructions for 6 ways to play and variations to adapt to younger players. The basic play starts with each player being dealt seven cards that vary in point value. At the beginning of each turn use the spinner to determine the action required prior to play (add points, miss a turn, trade hands etc.) Look fast! Players will have 30 seconds to try to find a many items as possible. Play continues until someone finds all of their items and runs out of cards.
Awards: 2010 Creative Child Magazine Seal of Excellence; Tillywig Sterling Fun Award Winner 5/30/2012 (MSRP: $32.00; Age: 8 and Up)



Eight Silly Monkeys by MOVING PICTURE BOOKS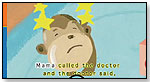 By combining high quality animation, rich narration, sound effects and music, Moving Picture Books provide a fun and educational digital reading experience for children ages 0-7. There are 38 titles — both classic stories and new favorites — each available in English, Spanish and English Read-Along-Text versions. Our books can be purchased as digital downloads, or DVDs. (

Watch Video) 1/27/2010



Amazing Science! - Volume 1 by MATH TUTOR DVD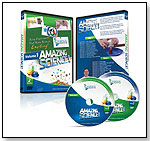 Learn fundamental principles of science through Amazing Science Experiments. Viewers learn about electricity, magnetism, heat, temperature, pressure, surface tension, buoyancy, and much more. For every demonstration, a complete materials list is given, and each experiment features multiple camera views so kids can see exactly what happens. Most importantly, every concept is explained in a step-by-step fashion. Viewers not only be amazed - they'll understand the science behind every experiment. 2/6/2012 (Age: 7 to Adult)



Magical Rainbow Boardgame and Playset by CROSSEN CREATIONS



The Magical Rainbow is a magnetized game that takes children on a special adventure through its lands. Players race to a pot of gold, watching out for Paddy the Leprechaun, who on every turn travels from land to land protecting his gold. Throughout the journey players will try to collect gold coins, avoid the Leprechaun and his lucky trinkets, and use strategy to win the game. This game is designed to teach children color recognition, sequencing, patterns, counting, strategy and sharing. "It's more than a board game, it's a tool for releasing the imagination in every child," Crossen Creations President Frank Crossen told TDmonthly.
Awards: 2009 Family Choice Award 6/9/2009 (MSRP: $24.99; Age: 4 and Up)



Bambooga® - The Human Puzzle Game by UNCLE SKUNKLE TOYS, INC.



In this human-puzzle game, players use color wristbands to bind their hands and feet to one another, leading to a sticky mess of people. The goal of the game is to crawl, walk, scoot or jump one's way towards the finish line, all the while maintaining the connections determined by a shake of the Bambooga Shaker. Bambooga is safe and eco-friendly, adhering to "green-" manufacturing practices with second-generation, sustainable bamboo construction. "Bambooga is the result of a social-entrepreneurship project sponsored by Kids Ark Foundation of Thailand,...an organization that hopes to find a solution to the AIDS epidemic in Thailand," Uncle Skunkle Toys Inc. Marketing and Communications Director Maya Cardoso told TDmonthly. A portion of "the proceeds from the manufacturing of Bambooga [is] recycled back to Kids Ark and [goes] towards projects to raise education and standards of living." Launch date: April 2008.
Awards: Bambooga is a winner of "Dr. Toy's 100 Best Picks Children's Products for 2009" and also won Creative Child Magazine's "Toy of the Year Award" for 2008. Bambooga has also been recognized with a favorable review by The Old Schoolhouse, a magazine for homeschooling families. (

Watch Video) 11/30/2007 (MSRP: $34.99; Age: 8 and Up)



---
---


Copyright © 2021 TDmonthly®, a division of TOYDIRECTORY.com®, Inc.