---
Q & A With David Schreiber, President of Uncle Skunkle
The phrase "love of the game" is literal for industry veteran David Schreiber
"I was always amazed at how slow — and how fast — things happened in Hong Kong." — David Schreiber, President, Uncle Skunkle Toys, Inc.

David Schreiber, president of Uncle Skunkle Toys, Inc., came up with the idea for his first game when he was in 6th grade. 20 years later he saw his idea become a reality

—

the game Rapid 4® was ready for store shelves. Below, he tells TDmonthly how producing the game brought him to Hong Kong, what it's like to work in the toy industry overseas, and his advice for those just starting out in the business.

Q. How did you first come up with the idea for your first or most successful game?

A. I was in 6th grade and one of my math teachers had given me a board with nails in it and some rubber bands. I figured out a pattern related to the number of nails and the number of rubber bands you could use. After receiving praise from my teacher, I became fascinated with lines/ levers and combinations and permutations. Also, I was a huge fan of the game Score Four. When I was 13, we had a math assignment working on permutations. I started doodling in my notebook and came up with what later became Rapid 4. When I was in my early 20s I had the first proto-type of Rapid 4 made. The day I received the prototype, my wife and I stayed up until the wee hours of the morning, playing the game.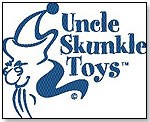 Q. How long did it take from the original spark of an idea to actual production?

A. We were living in Hong Kong, and I had just received the first production sample from my factory. There were some teenagers in the square near where we lived, and I wanted to see if they would like the game.

They were in their early teens, and after I got their approval that it was indeed a good game, I told them how old I was when I came up with the Idea. One of the boys responded "how old are you now?" at the time I was 33. He looks at me with a bit of disappointment "so you are telling me it took you 20 years to bring this to market?"

Q. How much money did you need to create the first prototype and come up with a business plan?

A. My very first prototype was just a few hundred dollars, but back then it was everything I had. I wrote my business plan as my Masters' thesis, as such, considering how much my Masters' degree cost, it was quite expensive. However, I had started the company with virtually no money, and I convinced our factory to build the tooling, then I obtained a licensed contract with Pressman Toy to sell it.

Q. How did you raise it, and how long did it take to raise it?

A. Uncle Skunkle Toys continues to remain self-funded.

Q. What was the best advice you received?

A. Stay focused and disciplined.

Q. The worst advice?

A. Most people who give advice are well intentioned. I have learned, however, to trust my natural instincts first. I have also learned to respect those who have had more success in the areas that I want to be successful in, and to ignore those who have less of a track record of success.

Q. What was the most significant obstacle you had to overcome to achieve success and how did you do it?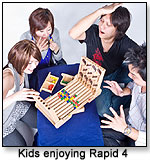 A. Quite a few years ago, there was a company that decided it could sell my games without my permission and without compensating me for the right to do so. The whole event was very challenging for me, both personally and professionally. Finally, I had to ask myself what it was worth, and what was my objective?

In the end I took an appreciative approach. Luckily only a few units ever made it to market, and I was able to get the remaining units donated to charity after reaching an out of court settlement. Although I was prepared to go the distance to defend my rights, my change in attitude helped find a better solution.

Q. You said that you wrote your business plan as your master's thesis. What did you go to school for, and where?

A. City University Seattle, Master of Art in leadership studies, organizational development and creation.

Q. Did you know, when you were 13 and came up with what would later be Rapid4, that you wanted to produce it for consumers?

A. Yes, I knew I wanted to build games and toys from the age of 7. I was always building toys for my younger brothers.

Q. You mentioned that you lived in Hong Kong at the time you got the first prototype for Rapid4 made. Do you own your own factory? (If so, why)?

A. Right after I finished my course work for school, my wife's company wanted to transfer her to Hong Kong. They sent us out on a "look-see" trip. We had been in the city only a few hours when my wife's new boss said she had a friend in the toy business. She had a phone number for him so I called him right away. He had a tiny office in a back alley building. When I opened the door something looked real familiar. The two of us went to high school together and he was a friend of one of my friend's younger brothers. Small world! Anyway he had a designer friend that he introduced me to and instantly I was in the "toy business".



"If I can put a smile on a person's face — that is success." — David Schreiber, President, Uncle Skunkle Toys, Inc.

I was always amazed at how slow and how fast things happened in Hong Kong. One day my business partner came to the office and said he heard of a show room design project for Mattel. We worked on it all that day and presented it to the next morning to the VP's at Tyco/Mattel. A week later construction began. Luckily one of my closest friends who was visiting was a cabinet maker and offered to help supervise. We ended up finishing on time and on budget. A lot of being successful in the toy business is being in the right place at the right time and seeing the opportunity.

Most of our factories are OEM [Original Equipment Manufacturer] (I could write a book on that). However… The Bambooga project was an operation we set up. Basically I was working with a charity called Kids Ark and they needed to provide jobs for the Lahoo Tribes people of Northern Thailand. I had done extensive work in the villages over the years and wanted to find a way to help them with work so they did not have to leave their culture and live in the cities. We developed the Bambooga Game in the actual villages. We created a separate trading company so we could operate in Thailand. We got local apparel factories to donate the material, and we bought it from the charity. The bamboo is selectively harvested of the trails. Even the bag is made of green cotton. Bambooga is a great game and a great cause.

Q. What affect do you hope your products have on children?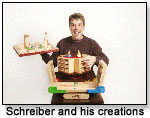 A. Every year around Christmas I hear from a parent that their Child played our game at a doctor's office (our games are used at a few clinics locally) or in a school and that they have requested it for Christmas. To me that is the icing on the cake. A child has played my game in a learning environment and enjoyed it so much that they wanted one at home. My hope is that our games involve the whole family and that they are fun and challenging for all. If I can put a smile on a person's face that is success.

Q. What one unique quality makes your product better than your competition?

A. Our games have just the right amount of chance, mixed with strategy that makes them a lot of fun to play. This is a formula that better resembles real life, and is hard to duplicate even in a video game.

Q. What one piece of advice would you offer to someone just starting out in the toy industry?

A. Think about why you want to be in the toy industry. If it is to become rich, become a stockbroker.

Yes, you can make money in this business, but there are a lot of easier ways to do it. The industry needs more people who really care about our children, and less people trying to make a quick buck with short cuts.
Rapid 4® More
by
UNCLE SKUNKLE TOYS, INC.
Other products from UNCLE SKUNKLE TOYS, INC.
TDmonthly rating:






MSRP: $89.99

Age Range: 8 and upSKU or Item #: 07326PNR4MGender: Boys And Girls





Available in wood only, Rapid 4 More® adds more excitement and strategy to the fast-paced game of Rapid 4, with the addition of an entirely new, large playing surface. Play both sides of the board in your pursuit to grasp victory while foiling your friends along the way. Rapid 4 More also allows up to 4 players, extending the level of zany enjoyment to all involved.

— "This is a perfect game!" raved 7-year-old Ben Christensen, a reviewer in

TDmonthly's Grade-School Roundtable

, which collectively awarded Rapid 4 More four out of five TD stars.

— "For about age 8 and up Rapid 4 More is a fast fun interactive game for 2 to 4 players. Get 4 balls in a row in any direction, but be careful because you have to drop your balls from a maze to do it. A fun strategy game. Recommended!" Jennifer Shuman, of

1SmartNoodle

, told

TDmonthly

at

Toy Fair 2010

.

ToyDirectory Product ID#: 17438

(added 2/7/2008)

.

AD
---




MSRP: $34.99

Age Range: 8 and upSKU or Item #: KABGALaunch Date: April 2008Gender: Boys And Girls





In this human-puzzle game, players use color wristbands to bind their hands and feet to one another, leading to a sticky mess of people. The goal of the game is to crawl, walk, scoot or jump one's way towards the finish line, all the while maintaining the connections determined by a shake of the Bambooga Shaker. Bambooga is safe and eco-friendly, adhering to "green-" manufacturing practices with second-generation, sustainable bamboo construction. "Bambooga is the result of a social-entrepreneurship project sponsored by Kids Ark Foundation of Thailand,...an organization that hopes to find a solution to the AIDS epidemic in Thailand," Uncle Skunkle Toys Inc. Marketing and Communications Director Maya Cardoso told TDmonthly. A portion of "the proceeds from the manufacturing of Bambooga [is] recycled back to Kids Ark and [goes] towards projects to raise education and standards of living." Launch date: April 2008.
Awards: Bambooga is a winner of "Dr. Toy's 100 Best Picks Children's Products for 2009" and also won Creative Child Magazine's "Toy of the Year Award" for 2008. Bambooga has also been recognized with a favorable review by The Old Schoolhouse, a magazine for homeschooling families.

ToyDirectory Product ID#: 16327

(added 11/30/2007)

.

AD
---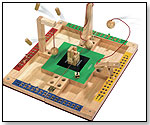 MSRP: $69.99

Age Range: 8 and upSKU or Item #: 07315PND3Launch Date: June 2008Gender: Boys And Girls





Players build the tower, roll the dice to determine the destructive device and then knock down the tower with the Catapult, the Pendulum or the Ramp. The entire set is made from beautiful, sustainable rubber-tree wood. This game received a 2007-2008 Informal Education Products Award. Launch date: June 2008.

ToyDirectory Product ID#: 17274

(added 1/29/2008)

.

AD
---




MSRP: $54.99

Age Range: 8 and upLaunch Date: September 2008Gender: Boys And Girls





The spinning wheel strategy game is as simple as checkers, yet as intriguing as chess. The game's creative design allows players of all ages to spin the color wheel and try to get a winning combination of five across or down. Launch date: September 2008.

ToyDirectory Product ID#: 17276

(added 1/29/2008)

.

AD
---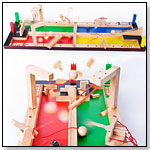 MSRP: $99.00

Age Range: 8 and upLaunch Date: January 2010Gender: Boys And Girls





In this medieval-themed game for two to four players, oppenents must work to protect their castles as they try to knock the other players' wrecking balls off track. It's a sturdy wooden game with several movable elements. Launch date: 2010.

ToyDirectory Product ID#: 27274

(added 2/19/2010)

.

AD
---

Writer's Bio:
Justina Huddleston graduated Magna Cum Laude from Emerson College with a BA in Writing, Literature, and Publishing in 2009. After graduating she was the on-site director of the Boston Children's Museum gift store for a year, selling educational, developmental, and creative activity toys that tied in with the museum's exhibits. Justina also interned at children's book publisher Candlewick Press before moving from Boston to Los Angeles, where she is now Editorial Director of
TDmonthly Magazine
.
Read more articles by this author
THIS BANNER IS AN AD:
---
---