Competition is Sooo 2002: New Games for the New Year
By Karen Mendez Smith
January 1, 2003

With family and friends enjoying the great indoors during the winter break, there's no better remedy for cabin fever than an old-fashioned board game. This year, it's a kinder, gentler world. Games have evolved, bringing some truly unusual options to highly competitive kinds of play.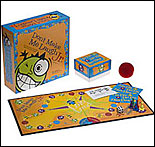 Don't Make Me Laugh, Jr.
A refreshing example of this is DON'T MAKE ME LAUGH and DON'T MAKE ME LAUGH, JR. by Lolo Company, Inc. These educator-tested games (as are all Lolo's products) are based on utilizing the 'seven intelligences' inherent in all human beings. Also give a whirl to ROH SZAM BO, a galactic version of the familiar 'rock, paper, scissors'. Says co-owner Robert Paul, "What makes game playing best is creating a positive memory. Winning is not as important as the fun you have laughing and enjoying each other's company."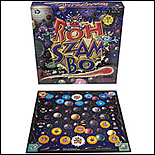 Roh Szam Bo
Also sure to bring people together is Newtons Mind, Inc.'s THE KARAOKE GAME for ages 12+. Says inventor/owner Glenn Newton, "This is a truly great game to be played with family and friends. Whether young or old, this game will have you laughing and singing in no time at all." Lest you lose track of time while having so much fun, The Karaoke Game also comes with a beeping digital timer.

C.W. Helig & Co.'s HAWAIIAN GLYPHS
Ethnic diversity in games and toys continues to grow, and C.W. Helig & Co.'s HAWAIIAN GLYPHS is the perfect antidote to culturally bland board games. In this game, players use ancient symbols to form a connected story. "Hawaiian Glyphs integrates image-matching skills for younger players, as well as chance, random luck, strategy, persuasion, negotiation, critical thinking, friendly competition and story telling under a single, innovative & highly interactive game formula!" says owner Steve Curry. What makes it highly innovative is that the winner earns the right to make up and tell the entire tale, based on the glyphs. It's a fascinating way to learn about Hawaiian culture and encourage imaginative storytelling.
Games without violence, treachery, undermining or destroying your opponent ? Games that create harmony and encourage interaction rather than competition ? Can world peace be far behind?
---
RELATED LINKS:
Product Summary: PRODUCT SPOTLIGHT: INVENTIVE TOYS

Toy Fair Events: TIA Announces Revised TOY FAIR™ Closing Date And Show Hours For 2003

Toy Fair Seminar: Special Toys for Special Kids: An Untouched Market

Toy of the Year Awards: Cast Your Vote for 2002 "People's Choice Toy of the Year"

To vote for Toy of the Year Awards: Click Here

Want to see a showcase of toys? Click Here...

Return to ToyDirectory Monthly front page: Click Here

Send comments about this article to: comms@toydirectory.com