A New Reality: Fairies take to the Runway
By Tim Connolly
December 1, 2002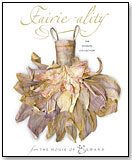 Fairie-ality from Candlewick Press

Though just published in November, Candlewick Press's Fairie-ality seems anointed with its own magic. Begun three years ago as the creation of renowned fashion photographer David Ellwand, illustrator David Downton and author Eugenie Bird, the book is a fashion catalog for an ethereal world co-existing with our own, showcasing 150 creations—from ball gowns to "gossamer underthings," all made from leaves, grasses, sea-shells, feathers; nature's fabrics rarefied as fairie haute couture.

Word began to spread about the book after Jane Weitzman—wife of Stuart Weitzman, owner of the exclusive Madison Avenue boutique that bears his name—spotted Fairie-ality at an industry book fair. "She fell in love with it," says Candlewick Publicity Manager, Susan Hershberg. It wasn't long before an exhibition of David Ellwand's Fairie shoes came to life in the window of the Weitzman boutique as part of their ongoing "art shoes" display. In December, the shoes will travel west to the Weitzman's Rodeo Drive store, then on to other locations in 2003.

"It's been a real cross-over in terms of the adult market," says Hershberg. With a cover price of $40.00 and a design comprising fold-out booklets, a removable fashion card with vellum envelope, and pages that can be flipped back and forth to create different outfits, Fairie-ality is definitely not meant for crayons. But Hershberg adds that the book has, not surprisingly, gone over big with 'tween girls. So big, in fact, that FAO Schwartz will be offering Fairie-ality costumes for kids in 2003. The Madame Alexander Doll Company has also created its own doll and accompanying Fairie outfits.

Get your copy quick, before those fickle Fairies get tired of feathers and leaves, and start sporting Calvin Klein.




---
RELATED LINKS:
The New, the Hot and the Unusual: Watch out for the Ceiling Fan!

The New, the Hot and the Unusual: Books to Ease the Pain

Want to see more New Products? Click Here...

Return to ToyDirectory Monthly front page: Click Here

Send comments about this article to: comms@toydirectory.com