Watch out for the Ceiling Fan! AirScoot takes radio-controlled flight indoors
By Jeremy Loudenback
December 1, 2002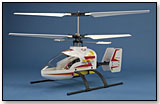 AirScooter's® new hobby model helicopter
Getting your flight wings with AirScooter's® new personal model helicopter is as easy as opening up the package and pressing "start." Unlike other kits that may take up to 30 hours to assemble and modify, the new electric radio-controlled AirScoot comes fully assembled and ready to fly within minutes. The AirScoot, one of the first radio-controlled helicopter vehicles, borrows engineering breakthroughs to pioneer new levels of control for radio-controlled aircraft.
The 15" tall AirScoot features a sturdy design highlighted by a new coaxial rotor technology that will leave hobby enthusiasts elated. The 28" two-bladed coaxial rotor gives pilots enough flexibility and maneuverability to fly indoors, as well as brave windy outdoor conditions. AirScooter has also employed their breakthrough coaxial rotor system to pioneer a personal helicopter, designed for low-altitude single-person travels, that is currently in production.
Air Scooter owner and inventor Dwaine Barnes says his newest product is designed with the hope of allowing many different kinds of people to enjoy the thrill of radio-controlled air flight. Other kits may intimidate casual hobbyists with the complexity of construction and operation, but AirScoot can be enjoyed by anyone with radio-controlled experience.
"Unless you're really motivated to a lot of time putting your plane together, you're never going to actually get it flying," Barnes said. "We want to keep it as simple as possible."
Made in the U.S., AirScoot comes at an introductory price of $846. The durable AirScoot includes a 10-cell battery pack, metal-geared servos, a piezo gyro, high-end speed controller and a 340-watt Cobalt motor. A complete AirScoot ready-to-fly package also includes a Hitec transmitter and receiver and the Hitec 10-cell peak charger for $995. AirScoot is available now; where you go is up to you.

---
RELATED LINKS:
The New, the Hot and the Unusual: A New Reality: Fairies take to the Runway

The New, the Hot and the Unusual: Books to Ease the Pain

Want to see more New Products? Click Here...

Return to ToyDirectory Monthly front page: Click Here

Send comments about this article to: comms@toydirectory.com