Get Real Girl™ Steals the Limelight
by Tim Sullivan

Barbie lovers beware, Get Real Girl™, a line of 6 female action figures, is now in the game and heading for the goal.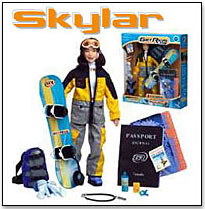 If you haven't heard by now, these 6 girls have been causing quite a stir. Beautifully packaged figures, with fully articulated limbs and a number of accessories, the Get Real Girl's are designed with modern times in mind.
"They're about a lot of things, but the important thing is that they're designed for today's girls. They play sports, they're active, they're interested in travel, they have pets" says Jana Machin, president and CEO of San Francisco based Get Real Girl, Inc.
The Get Real Girls, Skylar™ (the snowboarder), Corey™ (the surfer), Nakia™ (the basketball player), Gabi™ (the soccer player), Nini™ (the backpacker/camper), and Claire™ (the scuba diver) have been marketed in non-traditional ways. That is to say: without TV. Instead, the Girls are being marketed in a fashion as modern as they are: via the Internet.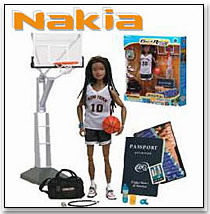 The Get Real Girls have an Internet site, www.getrealgirls.com, where consumers can keep up with the characters. The site allows users to e-mail the girls, and to look at their passports to see where they have been, and where they are. On-line animated cartoons air on the site, and are updated periodically to keep the audience coming back for more.
The figures, which stand 11.5" tall, come with cool accessories for both the doll, and the consumer. Each doll comes with authentic sports clothing and accessories, including a water bottle, hairbrush, hair clip, sunglasses, socks, and a "Digital Video Journal." The Girls also come with sports gear reflective of their particular passion.
The Get Real Girls also come with a number of items that will help to build brand recognition. Each girl comes with a wearable friendship bracelet including a charm, a collectible "travel stamp," postcards, and a personalized passport.
All of these features are sure to make the figures wanted in every little girl's home. The fact that they are cool, fun, and have a positive message should make them welcome there. Look for Get Real Girls on-line, and in stores nationwide.
The article "Girls Get Real with a New Kind of Doll" from Fox News 1/23/2002 was consulted in writing this article.
Want to see more Action Figures? Click Here...