Sideshow Toy Forms a Bond, James Bond
By Avelino C. Tuason

Sideshow Toy has just acquired a license to kill, or maybe just to die for: James Bond.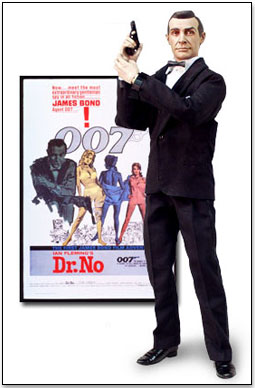 The collectible figure manufacturer will create a broad line of 12-inch figures in the likeness of the five actors who have officially portrayed the suave super-spy (sorry, no Woody Allen from Casino Royale), along with his most diabolical villains and his most glorious conquests (a.k.a. the women of Bond). The first series will be based on the first Bond film, Dr. No, featuring Sean Connery as Agent 007 and Joseph Wiseman as Dr. No. Each figure will be meticulously detailed, with tailored clothing and authentic looking weaponry.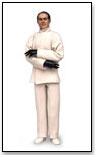 Created by British author Ian Fleming, James Bond made his debut in the 1953 novel Casino Royale. Her Majesty's secret serviceman first hit the box office jackpot in the 1960s, with espionage thrillers such as Goldfinger and Thunderball. Captivating audiences with fast cars, gorgeous women, outrageous stunts, fantastic gadgetry and exotic locales, the character has appeared in more successful movies and books than you can shake a martini at. The franchise's 20th film, Die Another Day, starring Pierce Brosnan as 007, hits theaters November 2002.
James Bond will return…in a second series of figures based on The Man with the Golden Gun, featuring Roger Moore as Bond and Christopher Lee as Scaramanga.
Want to see more Action Figures? Click Here...