Happy (and Clever) People Make Happy Dog Toys
By Timothy Dickey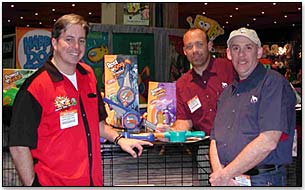 John, Mark and Neil of Happy Dog Toys
Happy Dog Toys recently made a splash with their newly licensed aquarium based on the Nickelodeon cartoon character SpongeBob Squarepants. But this Phoenix, Arizona based company has been up to their fun and funky ways since 1996, developing niche-bending products that look as comfortable on toy store shelves as pet store endcaps.

The multi-million dollar company, whose yearly sales have doubled each year since inception, has built their success with durable products that they know pets and owners will enjoy together. Take the Reel Dog, for instance, a heavy-duty "fishing pole" style fetch-and-tug device.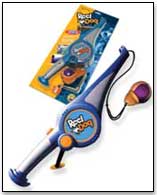 Reel Dog™


John Florance, co-president: "We believed that there was something powerful about the notion of a truly interactive dog toy, where the dog not only interacts with the product, but with the owner as well."

Oddly, traditional toy retailers have been slow to accept the idea of doggy things in people stores, one of the company's "pet" issues (see sidebar). But Happy Dog's products have made a significant impact in a market replete with cheap plastic steaks that squeak, and other highly ignorable animal toys typically found in supermarkets.

To better understand how Happy Dog innovates and prospers--and what makes them our Cool Company of the month--it's best to step into the workshop of co-founder, Mark Huettner.


A Tale of Two Wives Who Knew Each Other in College

It was a Friday evening, eight years ago. Mark Huettner had an inspiration so profound…

Want to see more Animal Toys Products? Click Here...