A Crafty Mix of Chance and Skill
By Timothy Dickey
November 24, 2002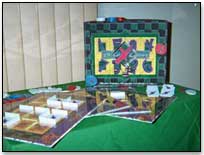 Boxum®
Winner of a Silver Medal at the 2002 Annual Inventor's Congress, the game Boxum has been building a small frenzy of interest at toy shows around the country, as well as Las Vegas and Universal Studios in Orlando, Florida. Creator Pete Bell says, "If you like Chess, Checkers, Craps or Roulette, you'll love Boxum."
This dice-rolling game operates with a simple but utterly addictive principle. You roll your dice and use the outcome to create walls between comparable numbers on your game grid. When you've boxed one of your numbers in, you get points; hence Boxum.
Interestingly, you're playing for a pot of points but you ante up before each turn, too; the game's over when one of the player's numbers are all boxed. Boxum is an intriguing mix of chance and skill, so immediately after you've played, you want to play again.
Boxum is manufactured by T.J. Gear, Co., and is available in board game format or a PC version that's equally addictive and may be played against the computer or others via the Internet.
---
RELATED LINKS:

The New, the Hot and the Unusual: More Than Just a Baby Blanket


The New, the Hot and the Unusual: Baby Einstein On-Line

Want to see more New Products? Click Here...

Return to ToyDirectory Monthly front page: Click Here

Send comments about this article to: comms@toydirectory.com