The Lowdown on Licensing:
ToyDirectory talks with Lucasfilm, McFarlane Toys, and Toys R Us for a view of the whole food-chain
By Tim Connolly
November 1, 2002



Let's do a word problem: If the toy industry is a 25-billion-dollar-a-year business, with licensed product making up over a third of that figure, how long will it take a train traveling 60mph to reach Omaha with a boxcar full of SpongeBob SquarePants® dolls? The answer? It's already unloaded and gone back for more.
"Property" licensing--the kind that offers the rights to a known character or trademark—has far outpaced "concept" (aka patent) licensing since the 1990's, a trend that shows no signs of waning. According to industry research firm NPD funworld, 2002's increased sales of action figures and special-feature plush was indicative of "categories [that] reflect the increased upward growth of licensed products, fueled by hot movies and nostalgic properties." Next stop: The Holidays!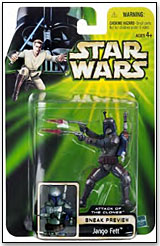 Star Wars Action Figures
Licensor: LucasFilm Ltd.
In 1997, LucasFilm made industry headlines when it signed a $600-million-dollar, nine-year contract with Hasbro--not so surprising really, when you consider the property. Far more than a hot movie franchise, the Star Wars saga has become so ingrained in our culture as to become a modern myth. Given that kind of brand awareness, you'd think the licensor's job would be a simple matter of watching the royalty checks roll in.
"We never rest on our laurels," says Licensing President Howard Roffman. "It's a competitive world out there…Star Wars earns the shelf-space it gets."
Having been with the company for twenty years, Roffman has had the privilege of watching his original customer base grow-up to become parents, and pass their love of Star Wars on to their children. "You couldn't ask for a stronger brand endorsement," he says. "At the same time, we have to recognize that their children are growing up in a different time…bombarded with messages from other properties that are vying for their attention."
Star Wars LEGO Toys
So how does a twenty-five-year-old franchise stand out amongst a sea of Furbys and the aforementioned SpongeBob? "Retail differentiation is an important part of our marketing strategy," says Roffman. "Each of the major retailers IS different, and they deserve to be differentiated in a meaningful way."
With the release of last summer's Attack of the Clones, the tactic for keeping Star Wars toys front-and-center was, ironically, to ship less product. "We're the first to admit that in 1999 [for Phantom Menace] we oversupplied the market. But, in fairness…it was hard to gauge the demand…there had not been a new Star Wars film for 16 years." In spite of having one-third fewer licensees for Attack of the Clones, the film's projected merchandising total nearly equals Phantom Menace's $2 billion worth of properties.
What does Roffman see in the Saga's future? "We take our role as Shepard's of the [Star Wars] brand very seriously… We'll carefully look at our results, not only for this year but for 2003 and 2004, in making our decisions for Episode III in 2005."

To read the complete interview with Howard Roffman (click here).

Kiss's Ace Frehley by McFarlane Toys
Manufacturer: McFarlane Toys
For action figure powerhouse McFarlane Toys, the company's own name is their most potent brand. Known for making unique, high quality figures, McFarlane's lineup includes horror movie characters, rock stars, fantasy figures, and pro sports heroes. "Across the board, we create collector appeal," says Christine Finch, Executive Director of Licensing for McFarlane. "Many of the ideas from the licenses are suggested or supported by our sincere fan base."
In 1997, the company began to branch out from solely producing artist and founder Todd McFarlane's "Spawn" figures. Its latest line features stars of the NBA, NFL, and Major League Baseball. "Hasbro opted out of sports, that's when we grabbed them," says Finch. "It's really taken off." McFarlane currently has 7 contracts for four sports lines, producing twelve new figures a year.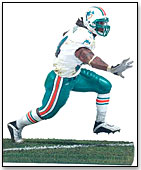 Ricky Williams by McFarlane
The company also signed merchandising super-group KISS in 1996, and has enlarged their music line to include rock icons such as Jerry Garcia, Jim Morrison, and Angus Young. On dealing with rock stars, Finch is diplomatic: "It's a little more difficult. Sometimes working with an estate can be easier than working with a live person."
So what's on Christine's wish list? "I keep hoping someday we'll get Star Wars," she says musingly. "But Hasbro…it's a perfect fit for them." On the licensing industry as a whole, she describes it as "a very fine balance of…knowing your marketplace, collaborating with your retail partners, and most importantly…retaining the interest of your ideal consumer."

Retailer: Toys R Us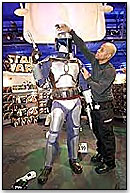 Toys-R-Us Star Wars Shop
It's that "ideal consumer" that every retailer is trying to woo, and with more and more TV and movie-themed toys flooding the market; the pressure is on for a property to prove itself—quickly. "Kids need to have an interest in the TV show or movie," says James E. Feldt, President of Merchandising and Marketing for Toys R Us.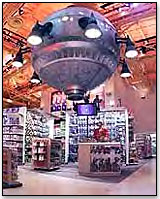 ET Store "in-store shops"
He adds that there are other considerations beyond the appeal of the property itself: "More importantly, the size of the buy…[Toys R Us is] much more focused on product life cycle." As for those"evergreen" properties that can be counted on to have a long shelf-life, Feldt cites Spiderman, the Teletubbies, Pooh, Power Rangers, and of course, Barney.
Creating "in-store shops" is one way Toys R Us and many other retailers are creating maximum brand exposure for hot properties. By gathering the entire spectrum of Blues Clues or Jurassic Park toys into a store-within-a-store, consumers can easily find the toy they're after--in a setting that's ripe for impulse purchases of similar products. Toys R Us has found the strategy so successful, they plan to re-make half of their 600 stores to include in-store shops.
Does exclusive floor-space translate into more exclusive agreements with licensors? "Where it makes sense in our assortment," says Feldt, but he adds, "We will continue to be more selective…"


Additional sources for this article:
"Studio Tours" by Bruce Apar, License! June 2002
"Retail Real Estate" by Dawn Wilensky, License! August 2002
"Licensing 101" by Carol Rehtmeyer, toysngames.com


---
RELATED LINKS:

Side Bar: LucasFilm's President of Licensing Howard Roffman Takes You Behind the Scenes of a Licensing Blockbuster.

Want to see more Action Figure Toys? Click Here...

Return to ToyDirectory Monthly front page: Click Here

Send comments about this article to: comms@toydirectory.com