Science Toys: Not Just for Nerds Anymore
By Tim Connolly






Science toys have improved since I was a kid. Back then it was a bummer Christmas that left you holding a junior chemistry set or ant farm. My early exposure to nature consisted of watching tranquilized animals on Mutual of Omaha's Wild Kingdom. Kids in 2002 have the Discovery Channel, The Crocodile Hunter, Imax movies; you name it. They've seen sheep cloned, and even watched a Woolly Mammoth pulled from the ice of Siberia to await its imminent rebirth, a la Jurassic Park. Science is a part of kids' lives today like never before. So it's not surprising that the range of science toys has grown, along with their fun quotient. Here are my top five:




Roman Coins

Authentic Roman Coin Kit. By Totally Fun Toys (exclusive)

It's hard to call this a toy when the kit includes five authentic Roman coins, minted between 100 and 400AD. Yes, the coins are real, dug-up in the ancient Roman city of Moesia-what is today the country of Bulgaria. A cleaning kit and instructions for how to resurrect your own piece of ancient history are also included. Ages 6 and up. Retail: $19.99.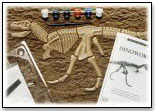 Dinoworks Tyrannosaurus

Eyewitness Kit: Dinoworks Tyrannosaurus. By Skullduggery

This kit allows kids to cast, paint, assemble and display a 19" inch T-Rex skeleton. Or if they prefer a different dinosaur, there's also a Stegosaurus, Triceratops or Velociraptor. Also offered is a "Classroom Kit," which includes three dino skeletons, as well as a teacher-approved lesson plan. Included in each kit are a reusable mold, casting material, paints and brushes, glue, and magnets to hold the final assembly together. An illustrated booklet with facts on real dinosaurs is also included. Ages 8-12.

Average retail: $14.99.



Meteor Rocket
Meteor Rocket Kit. By Scientific Explorer

Unlike the gunpowder-fueled model rockets of my childhood, this kit is powered by non-explosive baking soda and vinegar. Kids experiment to find the right combination of ingredients before launching the rocket as high as 100 feet in the air; an experience that can be repeated again and again. The instruction book includes facts about rockets and chemistry, and suggestions for other experiments. Winner of the 1999 Parents' Choice Recommended Toy Award.

Ages 11-14. Average retail: $19.95.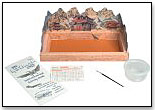 Silkworm City

Silkworm City. By Insect Lore

For 4,600 years, silkworms have been bred domestically to produce this coveted material, used to make everything from emperor's robes to parachutes. Now kids can watch as worms spin silk cocoons and finally emerge as moths. Kit includes a mail-in certificate for 3 silkworms (shipped with food), a silkworm habitat resembling a Chinese city, incubation tub, and instruction booklet. Ages 5-11. Average retail: $14.99.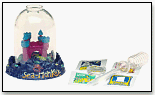 Sea-Monkeys Magic Castle

Amazing Live Sea-Monkeys Magic Castle. By Explora Toy

Maybe it's nostalgia, but many adults love this item as much as their kids do. The Sea Monkeys' globe (they're actually Brine Shrimp) is small enough to hold in your hand, and comes with Sea Monkey food, a measuring spoon, magnifying lid, and a large dropper for agitating the water. These low-maintenance pets have a guaranteed life span of two years if cared for properly. Ages 6-12. Average retail: $10.99.




Get a perspective on the state of the educational toy industry from two industry leaders: Click Here...

Want to see more Science and Nature Toy Products? Click Here...