TOY
DIRECTORY member Since 2004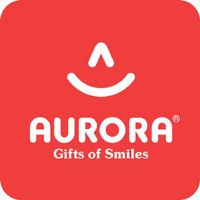 Aurora World Inc.
Shop
Contact Aurora World Inc.:
8820 Mercury Lane
Pico Rivera, CA 90660
Phone: 562-205-1222
Toll free phone: 888.AURORA2 (287-6722)
E-mail wholesale inquiries to:
info@auroragift.com
For additional information visit:
http://www.auroragift.com/
Search Amazon: Aurora World Inc.
Suggest a Correction
Email: emailtoydirectory@gmail.com
---
About Aurora World Inc.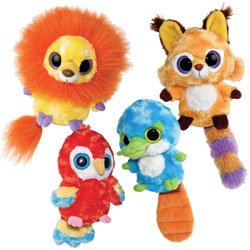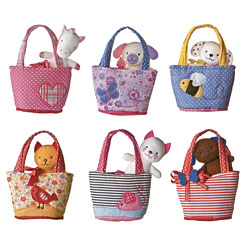 BUY Them on Amazon
Aurora World Inc.'s ToyShow Archives:

Product Archives added to TOYDIRECTORY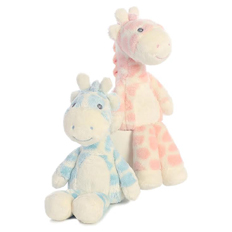 ---
Product added on: 12/10/2015
---
Shop For Products
Search Amazon: Aurora World Inc.
Founded in 1981,
Aurora World, Inc.
(Aurora) is the world's leading supplier of affordable, high quality plush gifts. Thanks in large part to its toy Pet Carriers, YooHoo & Friends, and award winning baby products, the U.S. company has ascended quickly to become a respected leader in the plush toy and gift industry. Aurora's value prices, high quality and large variety, as well as international manufacturing, R&D and distribution resources are hallmarks of Aurora's success.
The company's lines feature thousands of products covering just about every conceivable market segment. Offerings range from traditional favorites such as stick ponies and teddy bears to plush modeled after every type of domestic, farm, jungle, sea creature – even insects. Aurora's exclusive Pet Carriers and Mini-Pet Carriers, Aurora Babies, Aurora Naturally ("Eco-Plush"), backpacks, purses, puppets and baby products including the multiple award winning Baby Talk line are also available. For Valentine's, Spring/Easter and the Holidays, Aurora offers seasonal variations of their most popular products. Created with unique fabrics and distinctive facial expressions, items span all categories of plush and range in size from small finger puppets to 48 inches. Aurora's products are renowned for combining the nostalgic sentimentality of its classic predecessors with current looks, designs and materials.
YooHoo & Friends is Aurora's top selling category with more than 50 variations available at retail. The big eyes and long fluffy tails have been the keys to the plush line's success and Aurora will remain committed to this popular brand for years to come. The cuddly plush YooHoo & Friends characters make a unique and funny sound when you squeeze their tummies. The whimsical YooHoo & Friends inspired the launch of www.yoohoofriends.com, an interactive "virtual world" geared to kids from five to 12 years old. The web site's characters resemble real animals in their natural habitats from all over the world and educate children about them. The website is free and does not require activation codes for entry. Site users can play games, download wallpapers, calendars and icons, watch previews for the upcoming YooHoo animations, adopt and raise YooHoo & Friends, and learn about each endangered animal. Recently the company launched "WannaBes" featuring YooHoo & Friends dressed as other animals (i.e.: pig, frog, etc).
Aurora produces thousands of custom, personalized plush products for businesses worldwide. From Criss Angel, Tennessee Bulldogs and the Florida Gators to Claire's retail outlets, Knott's Berry Farm and San Diego Zoo, a significant part of the company's business is custom plush. Aurora is just one of a handful of companies that produces custom plush, turning even a sketch or basic idea into reality. Aurora is able to provide a seamless process from the idea stage all the way to on-time delivery. The company utilizes its global resources which allow the in-house designers, embroiderers and sample makers to work on every project. Aurora also provides services for custom hangtags, sewn-in tags, POP and event displays. In late 2008, Aurora incorporated a state of the art custom embroidery machine operating at its headquarters in Pico Rivera, CA.
Aurora offers plush appealing to a wide range of consumers who represent nearly every walk of life. The company sells its products via a wide variety of retailers including major zoos, theme parks, high-end toy stores such as Learning Express, top gift chains such as Hallmark and Claire's, as well as hospital gift shops, fine florists, candy stores and gift/stationery stores worldwide.
You can also find Aurora World Inc. listed in the following categories on ToyDirectory.com:
---
If you would like to request wholesale pricing, please include the following information with your request:
Your name
Your company name
Mailing address
E-mail address and phone number
Mention TOYDIRECTORY.com
---
Correction Needed? Please email: emailtoydirectory@gmail.com
Suggest a Correction!
Email: emailtoydirectory@gmail.com
---
Custom Search
In TOYDIRECTORY®
---
Correction Needed? Please email: emailtoydirectory@gmail.com
Home | Contact Us| Get Listed | Search By Name | Search By Category | TDmonthly Magazine | Privacy Policy

©1996-2023
TOY
DIRECTORY.com®, Inc. All rights reserved.
Use of this online service is subject to the
Disclaimer
and the
Terms of Use
.