Giantmicrobes, Inc.
Shop
Contact Giantmicrobes, Inc.:
78 Harvard Avenue suite 300
Stamford, CT 06902
Phone: 312-643-5388
Fax: 630-604-3924
Toll free phone: 877-642-7623
E-mail wholesale inquiries to:
info@GIANTmicrobes.com
For additional information visit:
http://www.GIANTmicrobes.com
Search Amazon: Giantmicrobes, Inc.
Suggest a Correction
Email: emailtoydirectory@gmail.com
---
About Giantmicrobes, Inc.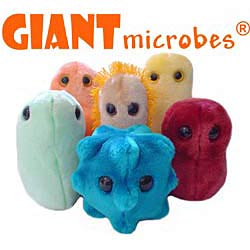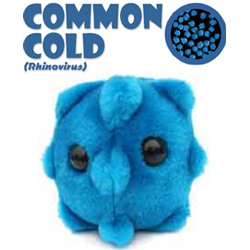 BUY Them on Amazon
Product Archives added to TOYDIRECTORY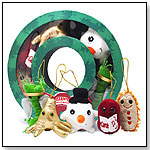 ---
Product added on: 11/5/2012
---
Shop For Products
Search Amazon: Giantmicrobes, Inc.
What Are GIANTmicrobes?
GIANTmicrobes® are plush dolls that look like common microbes, over a million times actual size. Each 5-to-7 inch doll comes with an image of the real microbe it represents, as well as information about the microbe. GIANTmicrobes® make great learning tools for parents and educators, and make amusing gifts for anyone with a sense of humor.
Why Microbes?
Microbes play an enormous part in everyone's life. Think about it. Everyone gets a cold, a sore throat, or a stomach ache from time to time. But, we are also made of microscopic organisms: from brain cells, to nerve cells, to blood cells, to stem cells, each one of us is a civilization of microbes.
GIANTmicrobes® are sold in a wide range of stores, including gift shops, toy stores, college book stores, comic book stores, pet stores, and more.
GIANTmicrobes come in multiple sizes ranging from keychain to gigantic. Over 100 different microbes are available and the collection keeps growing.
Old favorites include the Common Cold and Brain Cell, as well as our latest editions Hay Fever, Tick, and Sniffles the Sound Doll.
You can also find Giantmicrobes, Inc. listed in the following categories on ToyDirectory.com:
Plush
Collectibles
Science & Nature
---
If you would like to request wholesale pricing, please include the following information with your request:
Your name
Your company name
Mailing address
E-mail address and phone number
Mention TOYDIRECTORY.com
---
Correction Needed? Please email: emailtoydirectory@gmail.com
AD
Suggest a Correction!
Email: emailtoydirectory@gmail.com