TDmonthly Magazine® Toy Videos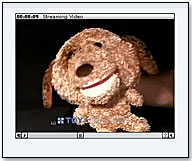 A picture may say a thousand words, but it rarely tells about a toy's packaging, size relationships or choice action features. TDmonthly's Toy Videos does. It's like going to a toy convention from the privacy of your own store. See and choose toys in a whole new, industry-leading manner. Simply locate a product and click on the Watch Video icon ... then watch 'em roll.

In addition, TDmonthly Magazine sends its Video Crew to trade shows throughout the year, lugging back footage from events to bring products, manufacturers and retailers up close and personal. Follow these links to view ASTRA Marketplace, Toy Fair and in-house product demos, or browse by category to select which products you want to watch.