ENLIGHTENED PLAY!
Shop
Contact ENLIGHTENED PLAY!:
10519 W. Warren Dr.
Lakewood, CO 80227
Phone: 720-962-4518
Fax: 720-962-4518
Toll free phone: 888-ECO-KIDZ
E-mail wholesale inquiries to:
thournir@enlightenedplay.com
For additional information visit:
http://www.enlightenedplay.com
Search Amazon: ENLIGHTENED PLAY!
Suggest a Correction
Email: emailtoydirectory@gmail.com
---
About ENLIGHTENED PLAY!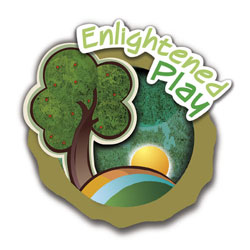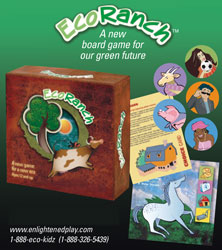 BUY Them on Amazon
Product Archives added to TOYDIRECTORY
---
Product added on: 10/25/2007
---
Shop For Products
Search Amazon: ENLIGHTENED PLAY!
Enlightened Play is a one-of-a-kind game manufacturer producing high-quality, family-friendly products that appeal to one's desire to give back; to create a more sustainable environment; and to protect and nurture the planet.
What makes us one-of-a-kind? A creative twist to game strategy-a player wins by giving back gifts or goods earned during play. The winner is the one who follows a "pay-it-forward" philosophy to get to the end of the game. There are no other games on the market like this, yet within community organizations, classrooms and even in the media, that concept has a groundswell of support.
Products
Eco Ranch is the first game of many theme-based board games to be developed by Enlightened Play.
Having volunteered to aid the ranch in herding a group of rescued animals to their temporary foster pens to await adoption, you make a decision to adopt an animal. But wait! There's a mix-up and you must barter or trade with other players to get your animal. During play, you encounter choices that impact you, the other players, and the animals. You can choose enlightened options or just try to get your animals to pens as quickly as possible.
Eco Ranch is a game of strategy based on inner and social awareness. Eco Ranch was designed for tweens through teens, but parents, teachers, and those working with young people will enjoy this game to build and strengthen relationships. It's fun to play while learning about oneself, other players, and the collective society we live in.
Shipping and Ordering Restrictions
Shipping restricted to the United States, Mexico, and Canada.
For retailers, there is a minimum order of 1 case, or eight games. Standard, Express, Next Day, and International delivery available FOB Michigan
You can also find ENLIGHTENED PLAY! listed in the following categories on ToyDirectory.com:
Board Games
Educational
General Games
---
If you would like to request wholesale pricing, please include the following information with your request:
Your name
Your company name
Mailing address
E-mail address and phone number
Mention TOYDIRECTORY.com
---
Correction Needed? Please email: emailtoydirectory@gmail.com
AD
Suggest a Correction!
Email: emailtoydirectory@gmail.com