TOY
DIRECTORY member Since 2014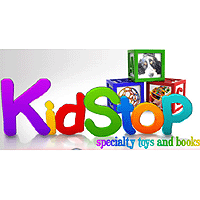 KIDSTOP TOYS
Shop
Contact KIDSTOP TOYS:
6990 East Shea Blvd., Suite #103
Scottsdale, AZ 85254
For additional information visit:
http://www.kidstoptoys.com/
Search Amazon: KIDSTOP TOYS
Suggest a Correction
Email: emailtoydirectory@gmail.com
---
About KIDSTOP TOYS
Looking back, almost 10 years ago, who would have thought that our obsession for great toys would evolve into this, Kidstop toys & books? We now make yearly treks to New York's International Toy Fair, ASTRA's Marketplace (where we really get to play with the toys!) and other great shows. We search not only for the best toys, but for toys that ignite light bulbs over little heads (Kate's indicator of a favorite toy); for toys with two-part play (Kathy's favorite saying because the toy does more than just stand there); and toys that are just awesome! (Caitlyn's daily phrase). And the rumor is true; we practically test every toy and read every book in the store. We're obsessive! Our four walls and warehouse are stocked to the ceiling. If you don't find what you are looking for here on the website, don't fret!
We have thousands of other fabulous toys available in our award winning store, just call and we will be happy to assist you. Our website shows only a smattering of the fun toys we play with everyday. Our Kidstop store opened 10 years ago and we have steadily grown bigger and better everyday.
For any questions, call us, email us, but don't let ONE DAY slip by without having a great time playing while they grow & learn!
See Kidstop Toys in:
Meet TDmonthly's Retailer Reporters for Toy Fair 2014!
TDmonthly 2014 Toy Fair Retailer Report

You can also find KIDSTOP TOYS listed in the following categories on ToyDirectory.com:
General Toys
General Games
Gifts
---
If you would like to request wholesale pricing, please include the following information with your request:
Your name
Your company name
Mailing address
E-mail address and phone number
Mention TOYDIRECTORY.com
---
Correction Needed? Please email: emailtoydirectory@gmail.com
AD
Suggest a Correction!
Email: emailtoydirectory@gmail.com